Here In this Blog, we are going to discuss the most demanding app, "Doctor On Demand App Development"
In this present time, due to the advancement of technology or the presence of the Internet, every field is accepting technology for the betterment of their business as well as for the improvement of Public community. 
Many of the people still hate to visit hospitals for consulting doctors either for a Cold and cough disease or for serious health issues. Visiting the hospital is also time-consuming as you need to travel to the hospital and wait in the queue for consulting. But with the introduction of on-demand platforms now you can easily consult a doctor at any time from anywhere and it also saves time.
Are you thinking of launching a Doctor On Demand App Development?
So here in this article, we are going to discuss the Doctor On Demand Apps, The importance of On-demand Doctor Hiring platforms, What is the demand for an on-demand Doctor hiring platform and How much does it cost to develop an On-demand doctor hiring platform.
In Today's market, many on-demand and healthcare apps are available. Some on-demands doctor hiring apps are very Successful because of their services and high demands. Let's know some Top players of on-demand doctor hiring platform:
Doctor on -demand

mfine – Consult Doctors Online | Book Health Tests

Practo – Book Doctor Appointments & Consult Online

Doctor 24×7

Lybrate-Consult a doctor.
What is the importance of a Doctor On Demand App Development?
The Doctor On Demand App Development platforms are in high demand in today's market because the user finds it time-saving and they are comfortable to use this kind of app service. Users can easily consult or take an appointment from a doctor from their work whenever they require at any time.
As we know, nowadays we people have a busy schedule and because of that, it is really difficult to take out time for anything and it is time wasting to visit the hospital to consult a doctor for a small health issue.
As a solution, an On-demand doctor hiring app is introduced, where a number of doctors register themselves and the high number of users can easily consult the doctor or specialist for a particular health issue or health problem.
Statista or Facts and figure about the Doctor On Demand App Development platform:
According to the survey, mHealth(Mobile Health) technology is ready to increase by 33% to USD,60 billion by 2020.

As per the statistics, global health for mHealth devices is around $37 billion in 2019.

As per the research, global mHealth revenue will reach by $49.12 billion by 2020 and it can cross around $ 122 billion by 2025.

The market size of these mHealth apps is expected to grow 20-40%.

52% of smartphone users avail of information about the latest development in the health sector.

40% of doctors believe that the presence of mHealth technologies has reduced the patient's visit to their clinic by 93%.

34.3% of appointment schedules online were scheduled during closing hours.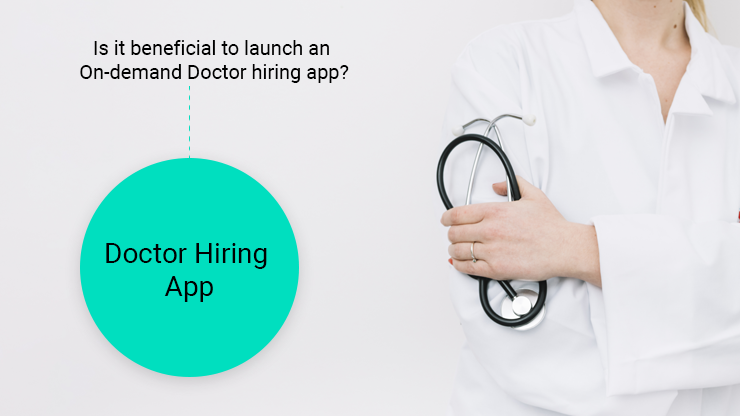 Is it beneficial to launch an On-demand Doctor hiring app?
If you are thinking of initiating an online business then you can plan of launching an on-demand doctor hiring app in the market. By introducing this platform you allow the user to access the services of certified doctors and specialists, book appointment, Check medical prescription, Consult doctor through Video call and to be treated within a few minutes.
On-demand Doctor hiring apps also help in generating revenue. Let's discuss how to make money from a Doctor On Demand App Development?
Some percent of doctor fees directly goes to the admin account as a commission charge.

By doing In-app advertisement for the relevant healthcare brands and companies.

Paid listing:- Doctors have to pay a fee to get into the featured list.

By premium or subscription model.
What is the Working Model of a Doctor On Demand App Development?
On-demand Doctor hiring apps are developed to provide convenient services to Users as well as doctors. Let's know the working scenario of a Doctor On Demand App Development:
Initially, users, as well as the doctor, have to register themselves on this platform and set up their account. The registration process can be done using email, phone number or social media.

Doctors have to set their availability time in their profile and whenever the user needs consultancy he/she checks for the available doctors.

Users can check for the doctors and specialities based on their health issue and before consulting to the doctor, users can check his/her profile to know about his experience and expertise field.

After checking the profile of the doctor, the user can book the appointment or make a request for the consultants. 

If the user wants personal assistance then he/she also books a Doctor for that and the doctor can visit the user workplace.

Based on your symptoms and past reports, Doctor will recommend the medicines. An on-demand doctor hiring platform also offers the service of medicine delivery so the user can directly purchase the medicine from this platform.

After the user has consulted and bought medicine, they can easily make the payment by using the secure payment gateway.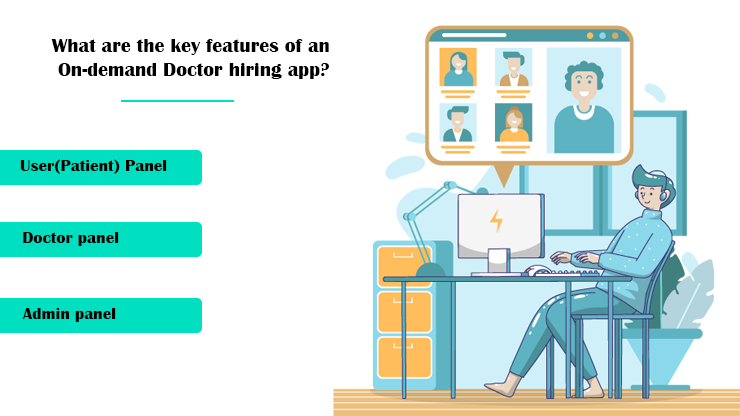 What are the key features of a Doctor On Demand App Development?
Doctor On Demand App consists of three main modules:-
Users can easily create their profile and add details like age, name, address, gender, medical ailments and much more basic information.

Location accessibility to check the nearby doctors.

Search and filter the doctors as per requirements.

Check the available doctors and their profile.

Appointment booking module.

Cancelling the appointment

Chat module

Call service integration.

Integration of Live video call module 

Electronic medical record:-If required, users can also upload their medical and health records.

In-app tracker for prescription and medicines to keep track of the process of treatment.

In-app secure payment gateway integration.

Users can give their feedback and ratings to the consulted doctor.
A doctor can set up their profile and add the details like name, address, qualification, experience, Domain of expertise and the available timings.

Appointment status:- Here doctors can set their booked appointment timings and when he/she is available to the user.

A doctor can check the appointment request list.

A doctor can manage the appointment list by accepting and declining the patient request.

Chat module

Call service integration.

Integration of Live video call module 

A doctor can make changes or reschedule patient appointments.

Track the patient location

A doctor can manage the patient database.

A doctor can check and manage the patient progression chart.

Blog section for the doctor, where they can share their knowledge and the latest research finding in the field of healthcare.

Payment withdrawal to a bank account.
Patient profile management

Doctor's profile management

Content management system.

Ads management

Manage Featured listing

Push notification

Manage payment gateway

Manage activity tracking.

Report generation and management.
How much does it cost to develop a Doctor On Demand App Development?
The cost of developing an On-demand Doctor hiring app depends on some of the factors like:
App development and designing, technology(Android, IOS or both), features and functionality and the experience of the developers.
The App Ideas is one of the best web and app development industry. We provide the best IT services at the best rates. As we have worked on a similar kind of platform here I am listing the approximate cost of developing an On-demand Doctor Hiring app:
Timeline:
App Design:- 7 Working Days

Android App Development:- 25 Working Days

IOS App Development:- 25 Working Days

Web Backend & Apis:- 30 Working Days

Testing, Bug fixing, and Deployment:- 5 Working Days
Costing: