In this present time, everyone is going for an online platform. They want to launch their business website, personal website or portfolio. Due to this many Best Website Builders like Wix, Weebly, Square Space, GoDaddy and many more web builder are introduced.
Best Website Builders 2020 is generally used for building or creating a website. Anyone can design or create a website without having knowledge of coding using this kind of web builder tools. With the theme, you can also download the source code and simply add your details.
People find it easy and less expensive because for creating a simple website they don't have to hire a developer, they just have to choose the free theme from any web builder tool and make changes. This web builder also allows you to easily drag and drop the element which you want on your website.
But do you know? with the advantages, there are many disadvantages of using this web builder for making or developing website. Some web builder tools provide you free as well as premium service, where you can get more option of choosing a theme, but if you want to make a website with many functionality or with advance feature then this web builder tools are not for you because you are not able to create a website with complex features using this web builder tools.
Web builder tools are only useful for those people who want to create a simple website of 1-2 pages for a small business or for making a personal portfolio or for individual use. If you want to host your website then you have to pay some charges monthly to the specific web builder which you have used for creating the website.
There are many disadvantages of creating a website using the web builder. Here I am going to list down some of the disadvantages:
You can't make a professional website or a business website using these web builders.
Website with complex features requirement can't be created using the web builder.
As you are hosting your website on their server, you don't have any backup of your website which means in future if any problem occurs, your data can be loose and you can't regain because you don't have any backup file.
You are not allowed to customize your website as per your needs.
Let's talk about some popular web builders with the reason, why we should avoid this?:-
1. Wix– Wix is one of the most popular website builder tools based on cloud-based website building platform. Wix gives you free as well as premium services. You don't require any advanced technical coding skills in HTML, CSS, PHP and Java, you can directly make changes.
Why you should avoid Wix for building a business website:-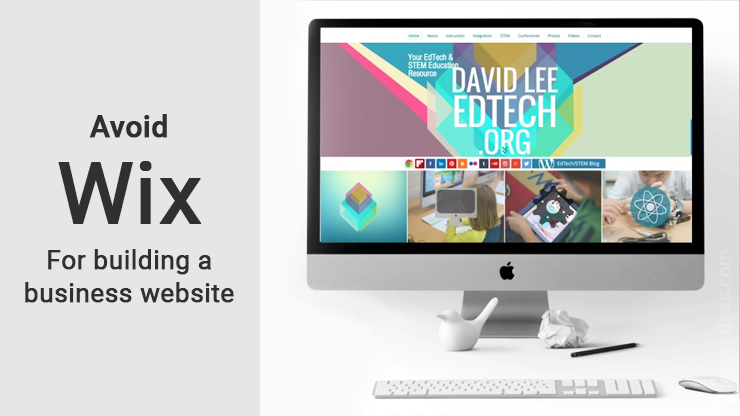 Editing & Design-the drag and drop is easy but it is really frustrating when it is not up to the expectation
There is no option for exporting data from the website which is built in Wix.
Not for a complex website or not for a website which requires 30 + pages website and a deep or complex navigation.
You cant apply your own design or Wix can't support customization
Compare to other website builder, Wix is 20-25% expensive.
In Wix, After encryption, the name of images will be changed, so its creating problem in searching.
The starter plan doesn't remove ads from your site.
Not for the SEO friendly platform
2. Weebly– Weebly is most popular for free hosting or for simple website-building. Non-technical person can easily build their own website using Weebly and also host a website for free at the Weebly server in 1 hour.
Why you should avoid Weebly for building a business website:-
You only one option for hosting your website, a Weebly server.
Weebly does not have a blog tool, so blog options are limited in Weebly. You have to add 10 blogs, not less or not more than 10.
Premium account is expensive.
You can't use Weebly without internet or you need a high-speed internet connection.
Features are limited, you can only add content, images or update the colours.
Weebly offers many limited themes options.
You are not allowed to customize your website.
Tables or column cant be added in Weebly website
Content management is not up to the expectation
Advanced feature user people feel locked by using Weebly website
3. Squarespace- Squarespace is a website builder, which also provide a service for hosting website at their own server. In a single subscription of SquareSpace, you get three bundles of things which you need for a website, a domain, hosting and Software.
Why should you avoid SquareSpace for building a business website:-
It really hard to get instant support from Square space
Squarespace is expensive for a simple website, compared to the other website builders.
Lack of advanced marketing tools
There is no support for third party plugins, apps or extension.
Adding and changing content is sometimes difficult.
Not for a website which needs a deep menu hierarchy.
Page loading is slow
Only Stripe and Paypal are available as payment gateways.
4. GoDaddy– GoDaddy builder is mostly famous for registration of domain. GoDaddy also offers the hosting plan. GoDaddy provides a whole range of services from web hosting to web builders.
Why should you avoid GoDaddy for building a business website:-
Limited live chat support, only available in working days and only for working hours
The template contains a very basic layout or design.
No password protection on certain of your pages of website
You can't switch between the themes if you want to switch then you have to lose your previous data.
Godaddy limits the usage of disk space and database.
No Detailed Hardware Specs Available
The speed of GoDaddy is not always the best
Godaddy only guarantees 99.9% uptime, on the other side other web builders extend it up to 2-3 nines(99.99% or 99.999%).
You might be thinking that which web builders are best for creating and developing a website?
When it comes to launching a professional website, a company website or an online business website then according to my opinion it's better to hire the best website development company for development.
When we talk about website, instantly a word strike to our mind WordPress because WordPress is the best website builder framework.WordPress give various services and you can develop any type of business website by using WordPress.
Here I am going to list down, some of the best key points about WordPress:-
WordPress is open source.
WordPress provides you with millions of theme option
You can own the source code of theme and make changes directly in that code.
You are allowed to use the customized design.
WordPress is SEO friendly.
WordPress developers are cheap/less costly.
WordPress is a CMS framework, which means you can edit and maintain your website by yourself.
Hope after reading this article, you get a clear idea of when to use Best Website Builders like Wix, Weebly, SquareSpace and GoDaddy and why WordPress is best amongst all the website builder.