Groupon is one of the marketing service providers. The name App Like Groupon is derived from two words group and coupon. Group represent various industries and coupon refers to the special offers or deals given by each and every industry.
Groupon app is mainly known as the most popular deal or coupon online app because it provides the details of a special offer or deals to the user. Every industry is well categorized in the Groupon website, the user can easily find and navigate the required field industry. And for the sake of boosting sales, various industries are working with Groupon.
Groupon makes money by taking a commission from the specific industries whose deal is used by the user. If you are thinking of starting an online business and want to earn by introducing a clone app of Groupon, then you have made a right choice because in this type of business you only have to provide a platform to the industries and to the user, where industry can add the latest offers or coupon codes and user can directly take the advantages of the offer by using your website.
Before knowing the cost lets discuss How Much Does An App Like Groupon Cost?
Groupon is an American e-commerce marketplace. It is introduced as a "tipping point" in 2007 by Andrew Mason, as he wants to introduce a platform dedicated to advertising the small or local business by offering deals for a limited time to the user. The first Groupon deal was for a motel bar, a restaurant of pizza, which located near to the Groupon office.
Born from the point (tipping point), Groupon is launched in 2008. In just half year Groupon has grown there staff from a few dozen to 350 members and after 16 months of launching, Groupon has crossed $1 billion profit. Groupon is known as one of the fastest company which reach the milestone in very less time.
In 2019 , Groupon is serving 50+ countries ,it is initiated in the United States then it has expanded there business to  Canada, Ukraine, Germany, Greece, France, the Netherlands, Belgium, the United Kingdom, India, Indonesia, Ireland, Israel, Denmark, Thailand, United Arab Emirates, New Zealand and others.
Groupon has collaborated with 10,000+ local business and as per the survey, there is a total of 35 + million user registered themselves or are using Groupon. By this, the sales are increased and slowly and gradually increased their services and many local businesses become part of Groupon.
If you want to launch a Groupon like app in the market then firstly you need to understand the key features of Groupon. So here I am going to list out all the key features of Groupon which you can add to your Groupon clone app.
Key features of App Like Groupon:-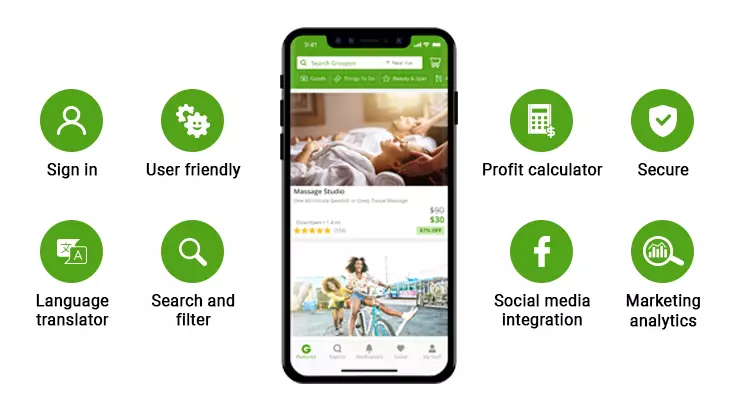 Home page
Sign in /login in module
User-friendly navigation
Trending product list on the top.
Language translator
Search and filter
A profit calculator
Marketing analytics
Customer Insights
Menu list of product with the latest offer
Categorized section for each and every industries.
Push notification to the people about the latest offer
Product can be bought or delivered directly to someone as a gift
Social media integration
Secure to use
Help and support
Sign-out module
How Much Does An App Like Groupon Cost?
The cost of App Like Groupon is depending on the functionality you want to add in your ground like app. We can provide you with the approximate cost or time of developing a clone app of Groupon. 
 Timeline & Costing:-
Frontend design and development:-100-200 Hours
Backend Design & Development:- 100-140 Hours
Testing, Bug fixing, Project Management & Deployment:- 30-50 Hours
Total Hours:- 230-390 Hours
Estimated cost: – 2300-3900 USD (If we count at the rate of 10 USD/hour only).
The App Ideas is one of the leading web and app development company. We are working on mainly website development, mobile app development and game development.