Yelp is an online platform which helps people to find various destinations easily and quickly. Nowadays its is really great to use technology whenever you get stuck in any situation like take an example of travelling to a new place then technology are helpful as you can easily search for the best nearby hotels or restaurants.
What is Yelp and How it is started?
Yelp is an online business directory Service or a crowd-sourced review forum and currently, its headquarter in San Francisco, California. Yelp is a Directory which provides the details with the reviews about every business. Yelp also operates an online reservation service called Yelp reservations.
Yelp is founded in the year 2004 by the employees of PayPal, Russel Simmons and Jeremy Stoppelman. Gradually in time yelp has raised its overall revenue. in 2019, Yelp has stated it had around 192 million reviews on its sites.
Yelp is mostly used by three types of people:
Local Business: Local business registers themselves in such type of directories for the purpose of advertisement or promotion.
People who read reviews to find some recommended business, this yelp directory helps them in searching for various business provider firm.
This platform is also used by the reviewers or by the content creators.
Yelp helps in managing the issues like it helps in discovering various travels places, where to discover the best food or restaurant, Finding hotels and it also gives online reservation Services. Yelp directory is also helpful for B2B as it can easily provide the list of various business names with its respected reviews like if user wants can easily find the IT service provider industry by using yelp.
What are the Advantages of Yelp?
Here I am listing the advantages of Yelp directories:
Yelp provides the ease of Communication, this site is like Word-of-mouth for the digital world.
Yelp provides reviews of all the firm which is really helpful for the user.
You can even find and make friends like social media.
Using Yelp it is now easy to find best or hot places to visit.
User can easily get all the details about the firm he/she is looking for.
How Yelp is earning money?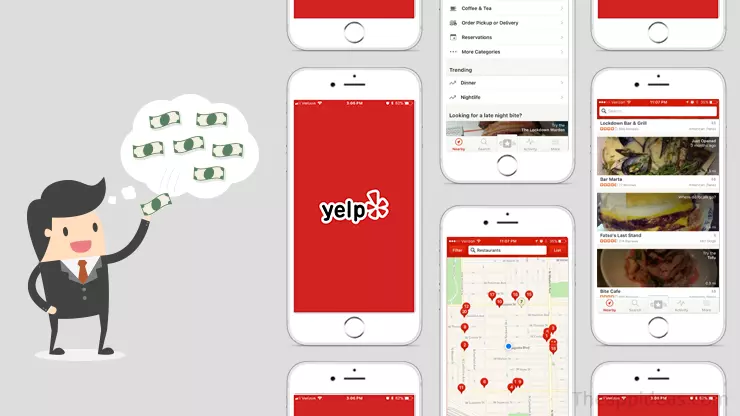 Yelp is one of the most popular and the biggest directories which shows the data of every  Firm with their reviews. Its but obvious that Yelp is earning lots of money.
Let's discuss the ways by which Yelp is earning money:-
Local Business Owner pay Yelp for doing their advertisement as yelps ads are placed higher in the search results.
Yelp generates its revenue by taking a commission from various firm. For example- Yelp charge commission to the food ordering restaurant on per orders.
Yelps offer various deals for promoting the business directories as exclusive deals or offer to attract new users.
Yelp also offers the premium services app as for using some additional service user has to purchase the premium app.
Yelp provides some tools to the business owner and for accessing tools, the business owner has to pay charges of using yelp tools.
How Yelp Works?
Yelp provides the platform to various Business to register and promote their services and on the other hand user who want services, can easily access the data of the yelp for finding various firm. User can easily check the offers or deals of various business, can check the records of just opened business, get to the superior establishments easily, start the conversation with various yelpers and many more.
The owner of the yelp just has to manage all the data efficiently and keep updating the offers or deals and verify the business account before allowing them to register.
What are the features of Yelp-like app?
The Yelp-like app consists of three Panel: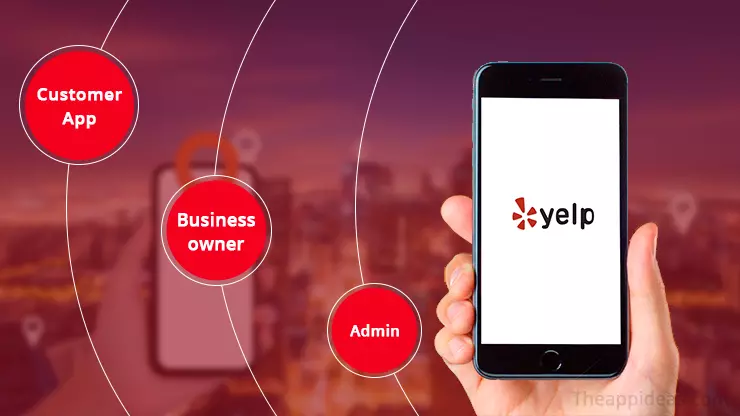 1. Customer App Panel
2. Business owner Panel
3. Admin Panel
1. Customer App Panel:
Customer can easily create and manage their profile.
Customer can access the Smart Search /Advanced search features by applying filters.
Can able to access various business categories and subcategories.
Can check all the details of the registered business.
Easily navigate the platform
Social sharing
Can access the ads of business
Can easily create the favorite list
Get notify whenever any offer or deal is launched.
Can access the photo gallery of Business.
Access the online booking service
Easily give feedback, reviews and ratings.
2. Business Owner Panel:
Business Holders can easily login/register themselves on the platform.
Can easily create profile
Do the business listing
Manage ads
Payment management
Push notification
Manage bookings or any services related to their business.
Manage the history
View feedback or reviews.
3. Admin Panel:
Admin Login module
Manage the Dashboard
Manage Users profile
Manage Business owner profile
Manage feedback and reviews
Manage offers or deals.
Manage payment
Manage ads
Manage Business listing
Manage forums.
Manage conversations.
Some Additional Features:
Map Integration
CMS (Content Management System)
Various payment gateway integration
SMS API Integration
Profile verification
Report and analytics generation
User can access the location-based functionality easily
Sign-in by using social media
Media sharing
Easily check the history activity
In-app purchase features.
Deal or coupon code integration
Chat module integration
What is the benefit of launching an app like Yelp?
This type of directories are in high demand as in this present time people are accessing technology for the fulfillment of every need and this kind of platforms make work easier for them as the user just has to add the location and the industry, Yelp can list out all the industry of that particular location.
If you are thinking of introducing an online directory like Yelp then this is one of the best ideas. As Yelp-like platform as also in generating a high amount of money.
How much does an app like Yelp cost to build?
The Cost of an app like Yelp depends on some of the components:
The technology you want(Android, IOS or Both)
Designing the app
Developer's experience
Features and the functionality
The layout and the Modules of app
So here I am listing the approximate cost of developing an app like Yelp:
Timeline:
App Design:- 7 Working Days
Android App Development:- 25 Working Days
iOS App Development:- 25 Working Days
Web Backend & Apis:- 30 Working Days
Testing, Bug fixing, and Deployment:- 5 Working Days
Costing:
The approximate cost of developing an app like Yelp is 3000-4500 USD
How we can help in generating an app like Yelp?
The App Ideas is one of the globally reputed Web and mobile app development companies. We have a team of experienced developers who are expert in providing the best solution by developing an app like Yelp.
We worked on Android app development as well as IOS app development.