Do you want to launch or develop a Quiz App?
Do you want to know the types of Quiz App, and choose which one is better to launch?
Do you want to know the cost of developing a Quiz App?
So today I am going to discuss about the development of Quiz Maker App. In this digital era, Mobile apps are trending. Almost every service can be used through mobile apps like online shopping, online food ordering and delivery, online booking of various services like movie tickets, hotels or many more things.
But when its comes to the field of gaining knowledge of any specific niche and after that checking knowledge through online test, Quiz Maker App is one of the suitable app for fulfilling this kind of services by giving the little information about the specific niche and after that user can check their knowledge through the quiz questions. People find quiz app fun-loving as it is easy to use.
Let's discuss why Quiz Apps are most popular?
Nowadays people like to play quiz games or mind games to increase their abilities. Quiz is in the form of games in which the user has to attempt some questions and check their knowledge in that specific subject by answering the questions.
In some countries, the educational institute uses a quiz for checking the knowledge and ability of its students. Some of the industries use Quiz Maker Apps in interviews for checking the basic knowledge of job finder. Quiz Maker App is also used by stores owner for knowing the feedback of their services.
Quiz Maker App can be used by any field for assessment.
Want to know how this Quiz Maker Apps work or what is the process of Quiz Maker App?
Quiz Maker App is mainly used for checking the knowledge or checking the skills of any specific subject. Some Quiz Maker App also includes the section of learning, user can first learn from given information and after learning, user can check their knowledge by attempting the quiz and check their score through results.
Some Quiz App also allows user to share and challenge someone to beat their score, its really fun-loving. In some Quiz App, user can play head to head challenges with someone or they can also invite someone for playing the head to head challenge.
As Quiz App is also used in an educational institute, so its make the work easy for professors as for assessment the only requirement is a Quiz App. Students can participate, attempt the quiz test in the time limit and after completion of the test, Quiz Apps instantly displayed the results of each individual student and scoreboard is also updated according to the ranking of students.
If you are thinking of launching a Quiz App then you must have little knowledge about the types of Quiz App, so let's begin the discussion, What are the different types of Quiz App?
1. Quiz App for educational purpose: Quiz App for educational purposes is used by institutions or schools for checking the growth of knowledge of students.
2. Quiz App for E-learning: Quiz app which also includes the information of the particular subject, user can learn and attempt the quiz for checking his/her knowledge. If the user has cleared the quiz then only he/she can move further.
3. Quiz App for sports: Quiz App for sports, many quiz apps are introduced for cricket and football for the sports lovers.
4. Quiz Maker App for online test: This kind of Quiz App is only used for test purpose, there is no section of information.
5. Quiz Maker App for general knowledge: This kind of Quiz App is used by the people who want to prepare for any competitive exams or by the people who are highly interested in general knowledge.
6. Quiz Maker App for interviews: This kind of Quiz App is used by some of the industries or company for evaluating the people who came for an interview.
You might be thinking if you launch a Quiz App then How to make money from the Quiz App?
There are various ways of earning money by launching a Quiz Maker App, Here I am going to discuss some of the points of making money from the Quiz App.
By displaying ads for other services.
By collaborating with many other services like educational institute.
By running promotional ads.
If your quiz app has the functionality of sharing or giving challenges, then you can make money, as people can play head to head challenge and for that, user has to spend some amount of money and after completion of challenge, winner gets the total money as a reward but from the winner price 2-3% amount is taken by the quiz app owner.
Now let's discuss, What are the basic features of a Quiz App?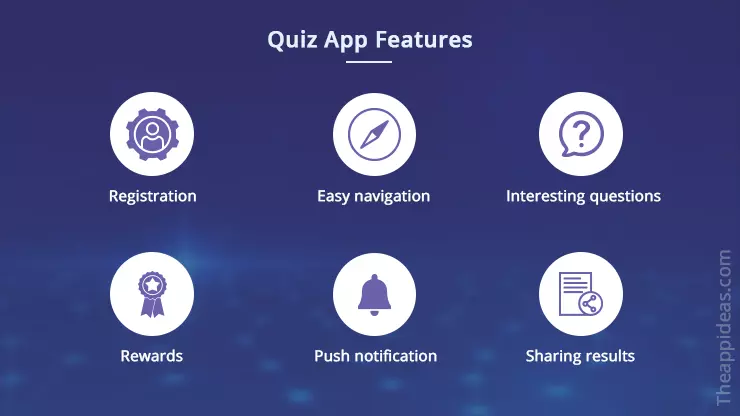 For launching a Quiz App, you must be aware of the key features of quiz apps, so let's know the key features of a quiz app.
Sign Up/ registration.
Create an account
Easy navigation
User-friendly layout
Well Categorize section
Interesting questions
Correct answer with correct reasons.
Analytics and report of results.
Rewards and price money
Integration of social media
Push notification for  new updates
Allow sharing results and challenges.
Sign-out /logout
Delete account
How much does it cost to build a Quiz App?
The cost of a Quiz App highly depends on the types of quiz app, the functionality and the features you want to add in your quiz app.
We are from The App Ideas, we provide the approximate cost and the timeline of the development of quiz app:-
Timeline & Costing:-
Design:- 40-60 hours
Android:- 100-150 hours
iOS:- 100-150 hours
Backend & Apis :- 100-150 hours
Testing:- 30-50 hours
Project management, support, deployment:- 20-30 hours
Total Hours:- 390-590 Hours
Estimated cost: – 3900 USD to 5900 USD (If we count at the rate of 10 USD/hour).