Here we are going to discuss about the Postmates App. This is a digital era, which made time the most precious asset. For this reason, everyone is in search of ways that optimize their schedules and eliminate any wasted slot that may arise. There is no surprise that on-demand delivery services are in high demand. And as per the demand there are various on-demand ordering apps introduced in the market.
Here we are going to discuss, Postmates Driver App?
Postmates services is started as a courier service. Firstly Postmates Driver App is intended to deliver things like if people forgot something at their home or anywhere else then postmate help them by delivering the thing to them.
Postmates Driver App is also used to pass over the thing to someone else. But nowadays user mostly use this  for food delivery services. In the beginning, Postmates ignored all the service related to the food industry. After some year,they decided to pivot and became an on-demand delivery service for all kind of service including food in 2015.
Postmates Driver App collaborated with restaurant and started delivering food. Now primarily it is on-demand food delivery service but they are still other types of delivery requests they accepted and executed.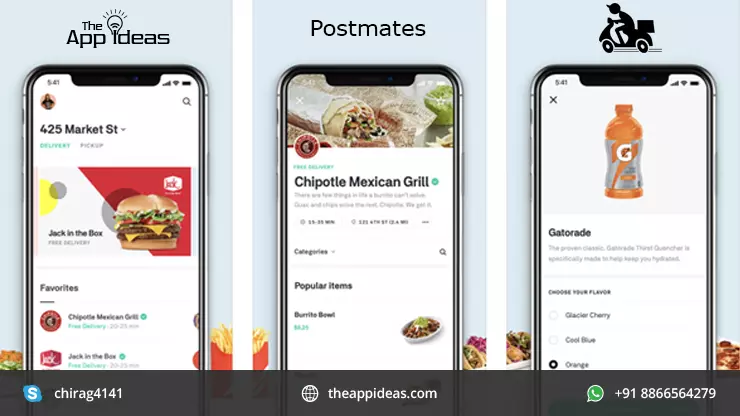 The things you need to keep in mind before starting any food delivery Postmates Driver App
1) Decide the location and according to the location start partnering with restaurants and various food zones.
2) Deciding whether to have drivers on your payroll or contract with drivers the way other app does.
3) Analyze the app and list out the best features.
Some Special features of postmates
With food delivery, postmate enables People can order anything from anywhere within the city.
Postmates charges according to the distance of pickup point and drops off point.
Deliveries are made within 1 hour.
Postmates is available 24 hours a day and 365 days a year.
Let's discuss , How postmates works?
Customer can browse the service, which service they want at their doorstep. As postmates is used for all kind of delivery service.
The order is received at postmates only once it is paid. The charge of delivery service is according to the distance of pick up and drop off location, which is added accordingly as the delivery charges.
As soon as the order is confirmed, the nearest delivery boy gets the notification about the order. He shops for your order and delivers it to the customer in a time limit of 1 hour.
Customer can track their order or delivery boys. Postmates has an option to send a text to the user in case of delays.
How Postmates make money?
1) Delivery fee: – Postmates Driver App charge the customer a small delivery fee. Their delivery fee normally starts from $5 but in the special offer they provide the same service in $3 or even lower delivery charge.80% of the total delivery charges goes to the delivery boy and 20% revenue goes to postmates.
2) Convenience fee:-This fee is charge by postmates to deliver thing at doorstep.they charge 9% as convenience fees. As people are happy to pay because without wasting time or fuel they get their service at their place.
What kind of features you require, to build an app like Postmates Driver App:-
User panel

Register
User login / Social login
Forgot password
change password
Create a profile
Search for various services
view details
Add to cart
delivery details
Payment process
Service tracking module
Feedback module
History of orders.

Admin panel

User Management
Categories Management
Payment Management
Subscription Management
Reports
Driver Tracking
Driver Management
Coupon Code / Offers Management
Listing Management
Ads Management
Refund Management
Dispute Management
Feedback Management

Service Provider Admin panel

Sign up
Sign in
Create a profile
Services offering
Order management
Feedback management
Driver tracking
Payment Management
Delivery Management
How much does it cost to make an app like Postmates Driver App?
The cost of an app depends on the features you want, the layout of an app, the number of module you want, the technology you want to develop your app in and the additional features you want. The range of developing an app like Postmates is 5000 USD – 8000 USD and it takes 600-800 hours to build an app like Postmates.