Offerup App is a marketplace app which is basically used for selling or buying the products by using the online path. Offerup provides you with the platform through which user can sell anything easily and earn extra money on the other hand user can easily check the various items and buy it.
In this present, Users are referring to the online platform for accessing all the services like Shopping, booking, ordering or many more things. So Offerup App like platform provides the online platform to the user where they can easily sell the products which are not useful for them or the other user can check the details and easily buy the product.
What is Offerup App and How it is started?
Offerup App is a marketplace platform which makes easy to find great deals on the product which you are looking for and you can easily make money by selling the products which are now not useful for you. This Offerup App platform is trustworthy as you can easily buy or sell things as per your requirement.
The Offerup is launched in 2011 by Nick Huzar and Arean van Veelen. Offerup App headquarter is located in Bellevue, Washington. In 2015, Offerup was named as one of the hottest startups by Forbes. Currently, as per of facts and figures, more than 44 million users register themselves in the Offerup App platform.
What Kind of products can be sell or buy by using this marketplace platform Offerup App?
Offerup is an online marketplace app which provides the platform to the user where they can easily sell the product by uploading the photos of the product and another user can easily check and buy the products.
Offerup App allows user to list a wide variety of items like: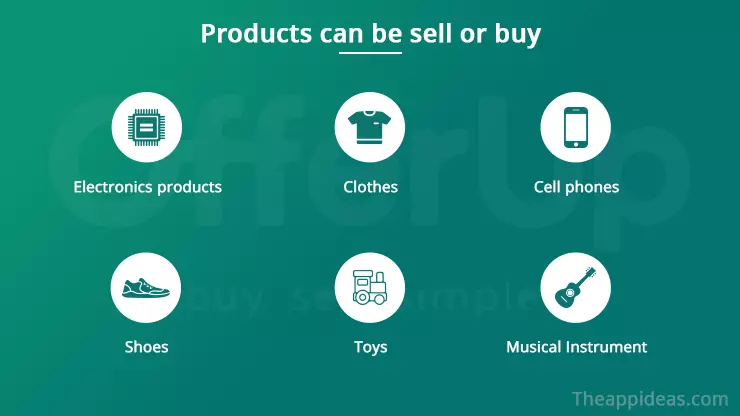 Electronics products
Clothes
Cell phones
Sports Equipment
Shoes
Vehicles like car, bike or bicycle.
Toys
Household things
Antiques
Tickets
Tools, Machinery or machine parts
Jewellery
Musical Instrument.
Gadgets
And many more products, Offerup App prohibited some of the products for selling like alcohol, gifts cards or offensive items to the platform.
How Does Offerup App works?
Offerup like mobile app platform provides opportunities to Sellers, to do the advertisement of their products or their services free of charge. By using Offerup App platform people can easily advertise their product rather waste time for finding the local buyers for their products.
In Offerup, user can easily come to the onboard by just taps and easily start selling and buying process in minutes. Once the sellers have come to onboard, they can easily create the ads for their products and with the help of Offerup platform, they can easily connect with the potential buyers easily.
Moreover, Offerup platform also allows the buyers to directly communicate and discuss the product information with the sellers by using the chat or call modules which are built in the app. Seller can also upload the photos of the item which he/she wants to sell by using the inbuilt camera functionality.
Offerup also allows sellers and buyers to rate each other Currently as per the research more than 42 million users are spending an average of 25 minutes using this app in a day.
How Offerup App makes money?
Offerup is a local marketplace app which has a monetization model which helps in generating money. Let's discuss some of the monetization model methods in details:
1. Transaction fees:- The Offerup platform charge a commission to the user for the transaction fees like services fees or shipping expenditure charge.
2. Advertisement:- Sellers who need to fast sells their product can list their products in the features tab so their product ads can be displayed on every page which helps in generating good amount of revenue for the sellers.
3. Subscription or Membership fees:- To access the additional features or functionality, buyers or sellers has to pay some amount of money.
4. Commission:- Platforms like Offerup charge a commission to the sellers for every deal which is made on the app.
5. Investors:- Offerup has strengthened its root by backing itself up with a powerful pool of investors.
 What are the key features of Offerup App?
Offerup is a marketplace app which provides the buying selling services to the people. Marketplace apps are consist of two panels, one is for the user where they can easily sell or buy the product and second is for Admin:
1. User Panel (Seller/Buyer)
User can easily register and Setup their profile
Can access the features list products
Can easily search for each category or subcategories by applying features
Search for products based on the location
Able to check the details of the product
Can check the photos and price of the product
Can upload the product and its photos for sell
Chat and call module
User can raise the dispute
User can check and give the feedback or reviews to each other(Buyers or sellers)
In-app payment methods
Notify for special offers or deals
2. Admin Panel
Dashboard management
Profile management and verification
Ads management
Features list management
Categories management
Sub-categories management
Dispute management
Push notification
Special offers and deals management
Contact management
Payment management
Report generation and analytics for knowing the monthly or daily reports.
Why It is Beneficial to launch an app like Offerup in the market?
If you are thinking of starting a new online marketplace then launching an app like Offerup in the market is also one of the best ideas. Offerup like apps are in high demand in today's market because this type of platforms offers the best way to sell and buy the item easily. Admin just has to manage the panels and app.
As we have discussed earlier, Offerup like apps also helps in generating revenue in various different ways.
How much does it cost to create a mobile app like Offerup?
The Cost of Offerup like app is dependent on some of the components like:
App designing
App technology (Android, IOS or Both)
Prototyping and development
Modules and functionality
Developer's experience
So here I am listing the approximate timeline and  cost of developing an app like Offerup:
Timeline:
App Design:- 15 Working Days
Android App Development:- 120 Working Days
iOS App Development:- 120 Working Days
Web Backend & Apis:- 150 Working Days
Testing, Bug fixing, and Deployment:- 15 Working Days
Costing:
The approximate cost of developing an app like Offerup is 12000-15000 USD
The App Ideas is one of the leading web and App Development Company which provide the best solution for IT services. We have an experienced group of people who worked on Android as well as the IOS platform and provide the best design for mobile app.