The most demanding and one of the most utilized apps is a On Demand Food Delivery App Development. As we all know, food is the basic requirement to live and for some people food is life. This food industry is one of those fields which demand is only going to increase with time.
This present time is known as the Digital era, where everyone likes to use online services or digital services like using websites or mobile app services for each and everything. As per the survey 70-75 of people are using smartphones and 70-72% peoples are using the web and app services.
The same digitalization is also applicable to the food industry Because people are more like the app or online services rather access the offline services by visiting any food court and food industry. So for attracting more customers and gaining more profits food industry owner are shifting and with offline services also giving the online or app services to the people.
So If you are the owner of any food industry or running a restaurant, for maximizing profit you must have a food ordering app of your restaurant. And if you are thinking of a startup then you can launch a marketplace food ordering app and easily make money.
Let's discuss in more details: How Much Does It Cost to Develop Food Delivery App?
On Demand Food Delivery App Development is increasing day by day as people are now inclined more towards the apps services. Food ordering apps are simply used for ordering the food from any food court or restaurant which has launched their own web or apps.
You have heard the names, Zomato and Swiggy, these are some Successful marketplace on demand food ordering or on demand food delivery apps. This kind of apps provides a platform to many restaurants to register and create their account and give the user various options of restaurants with different-different food menu list.
On Demand Food Delivery App is easy to use and people are really comfortable to use food ordering apps as the only requirement is a smartphone with a good internet connection and almost everyone has own smartphones.
Food ordering apps help people in various ways like due to food ordering apps services a user can order food from anywhere at any time, the user can order their favourite food through an app easily and also make online payments and mainly people can arrange a get-together party for that also user can order their favourite food easily by using food ordering apps.
On Demand Food Delivery App Development are also used in the restaurant where customers can visit the restaurant, restaurant provide their tabs where they have listed the menu with their specific prices and customers can directly select the items and order the food item and if they want, they can do the online payment.
Food ordering apps also helps its owner to make money. How?
Let's discuss: How you can make money through a food delivery app?
Other than customer attracting, you can also make money from the food ordering app through different-different ways. Let me list down some of the ways of earning money from a food ordering app.
You can allow the third party to use your platform for marketing and provide them with your platform for displaying ads and charge them for advertising their things.
If you are launching a marketplace food ordering app then you can ask for the share of every order from the specific restaurant.
You can charge your customer, delivery fee or convenience fees.
In the marketplace food ordering app, you can charge a fee to the restaurant for better positioning on your platform.
If you are thinking of launching a food ordering app then initially you must know the basic or the key features of food ordering app.
So let's know: What are the basic features list of food delivery apps?
As a food ordering app consists of some main modules:
 1. Admin Panel (For marketplace food delivery app)
2. Restaurant Panel
3. Customer Panel
1. Admin Panel: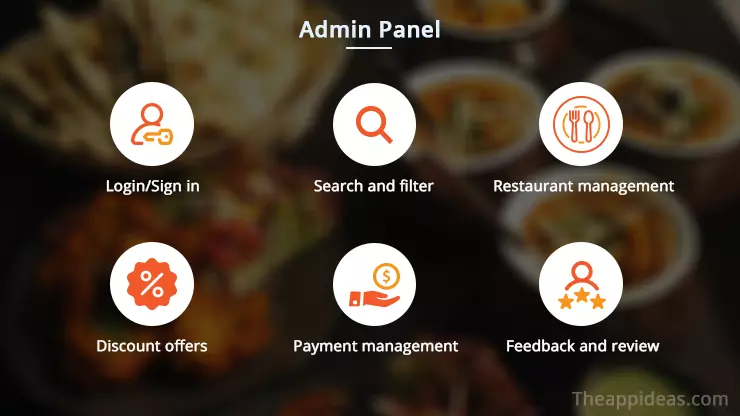 Admin Login/sign in
Search and filter
Restaurant management
Payment management
Order management
Discount offers and coupon management
Technical assistance
Delivery services management
Monitoring every action
Feedback and review module.
Logout.
2. Restaurant Panel
Restaurant signup
Menu management
Photos and video integration of food item
Interactive Dashboard
Searching and filtering option
Analytics & report generation
Push notification
Order management
Social media integration
Multiple payment gateway
Payment management
Offers and coupon management
Customer relationship management (CRM)
Reviews and feedback checking
Chat integration
Signout
3. Customer Panel
Customer signup/create account
Searching and filtering bar
Cart for adding selected food item
Order placement
Various payment method
Utilization of offer and coupon
Driver tracking
Help and Support
Give feedback and reviews
Checking other customer feedback and reviews
Logout module
Delete account option
How Much Does It Cost to Develop Food Delivery App?
The cost of food ordering app highly depends on the features or the layout you want to integrate into your food ordering app and it also depends on the technology or platform which is used for building the food ordering app. Here I am going to list down the approximate cost and timeline of food ordering app:
Timeline & Costing: –
App Designing:- 30-50 hours
Android App Development:- 70-110 Hours
iOS App Development:- 70-110 Hours
Backend Design & Development:- 80-130 Hours
API Creation & Integration :- 30-50 Hours
Testing, Bug fixing, Project Management & Deployment:- 20-50 Hours
Total Hours:- 300-500 Hours
Estimated cost: – 3000-5000 USD (If we count at the rate of 10 USD/hour only)
How do we help to make the best food delivery app?
We are from The App Ideas, a leading web and mobile app industry. We have experienced team of people who are expert in creating mobile app by providing unique and best solution. We worked on Android as well as the IOS platform.
As here we have discussed How Much Does It Cost to Develop Food Delivery App? we have worked on various food ordering apps projects, you can check our portfolio. We provide you with the best solution for any kind of food ordering apps.