Dating apps are in high demand, in this present time, Dating app like Bumble is one of the most demanding and most popular dating apps. So here we are going to discuss in detail about Bumble Dating App, about its popularity and the cost of making a similar Bumble Dating App.
Bumble is a location-based Dating App. As we know, there are millions of dating app solution available in the market. Nowadays people are preferring online services because according to them it is easy to access the services and also time saving. And this also applies to finding future mates or for finding new friends or for casual dating.
Dating App Like Bumble is one of the most popular dating app or bumble is providing the platform to teenagers for finding similar kind of people who are interested in casual dating or for a serious relationship.
Bumble is a kind of dating apps, which are generally for teenagers but nowadays according to the survey every age group are using such application for finding a companion or searching for a partner.
This Bumble dating app is quite different and unique from the available dating app solution in the market.
Bumble dating app is popular because it consists of 3 modes:-
1. Bumble Date-This mode is for dating purpose.
2. Bumble BFF-This mode is looking for new friends.
3. Bumble Bizz-Bizz is for professional networking.
Before launching an app like Bumble, let's Know some important details about Bumble: 
What is the Initial Idea behind the bumble Dating App? OR How Bumble is Started and What its marketplace?
Bumble is founded by Whitney Wolfe Herd, after leaving the Tinder . Before founding Bumble, she was the co-founder of Tinder. Badoo founder Andrey Andreev contacted Whitney via e-mail and they two met up.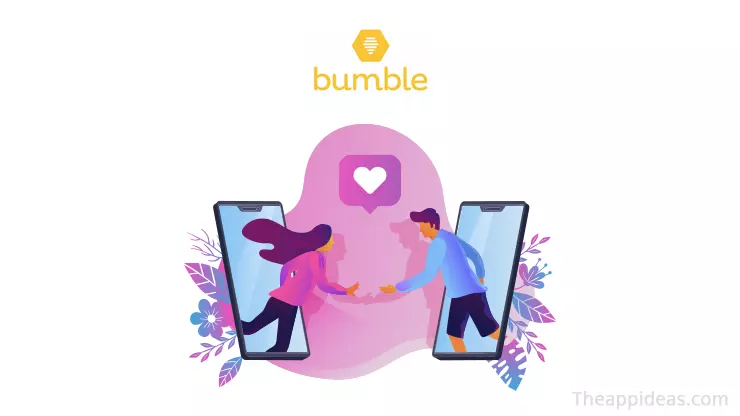 Andrey Andreev and Whitney Wolfe Herd, this pair eventually formed a partnership in which Andrey owns 79% of ownership and does an initial investment of $10 million and Whitney serves as a founder, CEO and 20% owner of Bumble app.
The Bumble owner had recruited the Tinder fellow and ask them for designing the interface of bumble and help them to launch this new dating app. Finally, Bumble is launched in December 2014.
Currently Bumble headquarter is located in Austin, Texas and has 50+ employees globally. In March 2016, Bumble Dating App has launched the BFF mode and after that, they have replaced potential dates people with people of the same sex who are looking for friends.
The very same year,  June 2016, Bubble has announced the partnership with Spotify, which allow the user to display their music interests.  March 2017, Bumble has announced to launch the third mode, which is similar to career networking app, Bizz mode.
In March 2017, bumble has partnered with the Anti-defamation League for removing the user who displays hate symbols in their bumble profile.
According to the survey the bumble dating app has reached 22 million users in November 2017 and the company was valued at more than $1 billion. In 2019, Bumble has launched their own magazine called "Bumble mag". And currently, in 2019, they have more than 55 million users worldwide.
Whitney Wolfe Herd has described Bumble as a "feminist dating app", as she as stated that within the first eight-month, 5 million unique conversations are initiated by women. Bumble app is specially designed by keeping in mind about the safety of women.
Let's know the working of Dating App Like Bumble:
Bumble is a location-based dating app that follows the Swipe right and left format, similar to Tinder. Message can be only exchanged when both the person has swiped right (liked) to each other. But in Bumble, women have to make the first move.
Women have to start the Bumble conversation with the matched profile within 24 hour and men have to respond to the text within 24 hours only.
In the case of same-sex preference people, anyone can initiate the first conversation but 24 hours time restriction is applied. If the time limit is over then the match expires. If both the match people have sent at least one text to each other than the time limit is eliminated.
Voice call or video call option is available so if someone doesn't want to share their phone number can easily interact through these ways.
What are the key or basic features of Bumble?
If you are thinking of launching a Dating App Like Bumble, then you must have the basic knowledge of the key features bumble have so here I am listing down the features of Bumble dating app:-
Sign in /login module.

Enter name and birth-date OR user can directly login through their Facebook account.
E-mail id for account recovery.
Choose the mode-Bumble date, Bumble Bizz or Bumble BFF.
Your relationship status and gender preference.

Create a profile.

User can add 6 photos to your profile.
About me section- where the user can add the little description about themselves.
User can add their work and education
Add the basic information like height, weight and many more.

Searching through filters
GPS integration
Easy navigation
Push notification
Chat module
Voice call
Video call
Integration of social media
Spotify account integration.
Snooze mode-This mode is used by the user to hide their profile for some period of time without deleting the account.
Logout
Delete account.
If you are buying the premium bumble app, then you must access some advanced features:-
Unlimited Swiping left/right.
User can easily extend the time from 24 hours or they can rematch with their expired match.
What makes bumble different from the most popular dating app Tinder?
Bumble is founded by the co-founder of Tinder app, Whitney Wolfe Herd. The matching algorithm of bumble is similar to Tinder, where user has to swipe right and left to the shown profile. If both the user has swiped the right then only they get connected.
But In Bumble, only women can initiate the conversation or men are not allowed to text first. Other difference is user has to start the conversation within 24 hours otherwise their match expires or user will lose the connection.
How much does it cost to make Dating App Like Bumble?
To develop an app like Bumble, the cost mostly depends on the design, layout, functionality and the features you wanted to add in your clone bumble app. The cost highly depends on the requirement but here I am listing down the approximate cost of making a dating app like bumble.
Timeline & Costing:-
App Designing:- 50-70 hours
Android App Development:- 150-200 Hours
iOS App Development:- 150-200 Hours
Backend Design & Development:- 150-200 Hours
API Creation & Integration :- 80-140 Hours
Testing, Bug fixing, Project Management & Deployment:- 30-50 Hours
Total Hours:- 610-960 Hours
Estimated cost: – 6100-9600 USD (If we count at the rate of 10 USD/hour only)
How can we help you in making this app?
We are from The App Ideas, as along with website development, we have an expert team of people who have experienced on Mobile app development and we work on Android as well as IOS platforms.
As here we are talking about dating apps, we have developed various Dating Apps like Bumble with some unique features.
We have also worked on various apps similar to bumble app. So definitely we can provide you with the best app solution.