In the present time, dating App like Azar is highly in demand. Because, nowadays youngsters are more likely to use dating app for finding their future mate or meeting new people. As dating app is time-saver because you just need to check online without visiting any place or Sometimes offline dating is time wasting.
As per the increasing popularity of Azar like dating app solution , many of the business owners and entrepreneur have though of making an investment. Nowadays, it is quite easy to launch an app and web solution and start making money from it.
So if you are thinking of launching an app like Azar then you have many question in mind, like knowing the facts and features and also about how much does it cost to develop an Azar like Dating app? let's start the discussion.
Before we talk about the cost and timeline, let's discuss it's facts & features.
Facts and features of App like Azar.
Azar is a Korean dating app, launched in 2014 by Samuel Ahn. The idea behind launching dating App like Azar is providing a platform for peoples to get connected with people around the globe without any barrier. Azar app is launched by a Korean startup Hyper connect, where they have developed a unique video chat dating app like Azar to make easy for youth people to search for new online friends and start video chatting with a stranger. Yes if you are a user of Azar you can directly start video chatting with a stranger without any hesitation. After launching, it has exceeded 200 million cumulative downloads from 230 countries.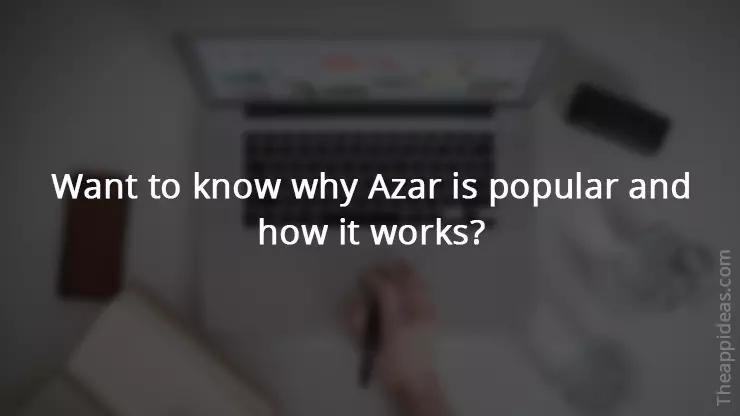 Azar is a dating app which allows people to talk with strangers and provides a service of video chat with their match.
Azar not only provides video chat services but also provide a feature where you can discover or meet new people across the world by new steps like chatting or video calls. This Azar Dating app is a unique or first dating app which provides the user with a platform to show physical selves to their match/stranger like if you wish to have a video chat with someone whose profile interesting, you just need to right swipe.
Azar makes it easy for people to connect with a stranger and talk with them, and if they find compatible with each other then they can move further for a healthy relationship. And now Azar is also providing language translation services through so there will be no language barrier between two users.
What is the Basic Features list for a Azar Dating App?
As we have discussed the App background along with its facts, how it works and other stuff about Azar app, but as you want to launch a dating app like Azar then you must know the basic features list of Azar.
Sign in /sign up
Create your account and add some personal details
Add your preference or interest (looking for a boy, girl or both)
Location integration.
Add the religion, likes, don't like, and other stuff (whom you want to be matched)
Interest- add your interest and find people who are similar to your passion.
History -through which you can reconnect with your previous match easily.
Chat module
Dating partner Suggestion.
Video chat module
Text translator
Voice translator
Privacy and security
Help and support module
Sign out/log out
Delete account
Hope after reading above Stuff, you are cleared with the word Azar and now you are able to plan for bringing out an app like Azar.
How to forget the key discussion of the article that is, How much does it cost to make an app like Azar?
As we know, in this present time, it is quite difficult to provide the exact costing of developing any online solution without knowing your requirements. The cost of an App like Azar is depended on the features, technology and other things. Over here, we have listed approx. timeline & cost of this.
Timeline & Costing:-
App Designing:- 50-70 hours
Android App Development:- 150-200 Hours
iOS App Development:- 150-200 Hours
Backend Design & Development:- 150-200 Hours
API Creation & Integration :- 80-140 Hours
Testing, Bug fixing, Project Management & Deployment:- 30-50 Hours
Total Hours:- 610-960 Hours
Estimated cost: – 6100-9600 USD (If we count at the rate of 10 USD/hour only)
The App Ideas is a leading web and app development company. We have worked on various software solution like Website development, web application development and mobile application development. We have a team of highly skilled developer who have worked on various dating app development projects at best rates. If you had already planned to launch a Azar like dating app then feel free to reach us .