Here in this article, we are going to discuss the bulk invite app solution. Nowadays our lifestyle or we can say our daily life is dependent on Technology or the digitalization of the services.
The digitalization of the services are very helpful for the people or the society as by having an online platform like a mobile app or web apps, it is very easy for us to access all the services by having the specific mobile apps in less time with convenience.
In this blog, we are going to discuss one of the unique app solutions, Bulk Invites app Solution which eliminates a problem which is faced by around all the smartphone users.
As we know, around 60-65% of people are using smartphones with a good internet connection and accessing various mobile app solutions for fulfilling their basic requirements needs like ordering food, booking movie tickets, online shopping and many more services.
If we are organizing a party, event or function, we are accessing the social media like WhatsApp, Facebook, E-mail address to send the invitation to our family and friends invites them to join us in this auspicious moment.
Sending digitalize invitations is best as there is no need to print a bunch of invitation cards and do couriers to the family and friends. The digitalizing invitation is time-saving as you can directly share the details of the occasion using smartphones. But sending an invitation to so many people which should be personalized also consumes a lot of time like you have sent the digital invitation cards to one-by-one to everyone.
Why not launch an app solution which can eliminate this problem easily? Bulk invites solution is one of the best solutions which can be used for sending bulk invites to the people simply and in less time compared to sending it one-by-one.
In a bulk invite app solution, users can easily make the list of the contacts and are classified based on the categories like family, friends, Office, Colleagues and many more. Users can easily access the services of creating the invitation card and send it to the specific groups easily or without wasting much time.
Would you like to develop a Bulk Invites app?
If Yes then here in this article we are going to discuss the key points of developing a bulk invites app like why it is advantageous to launch a bulk invited app in the market, what are the key features of a bulk invite app and how much does it cost to develop a Bulk invites app.
Why is it advantageous to launch a Bulk invite app?
Because of the high demands of app solutions, many business owners are shifting or converting their physical stores into an online platform like the website and mobile app for maximizing the profit. Having a mobile app solution makes the app owner to easily reach out users easily and quickly.
Many Entrepreneurs are searching for some new app ideas so they can launch it and start earning money easily without doing much hard work. If you are also thinking of launching any online platforms then you can clearly go for launching this bulk invites app solution.
The demands of a Bulk invites app like the solution is in high demand because these kinds of services are required for every smartphone user. There is probably no solution available or very few which can help users to send an invitation in bulk or only once.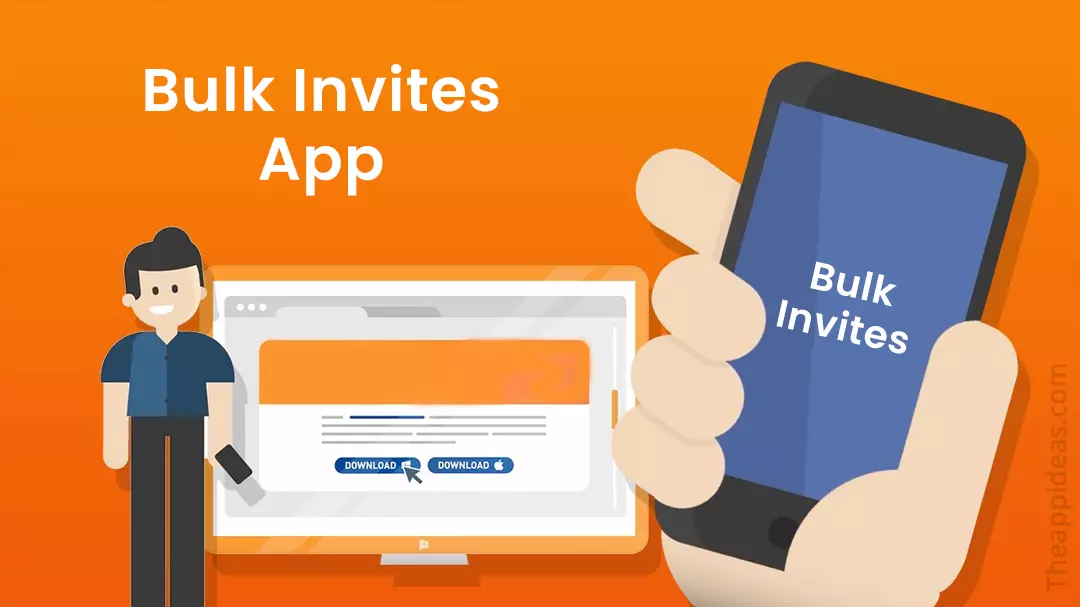 Bulk invites app also helps in generating money or you can easily monetize the bulk invites app solution for earning. Let me list down, How to make money from a Bulk Invites app?
Launch premium or subscription model of the app.

Integrate ads services in this bulk invites app.

Offer membership offers to your user.
What are the key features of a Bulk Invites app?
Before launching a bulk invites solution, you probably need to understand the key features which we can provide in a Bulk Invites app solution. The bulk invite app solution mainly consists of two panels. Let me list down the panel along with its features in detail:
User Panel
User registration panel

User can set up their profile 

Able to create the list.

Able to categories the group number as per requirements.

Add the contact details of the friends and family.

Save the contact list.

Create an invitation card.

Share invitation  with the groups

Share it on social media.

Provide feedback to the app
Admin Panel
Admin login module.

Admin Dashboard management.

Users profile management.

Manage the group creating feature.

 Ads and premium feature management.

Membership profile management.

Revenue management.

Manage the invitation cards details.

Push notification

Manage feedback of the user.
How much does it cost to develop a Bulk Invites app?
The cost of developing a bulk invite app highly depends on some of the key factors. Let me list out some of the factors on which the mobile app cost is highly dependent:
App designing and development

Basic features and functionality.

The complexity of the app

Mobile developers experience

Technology platform (Android, IOS or both)
So as it is difficult to provide the exact cost of developing a Bulk Invites app. So here I am providing the approximate cost and timeline of developing a bulk invites app:
Timeline:
App Design:- 9 Working Days

Android App Development:- 25 Working Days

iOS App Development:- 25 Working Days

Web Backend & Apis:- 30 Working Days

Testing, Bug fixing, and Deployment:- 7 Working Days
Costing:
The approximate cost of developing a Bulk invites app is 5000-8000 USD.
We are at The App Ideas, which is a leading software development company. We have worked on various IT services and developed various best solutions for website development, mobile app development, E-commerce app platform and game app development. We have a team of highly experienced developers who provide the best solution for a Bulk Invites app in best rates.
Would you like to launch a Bulk Invites app?
If Yes, then feel free to reach us.