Here in this article, we are going to discuss about the Driver Tracking app. In this digital era, if you are thinking to start a delivery service or want a driver tracking app to make your work more easy and convenient and also to helps businesses to deliver their services to customer doorsteps.
So hello everyone because here I am going to discuss the driver tracking app, its benefit, its features list and many more things.
This Driver Tracking app solution is highly related to online ordering and delivery service. Nowadays, Everyone is more attracted towards the digital services, because people feel more comfortable to use this kind of services. Through a smartphone, Users can order anything from anywhere, and it's not completed yet, after ordering, the things are also delivered to them at their own place or address.
The Driver Tracking helps in delivering the services at the doorstep of the customer on a delivering time. Which directly means that this driver tracking app helps in time saving as well as also cost effective for the users. User do not have to visit stores and spend hours for buying things and it also helps in saving fuels. No travelling, just downloads the app, make shopping, make payment and as per the calculated delivery time you get your services at your door steps.
Isn't it amazing to have this kinds of services? Thanks to Driver Tracking app. Driver tracking app is not only beneficial to the customers or users but it is also amazing for the Businesses also.
As per the increasing demand of the online services , many of the business owners and service providers have thought of converting their services into the online platforms by launching specific mobile app and services. But sometime its quite difficult for them to manage the delivery services.
Majorly, this Driver tracking app is used by all the industry who are providing the service like delivery service to the doorstep of the  customer. This app is mainly used by the food industry, e-commerce industry and many more to keep the track of the driver. It is also used by user to track their vehicle or driver.
Have you ever thought of developing a Driver Tracking app?
If yes then you can plan of driver tracking app  because this time is highly demanding for driver tracking app services. Driver tracking app helps can easily collaborate to various industries and offer them the best delivery services. You can allow them to track the services, contact with the drivers and manage the payment easily online. As an app owner you can also track the services and manage it convenient from any place.
Yes, You are thinking to introduce an app like Driver tracking app or delivery tracking, then trust me it really maximize your profitable in the present time. The only important things is to analyze the available solution in the market and plan something unique functionality to your app to get more attention.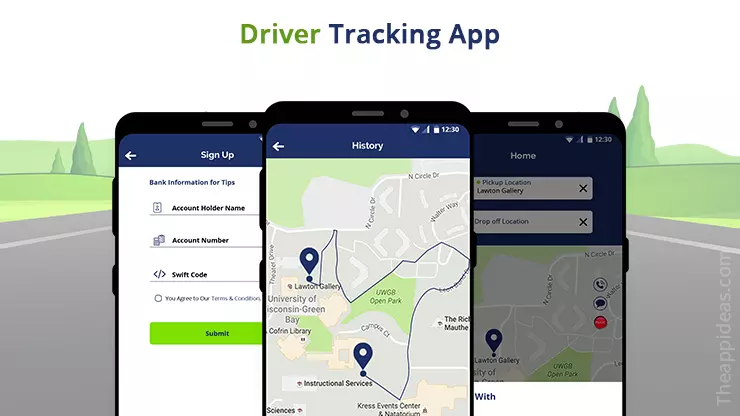 How is the Driver Tracking App work?
The Driver Tracking App is integrated with a GPS system. GPS helps to navigate and track the vehicle.
When the ordering process is completed, the delivery time is display to the customer at the ordering time. So after when the deliver boy begin to deliver the item, then business owner can easily track the driver and track the time.
Customer use driver tracking app to track their item and get the idea of the delivery time .
This kind of application like driver tracking app helps the industry owner to track their staff, estimate the traffic and notify the customer in case of delay. If any issue or problem arrived in between of delivery then the industry department can track and find another solution accordingly.
What are the Benefits of Driver Tracking App?
There are many Benefit of using this driver tracking application lets discuss some of the points
Track the vehicle.
Tell you about the traffic.
You can track the vehicle and get to know about the issue if it arrives in between of delivery service.
It does route optimization.
By using this kind of app, it increases productivity.
Track multiple services in one time.
Proper track of things and helps in time management.
What are the monetizing methods of a Driver Tracking App?
The main benefits of launching or developing a Driver Tracking app is that along with making money through services, you can also generate money but monetizing your app platforms to generate extra amount of money. Let me list down some of the best ways of making money through a Driver Tracking app:-
By adding Advertisement of various services or promoting their services into your platforms and charge them accordingly.
Charging up the convenience services to the customers.
Take or charge up commission based on the services to the business you have collaborated.
What are the main features required in a Driver Tracking App?
Here I am going to list out the mandatory features of the driver tracking app.
Login or signup module
User-friendly dashboard
Map integration (GPS)
The order detail
Communication with drivers
Get notification about driver movement and action
Notify industry in case of problem
Tracking the services.
Time management
History of orders
Pickup point details
Delivery address
Payment records
Multilanguage support
Rating and reviews as per the rating
There is some additional features like real-time tracking, proof of work done, battery low notification and many more.
The cost of Driver Tracking application depends upon some factors like layout, feature, additional features and cost of driver tracking app is also depend on the number of modules. So the approximate cost of developing a driver tracking app is 5000 USD-8000 USD and it takes 600-800 hours to design an amazing driver tracking app.
We are from The App Ideas, which is a leading web and app development company. We have worked on various software solution related to driver tracking app at beat rates. Would you like to create an amazing driver tracking app to increase your company's productivity? Feel free to reach us and get a free quote from us.