Thanks to the mobile apps food ordering at any occasion became easier than ever before. No wonder, food ordering apps continues to remain tremendously popular. Zomato, Uber Eats, Swiggy and several others became the part and parcel of our modern lifestyle now. Thanks to these apps people can order their food anytime and get it delivered anywhere.
Naturally, many restaurants and food businesses are considering to take on the opportunity of these food apps. The best thing about building a food delivery app is that you don't need to be intimidated by the shrinking market size. In spite of the presence of several food aggregator and ordering apps, the market is still virgin with lot of opportunities for the new entrants. That means building a successful Food Delivery App is really possible. It is far from building a castle in the air provided you know what it takes to make an app for food ordering and guide it to success.
Let's start by looking at some important statistics in favour of the food ordering apps and the main competitors in the market. Then we can see the key features, business model and other attributes.
According to the investment firm Cowen the estimated growth in the food delivery market stands at 79%.
By the next year, online food delivery market is estimated to reach $55 billion in volume.
By the end of this year, the total online payments received through food delivery apps is expected to reach an overwhelming figure of 210 billion.
As of now, online food delivery apps have been responsible for at least 25% business growth for small and big restaurants.
Top Players in the Food Delivery Market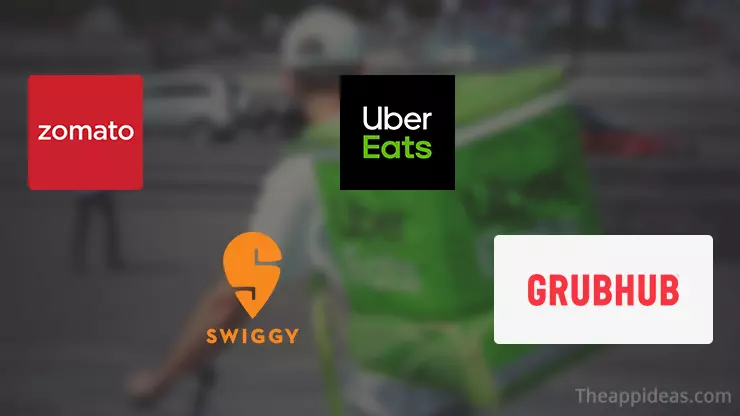 To understand the growth potential and the business opportunities offered by food delivery apps it is important to understand the role of top players in the food delivery market. Let's have a look at the top food aggregator apps in the market.
Zomato
Zomato which was originally started as a restaurant search platform soon embraced the food delivery business model and quickly became an industry leader. Now having presence across 20 countries across the world is regarded to be the most customer-friendly food delivery service. Apart from providing all state of the art features Zomato also allows its foodie users to use the app as a social networking platform.
Uber Eats
UberEats having a robust presence across more than 1000 cities around the globe is the leading food aggregator app. The app offering exceptional ease of use and flexibility allows customers to browse, choose and order food through an extremely easy and clean interface. The app is fully equipped with state of the art features such as real-time delivery tracking with GPS map, estimated delivery time, real-time chat based support, etc.
Swiggy
This Bengaluru based startup having presence across only 8-10 Indian cities quickly rose to prominence and became one of the most popular food delivery apps in India. With 10,000,000 downloads in the App Store and Play Store, Swiggy is now leading food app in India. The app comes with state of the art features like auto detection of user location for faster delivery time and GPS based real-time delivery tracking.
GrubHub
GrubHub is another leading food aggregator app with a global presence and offices across international cities such as Chicago, London, and New York. Having partnered more than 30,000 US restaurants it is the biggest competitor of Uber Eats in US. GrubHub apart from offering all state of the art features offers a wider range of filters for making the choice of food more precise.
Food Delivery App Business Model
Now that you have seen the most successful examples of food delivery apps, it is time to understand the specific business model underlying these apps. All the above food aggregator apps like Zomato, Swiggy, UberEats, etc share the same business model. They are used both as the restaurant finders as well as food delivery apps. These apps besides allowing you to search your preferred restaurants, food choices and food with promotional offers also allow you to order the food online.
How Does the Food Delivery Apps Work?
The food delivery apps work in the following ways.
App users order food by using the app from their preferred restaurant.
Restaurant either accepts or rejects the order based on availability.
After accepting the restaurant start preparing the food and after preparing the customer is notified and the food is handed over to the delivery partner.
Delivery partner reaches the customers address as specified during transaction and delivers the food.
When all these actions take place after placing the order, customer is notified about his order in real time. Customer can also get real time GPS based updates on the map.
After receiving the order and savouring the food customer can rate the service of the delivery partner and the food as per his or her satisfaction.
Let us now explain some of the most effective ways most successful food delivery apps make revenue.
Delivery Charges
Restaurants can charge extra for the food delivery. Food aggregator apps can also take a delivery charge on the total food billing.
Surge Pricing
When the demand is exceptionally high, the app can charge a surge price from the customers.
Commission
The food delivery app can charge a commission from the food price customer is paying for every order.
In-app Ads
The food delivery app can also publish ads or feature some restaurants within the app against a special price.
Application Panels and Key Features
Every food delivery app has 3 panels, respectively the user panel for ordering online foods, the restaurant panel for the restaurants to respond and interact with food apps and finally admin panel for the app admin to exercise control over all activities.
User Panel
User panel requires the following features.
Login/Sign Up:
Geo-location map and tracking
Homepage showcasing nearby restaurants and hot deals.
Menu for each restaurant screen.
Address book to allow users keep several preferred delivery addresses.
Auto-detect location feature.
Food app cart with the option of adding or dropping food items.
Multiple payment modes to allow users make payment for ordered food.
User review allowing to add comment and rate food.
User capability to check all previous food orders.
Discount and offers with food orders.
On-screen contact details of the delivery agent and the restaurant.
Tracking delivery agent location on GPS map.
Search bar to allow users search restaurant and food of their choice.
Multiple filters and refine options for search function.
Restaurant Panel
Restaurant panel of the food delivery app will have following features.
Dashboard for the restaurant owners to track orders.
Options to accept or reject orders.
Managing restaurant profile and all details.
Multiple payment options and gateways to receive or transfer money online.
Delivery Personnel Panel
The panel for the delivery personnel will consist of the following features.
Signup/Login with credentials provided by the admin.
Auto-assigned order request from nearby restaurants.
Order delivery tracking and marking when completed.
Order history to track all orders delivered by the agent.
Call/ Chat option to allow customer contact delivery boy.
Push notification to update the delivery personnel about any order update.
Digital wallet or offline payment option for delivery service.
Transaction history to check all payments received.
GPS tracking to detect real-time location of the delivery agent.
Online support to allow delivery agent to communicate with the app support team
Finally, to build a successful food delivery app you need to choose the right technology solutions for the required features. Here are the required technology stack for food delivery apps.
For social login features you need Facebook SDK Login
For cloud support you need AWS and Azure
For restaurant listing you need GrubHub API or FourSquare API
For tracking user location in real time, you need Core Location Framework, and Google Places API
For payment related features you need Square API, Braintree, Stripe, PayPal, and eWallets
For storage options you need Amazon Cloud Storage
For analytics you need Google Analytics
For on-road guidance of direction the app needs Google Maps and MapKit.
Development Cost for A Food Delivery App
Obviously, the cost of developing a Food Delivery App will largely depend upon the features and functionalities of the app. Let's offer here some realistic estimates about the same.
Approximately the basic cost of building an ordinary food delivery app will cost somewhere between $12,000 to $20,000. In case of an advanced app this cost will whereas a high-end food delivery app may cost you more than $40,000. The cost of development also varies as per the country. While developers in US charge around $100-$500 per hour, in India developers will charge somewhere around $50-$200 per hour.
Conclusion
Developing a food delivery app can bring you huge revenue opportunity. But to make such an app successful you need to take into consideration each and every aspect corresponding to the value proposition, features and competitive advantages your app can offer to its users.