Here we are going to discuss about the How Much Does An App Like Ubereats Cost? This digital technology is reshaping the market. As everything is going online and the customer finds it more convenient and transparent method to shop online and pay online and on other side sellers are also saving lots of money by reducing their operational cost and increasing profit by increasing their business reach.
What about the Food Industry? Is digitization is happening in the food industry?
Yes, After the big players enter in the market, this market change 360°, Big players like Ubereats, Zomato, Swiggy spent huge money in marketing and due to that, they become successful food marketplace platforms, to attract the new users and make them comfortable in ordering & paying online.
Today, we are going to discuss on Uber-Eats, how to make a food ordering app like Ubereats? how much does it cost?
How Much Does An App Like Ubereats Cost?
Before getting into app like Uber Eats, the things you need to keep in mind before starting any food delivery app are listed below.
1) Choosing the right target audience.
2) Partnering with grocery store and restaurant. Building relations with the food producer.
3) Deciding whether to have drivers on your payroll or contract with drivers the way Uber Eats does.
4) Choosing the right features for your mobile app
To make an app similar to Ubereats, first of all, we need to understand the concept of Ubereats.
What is Ubereats? Why they are Successful? What kind of services they provide to the restaurant? What is the work flow of Ubereats? 
Let's discuss all the things and understand them in a better way.
The business work model of ubereats given rise to many startups and supported many small scale restaurants to grow their business online. As some restaurants don't own their own app for food ordering so they collaborate with ubereats and reach to the customer through ubereats app.
The Workflow of ubereats is in between 3 parties-Customers, Restaurant and Delivery service which is provided by uber eats.
First part, Customer order their food from their likely restaurant by using the ubereats app.

The restaurant gets notification about the order, they confirm and notify to the customer as well as delivery service(ubereats).

And at last delivery boy collect food in an insulated bag from the restaurant and deliver it to the customers on time. 
Why Ubereats is popular? What kind of special services they provide? 
Uber launched an app for servinf food industry and named it as Ubereats. This app is all about to order food online and get deliver the food at your own place.
UberEats plays dual roles- it's an aggregator as well as a delivery agent. On the one hand, it provides a platform offering access to multiple restaurants through a single online ordering app and on the other hand it has its own logistics network too, which means it also provides a delivery service to many restaurants.
How ubereats make money?
1) Delivery fee from customer:- As they are providing the delivery service, so they charge the delivery fee according to the distance or time.
2) Revenue Sharing from Restaurant: – UberEats earn itself some recurring revenue sharing for the orders fulfilled by UberEats. This ranges from 15% to 40%, depending on the maturity of the market.
3) Advertising income from the restaurant partners:- Ubereats charge their restaurant partners a market fee to come up on the top searches.
What kind of features you require, to build an app like Ubereats Cost:-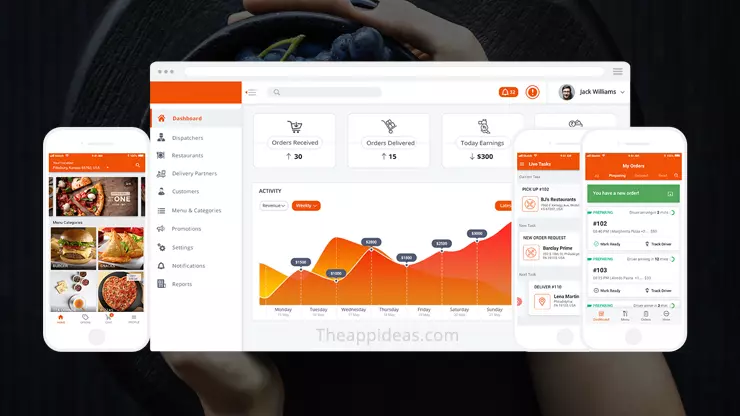 User panel


Login /registration

Set up address.

Search bar for searching for a restaurant or food.

Select the food and add it to cart

Allow to use a promo or offers code

Live location tracking

Secure payment method

Chat or call to the driver.

Contact details of the restaurant

Review, ratings or feedback 
Restaurant  admin panel

Website or app module for restaurant

Create a detailed profile  of the restaurant 

Access to add, edit delete menu

Create an offer, discount coupon on food

Notify user about the confirmation of the order and manage orders.

Manage payment and earnings.

Update order status to notify the delivery partner

Manage review and ratings

Food delivery service panel

A web portal or mobile app to access

Manage user(customers) and their order

Manage restaurant  and delivery partners

Manage menu and dishes added by the restaurant

Manage review and ratings

Manage payment

Manage multiple requests.
How Much Does An App Like Ubereats Cost?
The cost of food ordering app depends on the features you want, the layout of an app, the number of module you want, the technology you want to develop your app in and the additional features you want. The range of developing an app like ubereats is 5000 USD – 8000 USD and it takes 120 hours to build an app like Ubereats.
The App ideas is a leading Mobile App Development Company in India with the skilled employees' team and extensive expertise in the food industry. We have worked on many food ordering & delivery apps projects so we can offer the best price, timeline and quality. 
If you want to build an app like Ubereats or any other types of food ordering apps then don't wait, feel free to reach us and get a free quote.0