Are you thinking of executing an E-learning app in the market?
Then firstly you need to understand the concept of E-learning in more detail and also know about the types of E-learning app and what is the E-learning app demand in the market.
In this present time, every industry is taking the help of technology for maximizing their profits, as people love to use the technology for fulfilling their basic requirements. Every industry is now providing online services via web apps or mobile app.
So now the education system is also using technology for the betterment of the society because through an E-learning platform people can learn anything from anywhere at any time, they do not need to join some institute or coaching centre for learning. People can directly use the E-learning app and purchase the courses which they require for learning.
Why the demand for E-learning app is more demanding and what are the advantages of using an E-learning App?
As per the survey, nowadays people are more inclined towards apps services rather than using website services or offline services because this is a digital era and almost everyone has owned a smartphone it is really easy to access all the services through an app.
Let me list down the advantages of using an E-learning App:
Through an E-learning app, users can access various ways of learning things like they can go through the notes, watch the video and much other learning mechanism.
E-learning app can be used from anywhere at any time.
E-learning app provides the learner with a quick way of learning.
Learners can able to repeat the courses if they do not clearly understand the concept for the first time.
It is easy to access the E-learning app than E-learning app as learner can easily download the app from the store, so there is no need to go surfing or remembering the links.
Students can easily collaborate and can have a more participative learning experience.
Learning through an E-learning app is convenient and flexible.
E-learning saves time and money as learners don't want to take out extra time for going to any institute for learning things they can directly access the online facilities from their workplace.
Through an E-learning app, parents can easily keep track of their child's progress through the generation of monthly reports.
Learner can easily check their knowledge by attending various Test series integrated in-app.
In the market there are two different types of E-learning app are present. Let's discuss the types of E-learning apps in more details: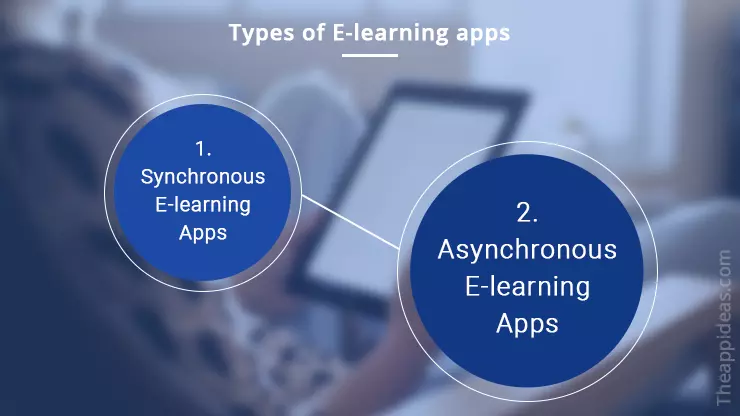 1. Synchronous E-learning apps:- This type of is for real-time learning. In this type of app, the learner can easily connect with the tutor via an app can learn things in real-time and if want then learner can also ask questions directly to the tutor and clear their doubts.
Synchronous E-learning app is like Like virtual classroom.
2. Asynchronous E-learning apps:- In this kind of apps, there is no need for the presence of a virtual teacher, this tutor can easily upload the course materials like notes, video lecture on the platform and learner can easily access whenever they require.
Asynchronous E-learning app is like Udemy or Coursera.
How this E-learning app helps an institute in boosting sales?
If you are running an Institute or coaching centre than launching E-learning apps really helps you in gaining profit. How? As with an Institute, you are also providing the app services in the market so another learner can also join virtually your institute and access the services which increase your monthly income.
If you are thinking of starting an online business, then you can think of launching an E-learning app, a platform where various tutor can register and provide their course material to the learners and on the other hand various learners can access various courses by joining this platform.
The only work as an admin of an E-learning app is to manage the panel and keep maintaining the platform. An E-learning app also helps admin to make money.
Let's know how you can make money by launching an E-learning app?
By doing In-app advertisement: In this, you can provide your platform to a third party for advertisement. You can charge the third party for an advertisement.
By launching a Subscription and premium model of an E-learning app.As user have to pay some amount of money for accessing the advanced features and functionality by buying the premium app.
As an E-learning app owner, you will get your commission on per purchased courses.
What are the Basic features an E-learning app contains?
Features list for a learner Panel:
Easy registration and login module for learners.
Easy navigation to the courses and study material
Can able to search various courses by applying various filters
Can get notify whenever a new course is added to the platform.
Can purchase the courses by doing online payment
Can access the quiz test and mock test services
Learners can post questions and answer
Learner can directly chat with the tutor for clearing doubts.
Learner can check their history or list of purchased courses.
Learner can easily track their progress by reports which is generated in-app.
Features list for a tutor Panel:
Tutor can easily set up and manage their account
Tutor can easily update or modify their uploaded courses.
Tutor get notify whenever any learner has posted a question
Tutor can manage the payment module
Tutor can clear the doubts of the learner by chat module.
Feature list for an Admin Panel:
Admin can do the learners data management
Admin can do the tutor data management
Can manage the courses
Manage and define the categories or Subcategories of courses.
Manage the premium and subscription packages.
Payment management
Manage the chats and discussion forum.
Content management system
Able to generate reports and do analysis.
What are the factors on which cost of E-learning app depends?
The cost of the E-learning app is depended on some of the factors. Let me list down the factors affecting the cost of an E-learning app:
The Cost of an E-learning is depended on the UI/UX design of the app.
Cost also depends on the size of the app.
The features or functionality you want to add in your E-learning app
The cost highly depends on the platform which is chosen for development of an E-learning app it can be in Android, IOS or Both.
How much does it cost to develop an E-learning app?
As we have discussed the cost of How much does it cost to develop an E-learning app? is highly depends on some of the factors. We are at The App Ideas, which is a leading web and app development industry. We help you to develop an E-learning app by providing you with the best solution and Unique UI/UX design.
We can offer you to hire the experienced and expert android as well as IOS developer.
So here we are providing you with the approximate timeline and cost of developing an E-learning app:
Timeline:
App Design:- 7 Working Days
Android App Development:- 25 Working Days
iOS App Development:- 25 Working Days
Web Backend & Apis:- 30 Working Days
Testing, Bug fixing, and Deployment:- 5 Working Days
Costing:
The approximate cost of developing an E-learning app is  4000-7000 USD.