Dating apps are the most popular platforms used by youngsters in this present time for finding a soulmate, making new friends or finding people for casual dates. In Today's market dating apps like Tinder, Bumble, Happn, plenty of fish, Zoosk and many more are some of the most successful dating apps.
The success behind the dating app highly depends on the promotion before launching the dating app which is generally known as pre-promotion of the app and after app launching, you also have to do the past promotion of a dating app to make it more successful and popular.
Nowadays, many startups are originated in this specific dating app area but as per some facts around 90% dating apps, the startup fails because of the weak promotion or marketing strategy. 
It is easy to create and maintain a dating app by hiring the Best Dating app development company but  Promoting a dating app or attracting more users to your platform is not an easy task. You really need to analyse your user requirements and the problem users are facing on some of the dating apps.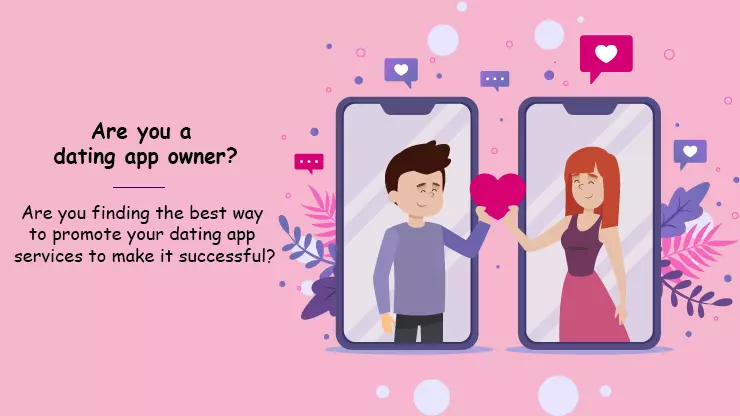 Are you a dating app owner?
Are you finding the best way, How To Promote Dating App services to make it successful?
So here without taking much time, Here I am listing the best way to promote dating app for making it victorious:
Find the Target market for promoting your Dating app.
This is a part of the pre-promotion of Dating app. Basically you don't have to wait until your app is launched in the google store or app store. 
Finding the right market helps you to spend your time and money in the right direction. Dating apps are generally used by 18-24 age groups. As the dating app usage mainly depends on the type of dating app.
Use Social media for promotion of Dating app
In this present time, Social media are one of the powerful weapons for promoting many services. Many Startups or entrepreneurs are using social media like Facebook, Instagram or some professional social network platform like LinkedIn for promoting their services.
For promoting your dating app, you can also use social media like Facebook or Instagram by trying its paid promotion features. Social media is also one of the ways for dating app promotion because nowadays almost every youngster is using Social media.
Social Media helps you to increase the number of uses for your dating app.
Create a Website  or a Landing page of  your Dating app
A website or a landing page is necessary for dating app promotion as it helps you to get the organic user for your dating app services.
Website or a landing page is very useful if you integrate it with a registration form. By having a registration form you can collect the data like e-mail id or phone number of the visitor which helps you to inform the visitor about app development and launch.
Do a Google store or App store optimization for dating app promotion.
Google Store and App Store optimization is one of the profitable ways of gaining more users for your dating app. As per the research,  people use to scroll down in a specific app store for checking more best apps which fill their requirement.
Use various promotion or marketing tools to improve the app search ranking like focus on the keyword, dating app demo video, the description of your app as well as the screenshot of your dating app.
This technique helps you to display your dating app in top suggestion to the user who is looking for a dating app.
Access Paid Promotion Services for promoting a dating app
For earning or generating more revenue, in the beginning, you need to spend money on gaining more users which helps you to increase the popularity of your dating app.
Various Platforms are providing Paid Promotion services like Google AdMob and social media advertising. Paid promotion is a very effective way to promote a dating app.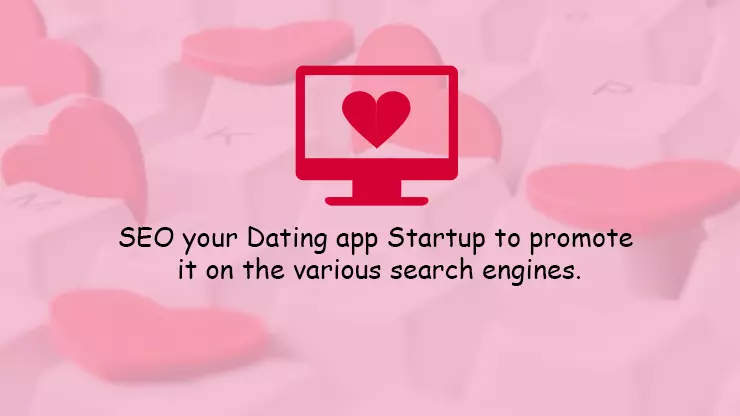 SEO your Dating app Startup to promote it on the various search engines.
An Impressive content of a Dating app is key to better SEO ranking. SEO stands for Search Engine Optimization which helps you to get noticed by Search Engine (Google) which helps you to keep your service on top searches.
You can achieve better SEO for your dating app by doing content marketing, blogging, blog posting, videos posting and images posting on various platforms.
Provide Unique Features or services on your dating app.
Users are more attracted to the services if you are providing something different from all the available services in the market.
To stand out differently, you have to provide some unique features or functionality in your dating app services which attract more users to use your dating app platform. Promote your unique features.
Create a Dating App Video and upload it on a Video Sharing website like Youtube.
One more popular promoting and marketing technique is creating a funny and interactive dating app video and upload it on multiple video sharing platforms like Youtube.
You have to create an interactive and funny video of your dating app and post it on youtube. People can easily like, comment and share your dating app video, which helps your service information to reach as many people as it can.
Connect with Influencers for promotion.
As per the analysis, influencer marketing is producing 11 times higher ROI compared to traditional methods to digital marketing.
Connect with influencers, who can help you to promote your dating app services globally by using various marketing tactics. This method is also very effective as it helps to promote your services globally and which increase user engagement in your platform.
Share your User Success stories.
The dating app is all about meeting strangers and forming an own real love story by finding the compatibility and connection to the stranger by going on dates or spending time.
You can promote your Dating app by sharing the success love story of the user who gets their partner using your platform.
Above mentioned are some of the best and popular dating app promotion ways which help you to increase your user and helps you in boosting profit.
We are at The App Ideas, which is a leading web and app development company. Along with website and E-commerce platform development, we provide a robust portfolio for Mobile apps development.