A How much does it cost to develop a Night out App? from the name itself you can easily get the ideas about the app ideas which we are going to discuss today. A Night out App solution is basically an app solution for the people who like to go night out with their friends.
A Night out App solution can be called as one of the boons of the technology, Due to the advancement in technology now it is very easy for us to access various services as well as we can connect with people using various online platforms like mobile app or website.
Why a Night out app required in this era?
We are living in a world where we have online access for all kinds of services. But if we talk about a night out then probably there are few or we can say no solution is available. To keep entertainment and fun in life mostly on weekends people plan a night out with their friends like going for late-night foods stall, going to pubs and clubs and many more activities are included in a night out plans.
But sometimes it is really hard to get a perfect place where you and friends can chill out and make a night out memories by having some fun.
We are providing a very unique app solution which can eliminate the time-consuming night out planning. Through this night out app solution users can easily check the nearby pubs, clubs, night out spots, restaurant, an organized party and many more. And also invite their friends to join them and have fun.
Would you like to launch a Night out app solution in the market?
If Yes, then here we are going to discuss some of the basic points related to launching a night out app solution like How to launch night out app, what is the working model of this night out app solution, What are the basic features of a night out app and how much does it cost to develop a Night out app.
How to launch a Night out app solution in the market?
Due to the high demands of online platforms like the website and mobile app, people are now more inclined towards digital services as well as launching or converting their business to online platforms for maximizing the profits. Online platforms are quick as well as the time-saving technique of both the parties.
If you are looking for unique app ideas services which you can launch in the market for earning as well as helping the society with an app solution then you can easily go for a Night out app solution.
Launching a Night out app is very beneficial for you because as per now there is no such solution available in the market which can help the user to easily plan their night out with their friends as well as connect with similar kinds of people who like to go on a night out.
Launching any kind of online solution like a mobile app and website can be easily monetized in a variety of ways so the app owner can easily make money through this kind of platform. Yes, as an app owner you can also earn money by monetizing this night out app solution.
Let's discuss, How to generate money from a Night Out app solution?
You can collaborate with some clubs and pubs owners to help them to reach out to your app users.

You can integrate ads services in your platform and earn money through it.

Launch a premium model of the app so the user can purchase the premium app for accessing some advanced features.
Working model of a night out app:
In this app solution, probably the night out lovers can easily create their profile by registering them in this app. They can easily check the ongoing events near their location, check the pubs and clubs details, check the restaurant which provides its services 24/7 and all the things related to the best night out plan.
Users can share these details with their friends and make them join. Users can also allow access to location so their friends can track their night out of the location and join them easily. If someone wants to organize a night house party then they can post the details of the party in this app and other users can register, Share and join easily.
What are the key features of a Night Out app?
Before launching the night out app solution you need to know some of the basic features which we can provide in a Night out app solution. The Night Out app solution mainly consists of two panels.
User Panel

Admin Panel
Let's discuss each panel features in more details:

User Panel
User registration.

After registration, they can set up their profile.

Allow location access

Search and filter bar.

Check the upcoming and latest events.

Make registration to the event.

Check nearby night out spots.

Share details with friends.

Able to Organize events.

Connect with other peoples

Payment management module.

Provide feedback and ratings to the app.
Admin Panel
Admin log in

Track the performance of the user.

User profile management.

Event list management.

Places and location details management

Ads management.

Premium profile management.

Revenue management.

Access marketing tools.

Manage the feedback and ratings of the users.

Report generation
How much does it cost to develop a Night out app?
The cost of any mobile application mainly depends on your requirements or some basic elements. To know the cost of a developing a night out app you need to know on which elements the cost is dependent: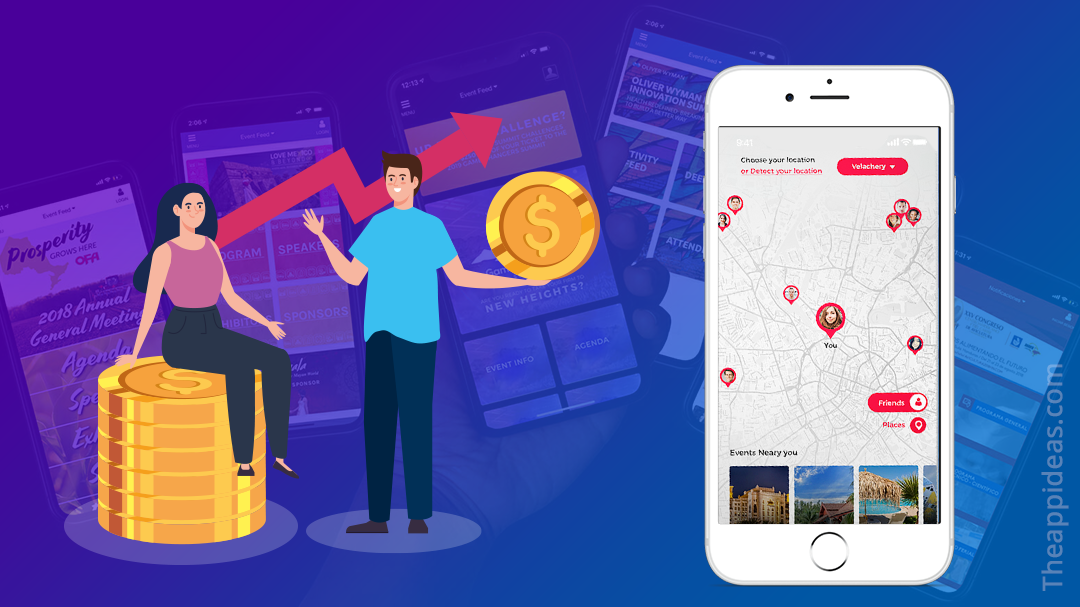 The UI/UX designing of the app.

The feature and functionality of the app.

The complexity of the app.

Technology platform (Android, IOS or both)

Mobile developers experience.
So here I am providing the approximate cost and timeline of developing a Night out app:
Timeline:
App Design:- 9 Working Days

Android App Development:- 25 Working Days

iOS App Development:- 25 Working Days

Web Backend & Apis:- 30 Working Days

Testing, Bug fixing, and Deployment:- 7 Working Days
Costing:
The approximate cost of developing a Night Out app is 5000-8000 USD.
We are at The App Ideas, which is a leading software development company. We have worked on various projects related to website development, game app development, IoT app development, E-commerce platforms development and mobile app development. We have a Skillful team of developers who provide the best solution for a Night Out app.
Would you like to launch a Night Out app?
If yes, then feel free to reach us.