Here we are going to discuss the How much does it cost to develop a Salesman tracking app? If we consider then many of the businesses highly depend on the Sales activities or the sales team of the company or industries for the success of the firm.
Some sort of issues are Still facing these kinds of industries is that they do not have any source to track their salesperson and get all the details about their sales team and predict their profit as well as keep the records of their sales team activities for future.
Due to digitalization, it is now possible to get a perfect solution through which various industries or company owners can track their salesperson and get the details about the place they have visited and also keep records of the positive response they get when their salesperson approaches any firm.
Salesman tracking apps can be called as a boon to the companies or industries who are highly dependent on the sales activities and also for the firms who are running sales business. By having a salesman tracking app they can easily track all the activities of their sales team or salesperson on a daily basis which also helps them for making the promotion of a particular team based on their dedication to their work.
Would you like to launch a Salesman Tracking app?
If yes, then here in this article we are going to learn more about Salesman Tracking app, what is the demand of salesman tracking app like discussing some stats and figures related to sales-related business, How to launch a salesman tracking app in the market, the key features of a Salesman Tracking app and the cost of developing a Salesman Tracking app.
Let's discuss some stats and figure related to a Salesman Tracking business:
Around 80% of sales of industries is made by approximately 20% of Salesmen.

46-47% of salesmen don't plan to go into sales.

Approximately 85%-90% of marketing teams support their sales team and Consider it as the first priority for generating sales.

Successful salespeople have aligned their personal goals with work goals for generating more profit.

In this present time, Still, Door-to-Door sales are still generating $28.6 Billion.

Generally, some customers still prefer door-to-door marketing because they are convenient to ask in-person questions before buying the products

Direct Selling is growing around 1%-6%  each year since the year 2010.

As per research around 50% of customers feel neutral towards direct sales,31% of them approve this and only 20% of buyers dislike direct sales.
How to launch a Salesman Tracking app in the market?
Many youngsters are now introducing and providing solutions to various industries and companies for making their work easier. If you can look around, then you can clearly observe that in today's time various Mobile apps and web apps are present in the store which are very beneficial for the business.
If you are also thinking of launching any mobile app ideas to assist sales business then you can think of launching a Salesman business app. There are very few solutions present in the app store which can be used for tracking the salesman easily and efficiently.
By providing a Salesman tracking app in the market, you can provide a perfect solution for the Sales business owner. By this business owner can track their salesman which helps them to easily maintain their business records which are also beneficial for future requirements.
On the other side by launching a Salesman tracking app, you can generate revenue through different-different ways. Nowadays online platforms can be considered as one of the best ways of generating revenue.
Let's discuss some of the best ways of monetising a Salesman tracking app:
Ads service integration, in this you can allow the third party to promote their services in your platform through ads and you can charge them accordingly.

By Collaborating with various salesman providing agencies.

Offering premium and subscription models of the app.

By offering some membership packages by which users can access some advanced features.
What are the key features of a salesman Tracking app?
In the above section, we have already discussed all the salesman tracking apps. The salesman tracking app generally consists of three main panels. Let discuss the features of salesman tracking app in details:
Business owner Panel.
Able to login or register their account.

After registration, the business owner can easily create and manage their account by providing some basic information.

Able to add all the details about their salesman.

Allot daily tasks to their salesman.

Track salesman location individually.

Review their daily report.

Track the performance of the salesman.

Purchase premium subscription.

Manage the records of the employees.

Provide feedback and ratings to the app.
Salesman Panel.
login/sign-in/sign up.

Create their profile and manage by entering basic details.

Manage their daily tasks.

GPS tracker integration.

Record the data of the person they have visited.

Enter in time and out the time of visiting any location for the purpose of sales.

Generate and update reports based on their sales.

Notify Business owner in case of any trouble.

Provide feedback and ratings to the app.
Admin Panel
Admin login module.

Admin dashboard management.

Business owner profile management.

Salesman profile management.

Premium and subscription feature management.

Ads management

Revenue management.

Membership profile management.

Utilize marketing tools.

Manage feedback and ratings of the mobile app users.
How much does it cost to develop a Salesman Tracking app?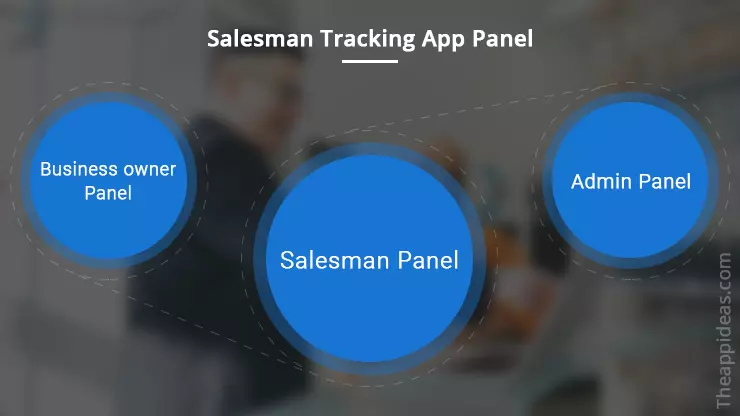 The cost of a salesman Tracking app highly depends on various factors so it is impossible to predict the exact cost of developing a Salesman tracking app. Let list down some of the key features on which the cost of salesman tracking app is dependent:
The features and functionality of the app.

UI/UX designing of the app.

The complexity of the app.

Size of the app.

The technology platform of the app (Android, IOS or both)

Developers experience.
So here I am providing the approximate cost of developing a Salesman tracking app:
Timeline:
App Design:- 9 Working Days

Android App Development:- 25 Working Days

iOS App Development:- 25 Working Days

Web Backend & Apis:- 30 Working Days

Testing, Bug fixing, and Deployment:- 7 Working Days
Costing:
The approximate cost of developing a Salesman Tracking App is 5000-8000 USD.
The App Ideas is one of the leading web and app development Company. We have worked on various IT services like website development, E-commerce platform, IOT app development, Game development and mobile app development. We have a team of Skillful developers who definitely provide you with the best solution for a salesman tracking app at best rates.