Want to Develop a Unique Dating App? Would you like to develop a unique dating app that makes online dating easier than others? Yes, I mean do you really want to build an app that actually works better than Tinder, Hitwe, Badoo, Cupid Dating, Zoosk? If yes, then you have just reached the right place.
First of all, let us start with some questions. Why at the first place do you need a dating app? We are asking this because there are already so many dating apps are available and several of them having millions or thousands of users. Do these apps have some shortcomings that your dating app can fulfil and address? Do you think dating apps really have untapped potential in many parts of the world and your new app can just take on this void zone by addressing what they want? Are you targeting some niche audience? Are you offering something unique?
Again, if you have conceived the idea of building a unique dating app because of the above reasons, you are just in sync with us. We too think the so-called popular dating apps in the market have a lot of shortcomings and issues. We too think, many developing countries like India, South Africa, Brazil,  have a big untapped market for dating apps and it has been still underserved by most dating apps.
But while the idea of a dating app is fully valid and reasonable, your app concept and execution have to deal with the biggest hurdle of delivering something unique for your users. Yes, however tall and robust your claims are, it is the final output through a unique app that will be decisive.
Let's discuss what we must need to develop in the first place,
Unique Dating App Design:-
The App Ideas is the breeding ground of most unique app ideas that our creative designers and skilled developers further shape into a truly never-before app with a custom look, feel and features.
We know the basics of most dating apps and the solution is already ready with us. Now based on your query we can just build upon this skeleton and shape your custom dating app unique in every aspect. Let us have a look at some of the key features that we provide in your dating Mobile app Development.
Social Login:-
Social login is a must if you want your users to have an effortless user experience right from the beginning. They may prefer registering with all the information at a later date but at the initial stage, such requirements should not prevent them quickly log in and start using it.
Find Nearby dates (Map integration)
It is pretty common but one of the most important features for any modern dating app. Since everybody is interested in date someone located close, allowing users to find the nearby date on a map is very important.
View Profiles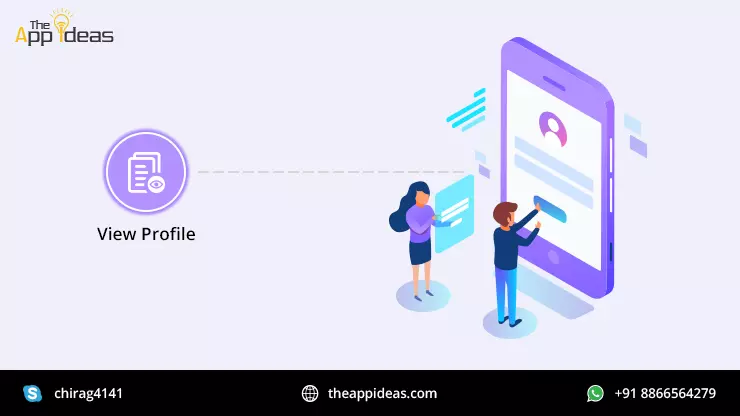 This feature has a lot of scopes to tweak with some interesting interactions. Just think how right and left swap of profiles in Tinder meaning respectively rejection and like became so popular and almost synonymous to the app. Actually, profiles are where users spend most of their time and so it deserves some special attention in dating app. Fortunately, we can come up with some unique ideas for showcasing profiles in a dating app.
Match Finder Algorithm
This is where you need to give your users flexibility of making choice through his own selection of criteria. The algorithm should be broader to encompass every single detail concerning physical attributes, demographic categories, society, upbringing, habits, sexual preferences, hobbies, food and fashion tastes and even to some extent psychological characteristics. Broader the expanse of these categories, better the uses will find them at ease.
Push Notification for a new match
Push notifications for a dating app should be allowed to remain hidden and visible. Notifications should also have the flexibility of coming with or without sound alerts.
Live Chat
These days, live chat remains an integral part of most dating apps as users can easily buzz each other and communicate for further communication.
Audio & Video Calling
Most dating apps still lack this feature and naturally integrating this instant calling feature can give your app a real edge over many others.
Ads Integration
Finally, when it is about integrating ads within your dating app, make sure it does not make the core user experience and look and feel of the app suffer. You should always monetise by pushing an option for using the app without ads.
Admin Panel Features
Besides the user-specific features, a dating app should also allow easy backend management for the administrators as well. Let us have a look at the key admin panel or backend features for any dating app.
User Management
It is about managing user login, user activities and user interactions while using the app. Capability to address recurring issues is a crucial aspect of user management.
Profile Management
Profile management features all the respective controls to manage to create user profiles and responding to user search algorithm to make them appear on the profile page.
Payment Management
This admin panel feature takes care of payment processing for the value-added features.
Ads Management
This admin panel feature is there to manage ads provided by the affiliated advertiser brands.
Till yet, we have discussed and see what are the features which every app must-have, now, we will discuss it, how we can make it unique dating app.
Every app owner want to offer some unique features for his mobile app to compete with the other dating apps however there are 2 major questions in their mind,
1) What unique features should we add?
2) How much does it cost?
So, let's discuss both one by one.
1) What are unique features should we add?
Over here, we have listed features which helps you in converting your dating app into Unique Dating App.
1. Gifting feature-As this feature is for sending a gift to your match surprisingly on their birthday or on any special occasion. Which means you can directly purchase and send it to your match address without knowing the address, yes if your match address is private and you want to send them the gift you can send them without knowing the address.
2. Maintaining Privacy-One Unique feature which can be added to a dating app to make it more unique or convenient for the user to use the app more. These features provide with full privacy and user can allow certain people to view their information and images.
This feature is for privacy which includes the following extra functionality:-
A. User can hide their profile image without blocking someone. Whenever they want to hide their images from their profile they can easily hide their picture information by only one click. User can allow certain people to see their profile picture.
B. User can also lock their profile picture, yes this feature is used by Facebook also, no one allows taking a screenshot of user picture.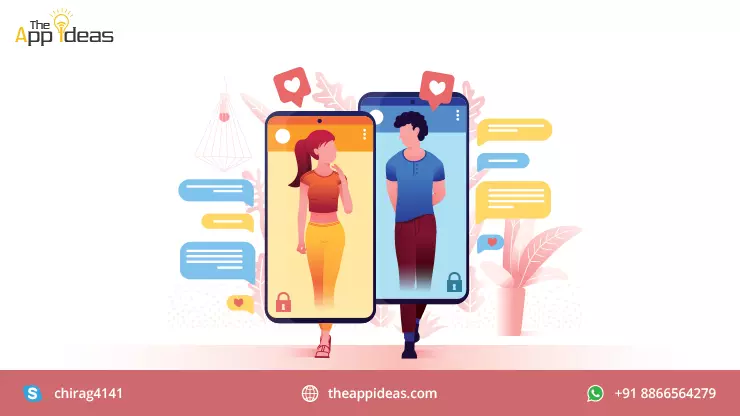 3. Private chat option -A secret Window for chat is a feature which is used for more security and privacy purpose. If the account is hacked then the user's private chat will be hidden because it is protected by a different password or it is more secure.
4. Delete chat/messages after certain time-Some app doesn't have features of deleting the chat, one unique feature for making a dating app to unique dating app is deleted a message after some period of time ,like after viewing the message snap chat can delete the message, feature like this should be added to the dating app. User can customize the setting according to their requirement either user can save the chats, delete the chats or allow to delete chat after viewing the message.
5. Schedule message-Schedule message features are used for scheduling the text on a particular date or time. You don't have to remember the day or time for texting you can write the message schedule on date and time, it is automatically delivered to that person when the clock hits the time.
For example: -if you are bad on remembering the birthdays or special days then you can schedule the birthday text early and it is automatically sent to your people. You don't have to face the trouble of remembering day or time.
6. Block and Unblock profiles-This feature is for blocking and unblocking profiles according to User choice. If the user finds someone immature or a person who bothers them and irritate them with their behaviour, the user can directly block the person. And if User wants, then they can unblock the person also.
7. Report fake profile -Report the fake profile and blocking them forever. This feature is one of the most important features which we can provide. Before registration of any member, verify the profile, verify the mobile number and e-mail verification is done. If something unwanted or unverified is found then it is directly reported as a fake profile and blocked automatically.
8. Match Algorithm based on questions answer -This is a different and unique feature, App likes tinder match the people on the basis of look or their profile. And sometimes it's just a time-wasting for the user because if the user goes for more knowing or understanding as a person, they find that they are not compatible and at the end, the user gets nothing or it's a wrong decision for the user which has wasted their valuable time. Some series of question is included in the app by admin which help the user to get to know the person and make the right decision according to the compatibility score of both the person. A proper match algorithm is prepared by which user get their right match.
9. The message read receipts-Some app don't have the features about message read receipts. The user never knows either their message is seen or delivered to another person. A new feature is included by which the user can customize their message read receipts setting to hide, show, tick or double tick according to their need.
2) How much does it cost?
Over here, we have listed approx. timeline & cost of this.
Timeline & Costing:-
App Design:- 50-70 Hours
Android App Development:- 180-250 Hours
iOS App Development:- 180-250 Hours
Backend Design & Development:- 100-140 Hours
API creation:- 50-70 Hours
Testing, Bug fixing, Project Management & Deployment:- 30-50 Hours
Total Hours:- 590-830 Hours
Estimated cost: – 5900-8300 USD (If we count at the rate of 10 USD/hour only)
Why choose The App Ideas to Make an Unique Dating App?
We have extensive experience & immense skills in developing Dating apps, Social networking apps.
We are having a skilled team for Designing, Android App Development, iOS App Development and Web Backend & API development.
We have related dating apps portfolio and many other mobile apps,
We follow an agile development process to ensure concurrent testing for optimum performance,
We are offering a control panel which is easy to use for any Lehman person,
We strictly follow the project deadline,
We are offering 3 months of free support after delivery.
We are working in a Milestone Pattern, we are dividing a project in small chunks so the client can track the work progress and manage the funding easily.
In short, with in-depth knowledge and expertise of dating apps, The App Ideas can turn your idea into a robust unique dating app. Are you ready to brainstorm the dating app idea with our experts? Just drop us a message on Skype and we are going to engage with you at the earliest.
We at The App Ideas boast of solid experience and expertise in building unique dating and chat apps for clients in different parts of the globe. Do you want to know more about our unique value proposition for building an authentic dating app? Just give us a call or drop us a message on Skype and we are going to engage with you in minutes.