Are you looking for an app development business for building an On Demand Water Delivery App?
If yes, then you are at the right page because today we are going to discuss about the On Demand Water Delivery App services, Why this on-demand platform is very demanding and profitable to launch, what is the working model of a Water Delivery App along with its features and functionality and at last, and How much does it cost as well as timeline to develop an On demand Water Delivery app.
Nowadays, Because of the convenience and easy accessibility of services people are moving towards the apps services for fulfilling their basic and daily needs. With the evolution of smartphones and technology now it is really very easy to access the services easily without wasting time.
To take the advantages of the technology , various business owners and entrepreneurs have thought of making an investment in an online startups like Water Delivery apps. By launching an Online platforms helps in generating high amount of money and also make the life easier of the business owners and users.
If we talk about the Water Delivery Services then Water Delivery Apps are very useful for society as now it is easy for them to order the number of water bottles they require at any time from any place easily. And in a short period of time, water is delivered to them at their doorstep.
Some Cool Facts and Figure about the On Demand Water Delivery App Services:
The population is growing with an average increment of 80 million people per year and it is predicted that it is going to reach more than 9.1 billion by 2050. Water is the basic thing to live life.
With the increment of the population, the demand for water delivery app is also going to increase.
As per the research, approximately 600 million households are consuming water bottles in 2018. This quantity is more than 100 billion gallons of water per year.
Sales revenue of water bottles amounted to $7.4 billion in 2015.
Globally, per capita, the average bottled water expenditure will also be in growth stage of $45.3 by 2021 from $32.3 per head in 2017.
 Is it advantageous to launch an On-Demand Water Delivery App in the market?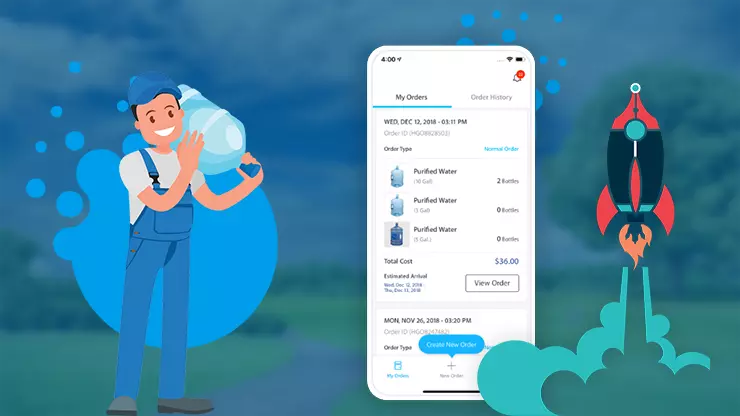 Just like food and shelter, water is also important or we can essential things to live a healthy life. Yes, it is very advantageous to launch an On Demand Water Delivery App. As this On-demand water delivery platform provides the water services at the doorstep without any trouble and on required time.
Generally, this kind of service is very useful or used by the people for offices or workplaces and home. If you have organized any function or party then also you need an On demand water delivery app services to buy some extra water bottle if the water is lacking in your party or function.
On-demand platforms also help the app owner to generate revenue from the app by using various different ways for making money from an on demand Water delivery app:
By launching a premium or subscription model for water delivery app.
Allowing access to the third party to utilize your On-demand platform for showing and displaying the advertisement.
And introducing featured listing for the water service provider.
Charging commission for the water delivery service booking using your platform.
What is the working model of an On Demand Water Delivery App?
Before launching an On Demand Water Delivery App, you much know the working cycle of the on-demand water delivery app:
The various water service providers can easily register themselves in this on demand water delivery app by simply verifying their contact number and E-mail Address.
The water service provider can easily set up their account and list down their location, services and the price of services.
On the other side, users can also create their profile by using their contact number and e-mail address.
Whenever required, the user can search the nearby water service provider and check their profile for further details.
After viewing the profile, users can easily make an order for the water bottle from the available water service provider.
Users can also make payments by using various payment methods.
After completion of the task, the user can give feedback and rating to the water service provider.
What is the feature list of an On-demand water delivery app?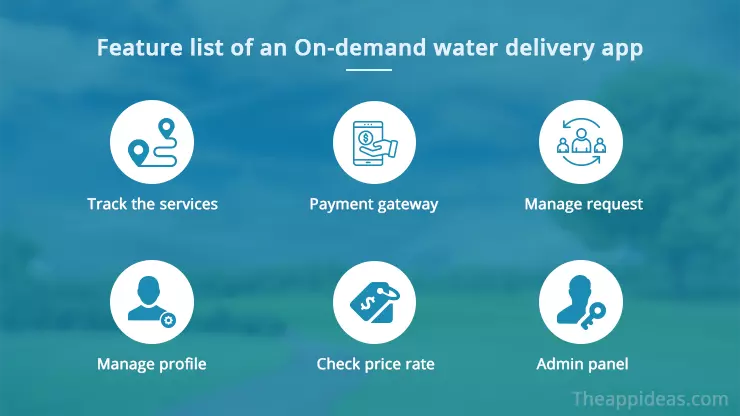 On Demand Water Delivery App mainly consists of three main panels. Let's know the basic features in more detail.
1. User panel
User can easily create their profile
Users can access search bar and filters for searching nearby water delivery service providers.
View and check the profile of the water service provider.
Can make an order by adding the quantity of water bottle.
Track the services.
Make payment by using various payment gateway.
Make ratings in-app
2. Water service provider panel
The water service provider can simply create or set up their account.
Able to list down their service with price rate.
Allow location access.
Manage request
Accept/decline request.
GPS navigation.
Payment management.
Track progress.
3. Admin panel
Manage dashboard.
User profile management
Water service provider management
Ads and premium model management
Payment management
Map Integration
Track weekly and monthly progress
How much does it cost to Build an On Demand Water Delivery App?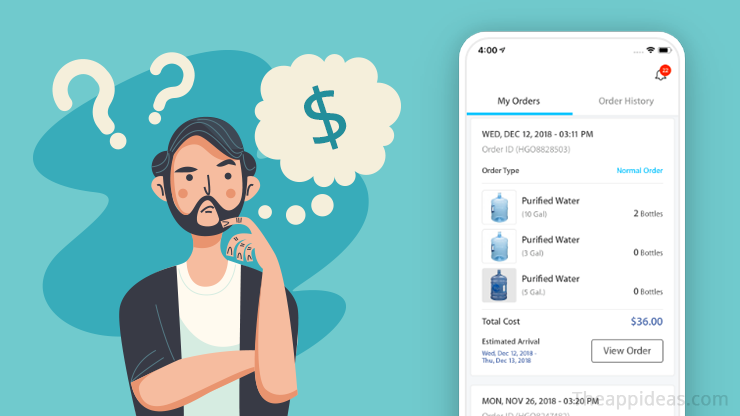 The cost of developing an On demand water delivery app generally depends on some elements like App designing, the technology (Android, IOS or both) you want to use for developing your app, the features and functionality you want to add in your app and the experience of the mobile app developers.
As we have worked on various On-demands platform ,so let me list down the approximate timeline and  cost of developing an On Demand Water Delivery App:
Timeline:
App Design:- 7 Working Days
Android App Development:- 25 Working Days
IOS App Development:- 25 Working Days
Web Backend & Apis:- 30 Working Days
Testing, Bug fixing, and Deployment:- 5 Working Days
Costing:
The approximate cost of developing an On Demand Water Delivery app is  4000-7000 USD.
The App Ideas is an IT service provider firm which provides the best web and app development solution. We have a team of highly skilled developer who will provide the best On-demand Water delivery app platforms at best rates. Along with development we also provide the best designing and solution for an On-demand platform.