Since on-demand food delivery app are increasingly getting popular and have revitalized the food industry, no restaurant and food joint can shun eyes from the opportunity they offer. To understand the opportunity and huge boost to the growth prospect that restaurants can gain from food delivery apps and how customers can find such apps extremely helpful to satisfy their food cravings, here we are going to explain the key advantages.
1. Easy and Smooth Customer Experience
On-demand food delivery apps help restaurants to deliver an easy and smooth customer experience resulting in enhanced sales with least waiting time. The earlier table booking through restaurant apps is already looking backdated considering the great ease of getting food delivered at the doorstep. While doorstep food delivery was a popular option for many restaurant chains, such model was largely unsuccessful as organizing the entire delivery process with the scope of customization was extremely challenging. This is where, on-demand food delivery aggregator apps provided a sigh of relief to the restaurants.
Food delivery apps now made the process of ordering and delivering food at doorstep extremely easier with larger Scope of customization and more control in the hands of customers. First of all, customers can order food of their choice from their preferred restaurants without any difficulties. Secondly customers can stay in control, not only in terms of food choices but also in respect of specific delivery timing and other delivery requirements. Lastly, customers always remain informed about the entire process and keep an eye on the whereabouts of the food through a GPS map right on the mobile screen. In overall measure, this easy and smooth customer experience has been a productive force for more sales and revenue.
2. No Bar for Targeting Audience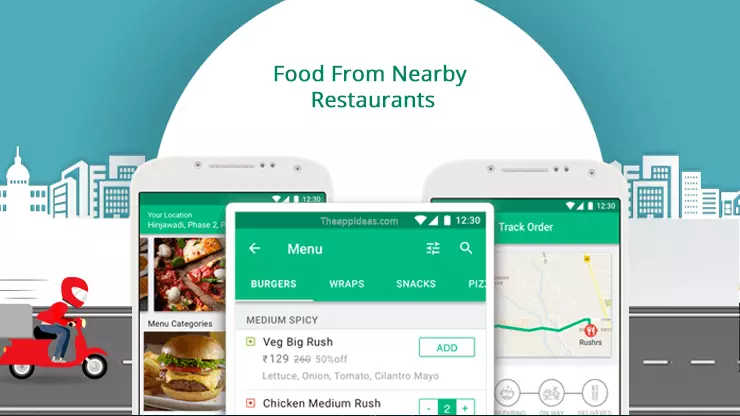 As a food lover earlier you could only think of ordering food from nearby restaurants who can afford to deliver food at your doorstep. But now thanks to the food aggregator apps you can actually order your preferred food from other parts of the city. This helped restaurants compete on a level playing field by targeting a larger audience in and around the city. No longer, restaurants just remained limited to a local audience when targeting buyers.
3. Build A Visible Brand
Thanks to on-demand food delivery apps, restaurants can now enjoy more visibility and discoverability for a larger audience. This helps them build a robust and prominent brand presence over time that competitively can stay at par with big food chains. Restaurants by launching their own food delivery apps can actually garner a bigger reputation banking on food quality and superior customer experience for food ordering. If as a restaurant earlier you could only expect to make your business brand thrive on the basis of food quality, now you can extend your brand presence with superior digital experience for the customers.
4. A Big Boost to Customer Retention
Like every consumer focused business restaurant also aspire to retain their customers and generate repeat sales. Customer Retention is not only important for steady sales and growth but it is also a crucial aspect of branding and reputation management. On-demand food delivery apps can actually help restaurants retain their customers in multiple ways. From giving customers discount on food to boost their brand loyalty with incentives and special offers, food delivery apps can help restaurants in a number of ways to retain customers. A restaurant app by establishing a regular connection with the customers can inform about the offers, discounts and special menu options from time to time and make them order more frequently.
5. Workaholics Don't Need to Buzz for Food
How many times it happened that you simply find yourself too busy to get up from your computer and grab a mouthful of food in the kitchen? Well, this happens to many workaholic professionals. There are also people who simply detest cooking and preparing food on their own. Most of these people end up consuming junk in the name of fast food and slowly develops sedentary lifestyle habits. On-demand food delivery apps came as a great sigh of relief for all these people. Now, from healthy food to lavish multi-course dinner, all are just waiting a few taps away thanks to the food delivery apps.
6. Reduced Gender Discrimination
In most societies around the world, still women share the bigger responsibilities for preparing food. Cooking in many underdeveloped countries is still seen as a gender-specific role for the women. Thanks to on-demand food apps this is something really getting the winds of change. Now, women can simply prefer not to cook food and instead can order food through mobile apps whenever they wish. This is actually helping to quash away gender discrimination in many households around the world.
7. People of Remote Places Can Order
For people living in the outskirts of the cities or in the countryside often used to think online food ordering is something that can only be availed by the upmarket and urban population. But such restricted privilege has now been replaced by more democratic and decentralized nature of on-demand food apps capable to deliver food in remote and faraway places beyond the city limits.
8. Make Better Bargain
For customers food apps opened the new ways of bargaining for better food. If you want to order some delicious kebabs, on a food aggregator app you can just filter out the restaurants selling kebabs with discounted offers. You can always compare the restaurants as per ratings and then can order food with highest discount. Online food ordering apps allow you to make better bargain for your preferred food as you always have a lot of choices.
9. Book Table for Outdoor Lunch
At times all of us want to indulge in luxury and good food with our friends and family around. To spend quality time over a gourmet dinner is something that you cannot compromise just because all the seats of your preferred restaurant is booked. Well, with an online delivery app you can also book an outdoor table or a quiet table at the window side to make your outdoor dinner experience come true.
10. Catering to New Food Niche
Online food delivery apps also opened a new opportunity to target niche food lovers with exotic food delicacies. All your culinary experiments with food now can be marketed with more ease than ever before. With the increasing globalization of taste and preferences, niche and experimental food from around the world are becoming more popular. As food apps have wider audience reach beyond the small local street and neighborhood, such niche food choices are getting a better marketing platform.
11. Cashless Mobile Commerce Experience
The earlier restaurant apps used to experience the stumbling block of handling cash when delivering food at the doorstep of the customers. With food ordering apps allowing customers to pay through multiple payment gateways and channels, customers now get a completely cashless mobile commerce experience besides always opting for the Cash on Delivery option.
12. Granular Level Quality Control
Thanks to food ordering apps, restaurants are now more exposed to competition than ever before. Naturally, they always need to stand alert on their toe to serve the best quality or get prepared to face bad reviews pulling down their reputation. On the other hand, food aggregator apps imposing specific food packaging and delivery standard and rules are further ensuring the quality of the food delivered at the doorstep of customers.
13. Wider Scope of Personalization
Whether you want your food to have less salt or you want additional condiments to spice up the food as per your choice, on-demand food apps offers you a great scope of personalizing your food delicacies as per your preference. You can also choose restaurants with lowest delivery time and can send the delivery agent custom instructions like not ringing the bell or for carrying extra cutlery. On-demand food apps altogether provide customers a lot personalized experience that was earlier unthinkable with traditional restaurant delivery.
14. Creating A Professional Workforce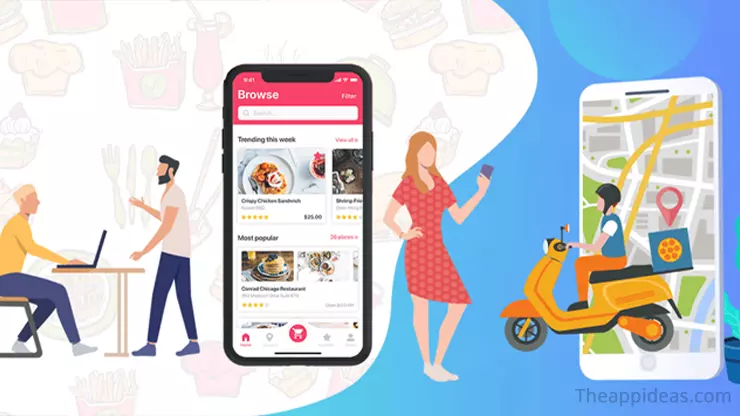 On-demand food delivery apps gave birth to a vibrant and new industry thriving with a lot of new employment opportunities. With the growth of food delivery apps and increasing demand of customers, a lot of people are joining the industry in various professional capacities including delivery agent, cook and culinary experts, food testers and other service professionals. This new breed of workforce is positively contributing to the economy with capability to generate employment.
15. A Win-Win Situation for Everyone
Food delivery apps actually create a win-win situation for all parties in the food chain. From the restaurants to the delivery agents to the customers and the food aggregator businesses, everyone enjoys a share of this vibrant industry. While restaurants can enjoy greater exposure, branding and sales opportunity, customers can enjoy a highly personalized food delivery service having positive effect on their busy upmarket lifestyle. On the other hand, a lot of people can get employment as delivery agents while the aggregator app by ensuring quality control can thrive with revenue and reputation.
Conclusion
On-demand food ordering apps almost became an integral part of urban lifestyle with a lot of positive implications. In the years to come, we can only expect this thriving industry to make deeper inroads into the life of more people beyond the cities and metropolitan limits.