Letgo App is a marketplace Solution which provides the platform to the user who wants to buy or sell products or we can also say that second hand buying or selling products, in the nearby location . In this Letgo app ,seller-buyer can also chat with each other locally. Letgo is a startup that came into the market with the intention of becoming the largest second-hand marketplace into the world.
Buy and sell marketplace like Letgo are popular in the market as it provides convenience to the people to use their platform for selling the things which are now not useful for them or we can say people sell second-hand things in this platform and in exchange they get money. On the other hand, using this platform people can buy various things at reasonable rates.
How Letgo is started and why it is so popular?
Letgo is a marketplace company which provide the website and app to the user to sell, buy and chat with people locally. Letgo is founded by Alex Oxenford, former CEO of OLX in January 2015.
Alex introduced this marketplace in the market for competing against the secondhand marketplace like eBay and Craigslist.
In the year of  2016, Letgo company is merged with the Wallapop which is another classified startup. In this business colloboration between Letgo and Wallapop, Letgo remained the majority owner of the company. The Letgo app offers some  with the free services to the user as there is no earning revenue because Letgo have goals to grow quickly in the market.
In the year of 2018, for placing their sales above the organic search results. And with the growth, they have launched the premium and subscription services in the market.
In 2019, Nasper has stopped its investment in Letgo. Currently, Letgo is available in many languages like English, Czech, Spanish, Brazilian, Portuguese, Italian, Norwegian, Swedish, Croatian and Turkish.
Letgo is now in the top 10 largest marketplace apps that are the rivals of large e-commerce corporation such as Wallapop, Offerup, eBay, Craigslist, Etsy, Varagesale, 5miles and Cashify. This most popular Letgo app is a platform which connects people who want to sell or buy things locally and it also provides the communication module to the user.  A Letgo is completely free to use.
What Kind of products can be sell or buy by using this marketplace platform Letgo?
Letgo is a second-hand marketplace app in the market. Here I am listing the things which Letgo allows for selling:
A vehicle like cars, bike or bicycle
Real Estate
Jobs or services
Home and gardening tools
Electronics product
Furniture
Clothing and accessories
Baby or Kids product
Book, music or movies
Machine parts
Sports and leisure
How Letgo Business Working model?
Initially, Letgo is providing a flexible and easy interface to the user so they can easily access the functionality or features of the app. Here I am listing the points which describe the whole working model of Letgo:
1. User Registration:- User can easily register themselves in this marketplace. Use can also sign up to the app by using social media like Facebook.
2. Sellers:- After the successful registration, Sellers can easily take the snap of the product and upload it to the app with the details of price. Letgo app can automatically recognize the product and placed it to the preferred category. After this procedure Seller can receive the messages from the buyers.
3. Buyers:- Buyer can easily access the product details after registration. Buyer can also search for the products by applying filters on the categories. By clicking on the product picture buyers can view the details of the product with its price. If Buyer finds it perfect then he/she can directly chat with the sellers for further discussion.
4. Bump option for the sellers:- This option is for the sellers which helps them to sell their products as soon as possible.
5. Features listing:- This helps the seller to keep its product on the top searches which help sellers in quick sells.
6. Payment:- Letgo app payment process is not protected so it is referred to make payment in person.
How Letgo makes money?
Previously Letgo is not earning any profit from its platform. But with the time Letgo founders have decided to monetise the app by launching the paid features of the app. Here I am mentioning the ways how to earn money from this kind of platforms:
Advertisement:-If sellers want to advertise its product in-app then he/she can pay for it, so their products ads are displayed on all of the pages.
By launching the premium or subscription app services for accessing the additional features or functionality.
By Integrating in-app payment services and charge a commission of each sale
Limit the number of items that can be posted for free on the platform.
What are the key features of Letgo app?
Letgo is a marketplace app which is used for selling or buying a used or second-hand products. Letgo app consists of a total of two Modules: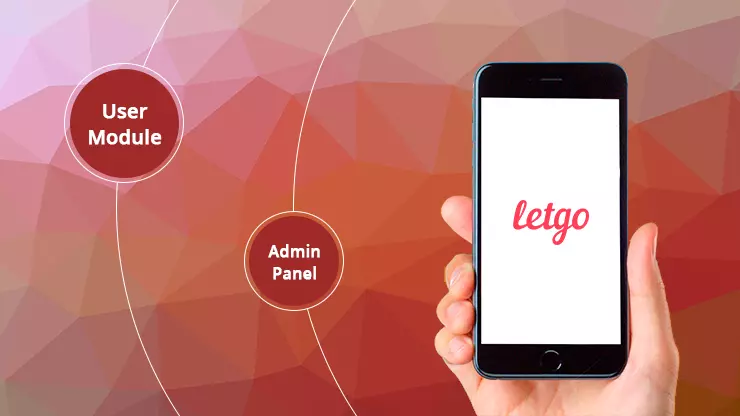 1. User Module (Buyers or sellers)
User can easily register or set up their account.
Search by using filters
In-built camera for sellers
Inbuilt location system
Product section with its description and price.
Chat module
Push notification
Payment gateways
Product listing
Settings and support module
Delivery services

Product tracking services.
2. Admin Panel
Dashboard
User profile management
User profile verification
Categories and subcategories management
Ads and feature listing management
Push notification
Contact management
Dispute or Complaint management
Payment management
Report and analytics
Why It is Beneficial to launch an app like Letgo in the market?
If you are thinking of launching a marketplace app solution like Letgo ,so this is one of the best ideas for launching a startup in the market. This type of selling and buying secondhand services is in high demand in today's market. As Letgo is one of the best examples which proves that recently started startups have all the chances to beat the older players in the market.
How much does it cost to create a mobile app like Letgo?
The cost of any marketplace like Letgo app depends on some of the factors like:
Features or functionality requirements of the app
App Designing
Languages integration(How many languages you want to integrate in-app)
App Technology (Android, IOS or Both)
Complexities of App
Developers experience.
Here I am listing the approximate timeline and costing of developing an app like Letgo:
Timeline:
App Design:- 7 Working Days
Android App Development:- 25 Working Days
iOS App Development:- 25 Working Days
Web Backend & Apis:- 30 Working Days
Testing, Bug fixing, and Deployment:- 5 Working Days
Costing:
The approximate cost of developing an app like Letgo is Starting from 8000USD
The App Ideas is one of the best mobile app and web development Company. We provide the best designing as well as development services in best rates. We work on both the platforms Android as well as IOS along with this we provide the unique UI/UX design for every IT solution.