Some Words About the rover app?
Dog and cat owners may find pet sitters and vice versa with the Rover App. Owners of pets may use reviews to find a trustworthy pet sitter, and those willing to care for the pets of others can supplement their income. This is a scenario in which everyone benefits. Rover provides its clients and sitters with 24/7 vet advice and customer assistance, picture sharing, mobile applications, films of stay highlights, and sitter background checks. The app has been downloaded over half a million times by people who offer to walk, care after, or sit dogs for their owners when they need to go out of town.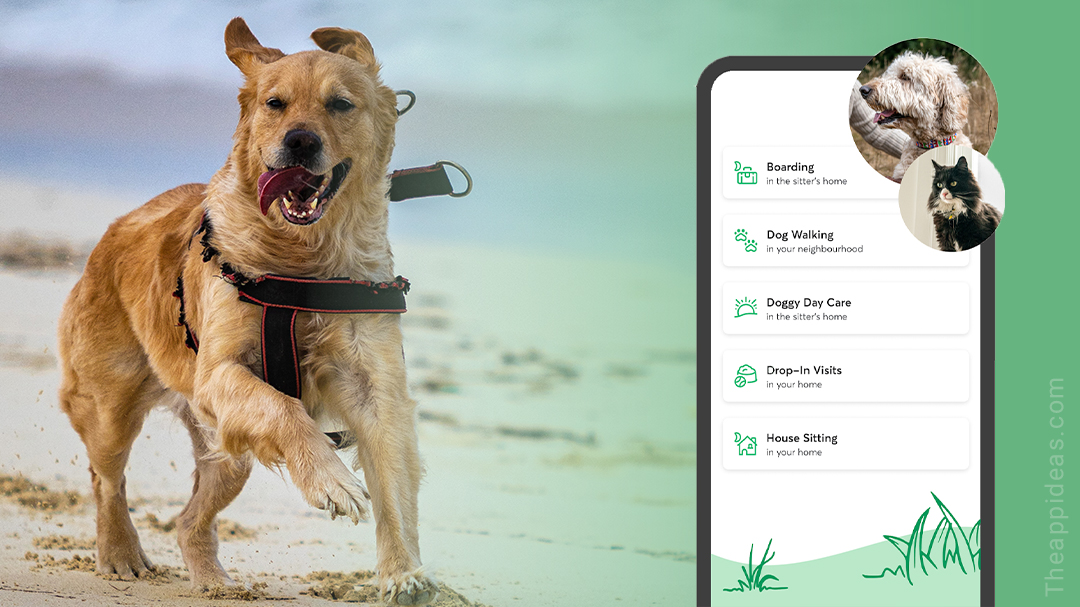 Dog Walking App: Is it crucial?
A dog walking app that builds trust between the dog walker and the owner while making booking and communication simple and easy. Dog owners who work a lot, drive a long way, have rigid schedules, or are disabled may find it difficult to provide for their dog's requirements throughout the day.
Understand Where They Go
A significant advantage of using a dog walking app is that most apps include software that allows you to track where your dog walker is taking your dog. This is known as delivery routing software because it tracks the path of your "delivery," which in this case is your dog. This can provide you with peace of mind because you can now see where your dog is in real-time.
Getting Rid of Some Excess Energy
While the purpose of a dog walking app is straightforward, a significant benefit must be gained. Dogs, especially puppies and young dogs, have a lot of energy. Playing, walking, or exercising your dog can only expel this energy. However, if you are stuck working all day, this may be impossible, leaving you with a hyper, overactive dog when you get home.
Exercise
Dogs, like people, gain weight as they get older. This can be due to various factors, including overeating, insufficient exercise, and underlying medical issues. Labradors, in particular, have a genetic mutation that increases the likelihood of obesity in that breed. To combat any predispositions to obesity, you, as a pet owner, must feed the appropriate food/amounts and exercise your pets.
Allows You to Relax
Often, if dog owners want to go out to eat or do something after work, they must return home to let their dogs out and take them for a walk. However, using a dog-walking app, you could easily hire someone to walk your dog for you, allowing you to go out to dinner. By hiring a dog walker, you can leave work and go straight to the event without having to rush home to let your dog out.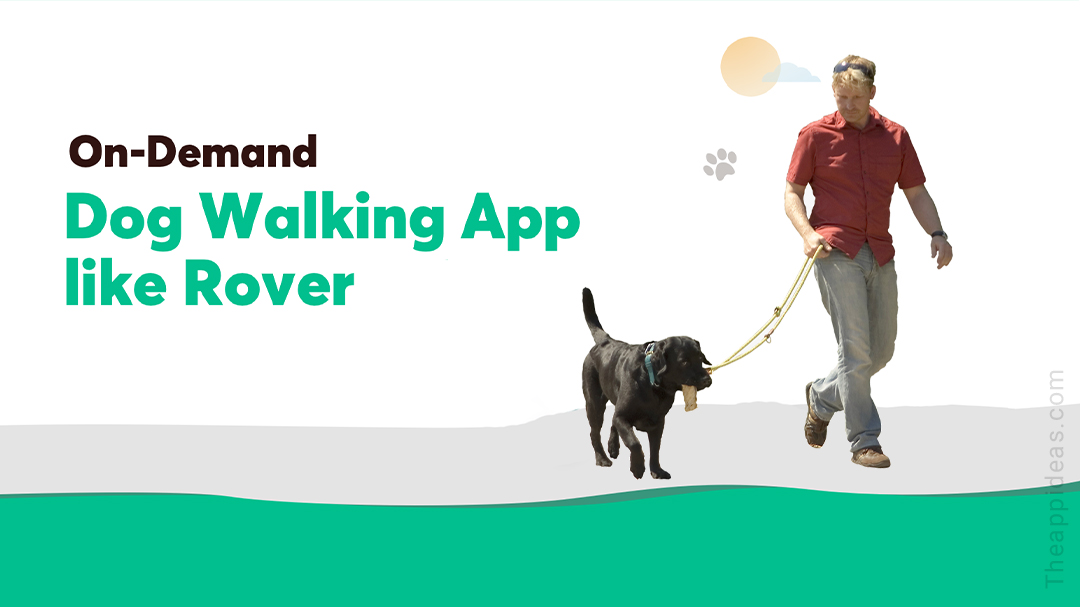 Rover Like App building: Some Ideas
Perform Market Research
Market research is divided into two parts: knowing your target audience and analyzing your competitors. Let us take a quick look at both:
Understand Your Target Market
First and foremost, you must understand your intended audience. You can define the audience by creating a user persona.
Examine Your Competitors
Before entering any industry, it is critical to understand your competitors. Aside from that, you should be aware of various aspects of your competitors.
Benefits of On-Demand Dog Walking Apps
After conducting extensive market research, you will be familiar with the features needed for your uber for dog walking app.
Choose Your Business Model
The most crucial aspect of any app is its business model.
Paid Advertising
You can charge each freelance pet walker or dog agency a fee for listing their services.
Paid Advertising
It is one of the most common ways an app generates revenue.
Transaction Commission
You can charge a percentage whenever a user purchases a service from your app.
Fee for Listing
You can charge dog walkers a small fee to list their services on the app.
Surcharge Fees
When there is a high demand for dog walkers, dog, and pet owners may have difficulty finding them at times.
Advantages of creating an app like Rover
In these hectic lives, dogs are the biggest losers. Pets, like families, require unconditional love and care. However, these helpless animals cannot argue if you can find time in your schedule. As a result, dog walking apps are created uniquely by animal lovers and app developers.
Dog walking apps are ideal for dog owners who, despite their many commitments, cannot devote enough time to their pets.
There are currently a few applications on the market. Users can choose a dog walker, pay them fantastic and fair prices based on the circumstances, and even check the dog's health and calories.
Rover, Swifto, Wag Dog, and Rovio are some well-known applications for dog walks. A dog traveling company, whether real or not, grows at an exponential rate. 3% per year.
Users pay null-to-sixty times for agitated, cool, and extraordinary null-to-sixty times. As you might expect, we'd like some glitter to rub on dog-walking apps like Uber.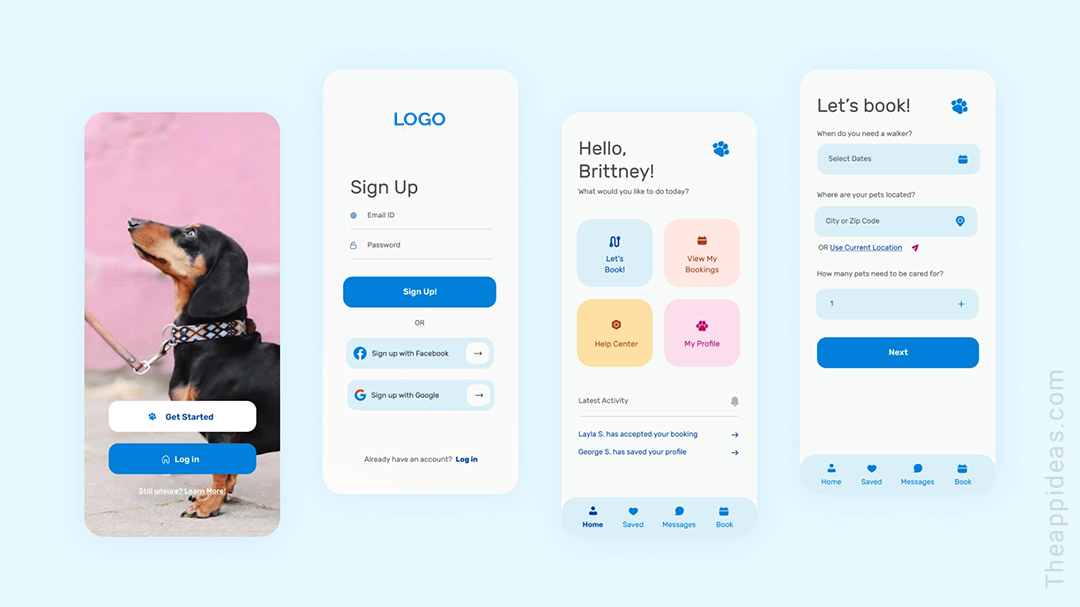 Business model
Partners Important
Investors in Dog Walkers
Technology Associates
Important Activities
Software Development Marketing Product and Service Design Upkeep Value Proposition for User Data
Pet Owners
Pet sitters and dog walkers can use the platform to launch their own businesses.
Relationships with Customers
Obtain immediate insurance
Reservation with guaranteed 24/7 support
24-Hour Emergency Service
Customer Group
Pet owners who are short on time
Pet sitters or walkers looking to start their own business
Important Resources
Insurance Channels for Dog Walkers in Technology
Internet App Store and Google Play Store
Website Cost Structure Data Upkeep
Marketing for Sitters Remuneration
IT \s Development
Streams of Revenue
Service-related revenue
Pet owners' commission
Features of Such Apps:
Login/Registration for Social Media
You will be greeted with this page when you enter your application form. New users can register for the app by providing personal information via email or social media accounts such as Facebook, Instagram, and so on.
App-to-App Calls
As the name implies, this feature allows users to communicate with dog walkers on calls.
Chat within the app
This feature is similar to the application's calling feature, with the variance only being that it allows you chatting with the dog walkers in preference to talking on the phone.
Navigation within the app
Users can use the built-in navigation to find nearby dog lovers and guardians to walk their dogs.
Dashboard for Real-Time Analytics
Real-time dashboards are performance tools that use data visualization to analyze, report on, and track common company data in real-time.
Approx time and cost for building App

Several factors, including app development and design, app platform, type, features, team members and technology requirements, location and experience of the hired mobile app development company, and many others, determine the cost of developing a dog walking app.
Conclusion
Dog walking and sitting apps have grown in popularity among pet owners in recent years. Such apps give pet owners more freedom and the ability to care for their pets even in the most unpredictable circumstances of modern life.