UrbanClap is one of the most popular marketplace app in today's market. Nowadays people are more inclined towards online services as accessing online services are easy and reliable for the users. So in this present time, almost every service are now launching their apps or web apps in the market for increasing their sales.
UrbanClap is one of the most successful on-demand app which provides services in almost every Field like Plumbing, Home Cleaning, Electrician, RO Repair, Carpenters, Washing Machine Repair, AC Repairs, Event management, Beauty Parlour services and many more things. UrbanClap has makes the life much easier for the business as well as users.
What Is UrbanClap Clone App and How it is Started?
UrbanClap is one of the fastest-growing startups in India. It is an App which provides the services to hire the professional for almost every service or we can say that UrbanClap enables the user to find the professional and hire them to their doorstep for the services like plumbing, wedding planner and many more services.
UrbanClap is founded by a group of three peoples Bhiraj Bhal, Raghav Chandra and Varun Khaitan in November 2014. The purpose of the UrbanClap founders is to one million-plus micro-entrepreneurs for India.
Currently, UrbanClap has more than  25,000 professional serving more than 17 cities and have 50,00,000+ happy customers.
In this present time, UrbanClap is one of the Platform which provides almost all the on-Demand Services.
Let's Discuss the services which is given by UrbanClap's in detail: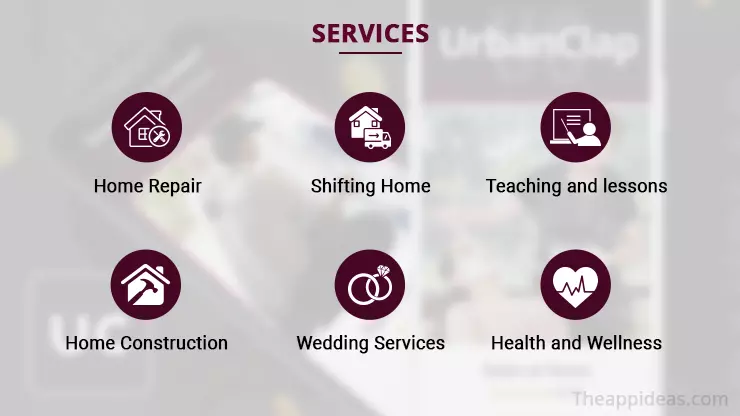 1. House Cleaning and Home Repair Services
House Deep Cleaning service.
Electrician
Plumber
Washing machine repair
AC services
Carpenter
TV and Fridge Repair
Water heater repair
2. Shifting Home Service
Packers and movers
Pest Control
Home Cleaning
Carpet
Bathroom repair
Kitchen
Sofa shifting
Water Tank
3. Teaching and lessons
Home Tutor hiring
English, mathematics and commerce tutors
4. Home Construction and Home Design
Interior
Modular kitchen
Architect
Painters
Civil Contractors
CCTV Cameras Installation.
5. Wedding Services
Wedding photography
Bridal Makeup
Pre-wedding shoot
Wedding planning
Mehandi Artists
Pre-Bridal Beauty Package
6. Health and Wellness Services
Physiotherapy
Yoga Trainer
Dietician
Fitness trainer at home
Massage
7. Event and Party Management
Event photography
Makeup artist
Birthday party arrangement
8. Business Related services
Lawyer
CA for small businesses  as well as for tax registration
Web designer and developer
9. Kids Services
Home Tutor
Drum Class at home
Guitar lessons at home
Baby photographer
What is the Work Model of UrbanClap Clone app?
UrbanClap like application offers very smooth business model as it is providing the daily routine services to the user. Basically, UrbanClap Clone App is a Startup with the basic idea that anyone can hire someone for help for various different jobs.
UrbanClap is a platform which is available in Smartphones and which is connecting specialists or professionals to directly to the user and this is one of the best ways to get employment which is paid quickly.
How to use UrbanClap?

User has to register themselves and choose the list of the professionals they are looking for.
User can easily hire the professional after reading their profiles and reviews.
The Professional visit to the preferred location and finish his/her job in time
After completion of the task, the user can easily do payment by using various payment methods.
How UrbanClap make money?
UrbanClap is one of the most popular and Successful startup ideas which is now helping many people by providing various services and on the other hand, it is helping various people by providing them employment.
UrbanClap is an application so it is but obvious this platform also generate money in various different ways. Let's Discuss, How UrbanClap make money?
By Advertisement:- Urban Do promotion or advertisement of third party product.
Commission:-Admin get the direct commission if the service provider gets any jobs.
Sponsored profile:-Service provider has to pay some amount of money to the Admin for a featured listing or to keep themselves on top searches.
Convenience fees.
Is it Beneficial to develop a UrbanClap Clone?
Yes, It is Beneficial to launch a UrbanClap Clone. The demand of this kind of multiservice platform is  going to increase in the future.
Introducing an UrbanClap clone is profitable to you as you can generate money by various different ways like UrbanClap is earning.
What is the feature list of UrbanClap Clone?
UrbanClap is a Marketplace app so it consists of three panels. Here we are going to discuss all the three-panel features in details.
1. User Panel
User can easily Sign Up/Sign in
Can easily manage their account
Social Logins
Forgot password & Change password
Verify account by E-mail or Phone number
User can easily choose the categories and search for the services by applying filter.
User can check the details of the services provider and its reviews and rating
Hire them easily whenever they require
Use or apply the discount offer or code.
Make payment by using various payment methods
Give reviews and rating to the service provider based on their service.
Send referrals  invites to their friends
Check the history
Data security or Safety
2. Service Provider Panel
Sign in/Sign up module of Service provide
Service provider can easily create and manage their profile
Social logins
Verification of profile via E-mail
Set Availability
Get a job notification
Accept or reject the job
Get a reminder for a Scheduled Booking
Get an online payment
Check Completed jobs and check the upcoming jobs
Get the user location for the current job
Checkout their earnings
Features their listing
Make a payment for features listing
Place a Withdrawal request to the admin
Check out various reports
3. Admin Panel
User profile management
Service provider profile management
Approved, Disapproved and check the profiles by verifying the mentioned details.
Dashboard
Category Management
Subcategory management
Payment management
Coupon Code management
Featured profile listing management
Dispute management
Ratings and reviews management
Reports management
Orders cancellation management
Refund management
Admin can easily notify users or service provider.
Additional features:
Live Chat module between service providers and users
Push Notification at various modules and panel
Predictive search
Membership
In-app Wallet
How much does it cost to develop an Urban Clap Clone?
The Urban Clap clone app cost depends on various factors:
App designing
Features and functionality
Number of payment gateways
Number of languages you want to integrate
The technology (Android, IOS or Both)
Developer's Experience
Content inclusion like infographics, gallery or blogs.
Here I am listing the approximate timeline and costing of developing a UrbanClap Clone:
Timeline:
App Design:- 7 Working Days
Android App Development:- 25 Working Days
iOS App Development:- 25 Working Days
Web Backend & Apis:- 30 Working Days
Testing, Bug fixing, and Deployment:- 5 Working Days
Costing:
The approximate cost of developing an Urban Clap Clone is 5000-9000 USD
The App Ideas is a leading web and app development Company. We are popular because we provide the Best Solution for every IT service. And have an expert team of developer for Android as well as IOS app development. We provide best solution for a Multiservice platform like UrbanClap at best rates.