In this digital era, Dating App and E-commerce are the two most popular and most demanding thing by this generation. Nowadays people are moving towards the digital world where they can check online the things and decide they want it or not. Online dating app provides a platform to the user by which they can find their partner. Some people use dating apps for casual dates, for finding new friends or for hookups. E-commerce website are mostly for shoppings. Through e-commerce app, you can search or filter your choice, Add it to the cart and at last pay for it. For payment, various methods are available like you can pay online by using paytm, google pay, debit card, credit card or you can go for cash on delivery (COD) option.
Let think of merging a dating app with e-commerce app, yes you are thinking right by merging this two, you can maximize profit? But how ? how to link this Dating App with an e-commerce app?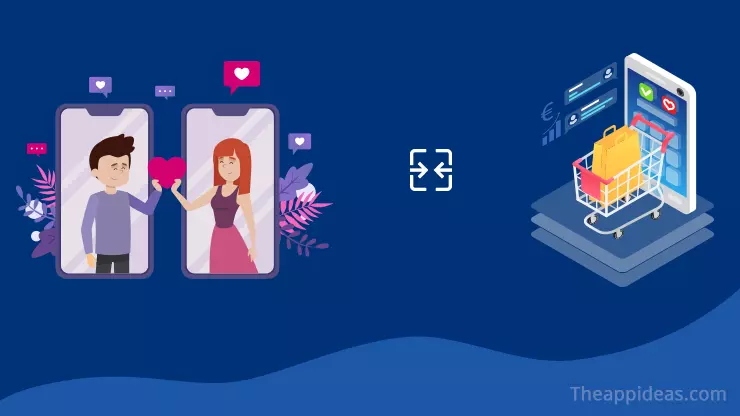 So here I am going to discuss an idea through which e-commerce is merged with the dating app, which double your profit.
As in the dating app, user can only like or comment. But this feature is old fashioned now or we can say this is outdated. New or unique feature which we can include is a gift section in the Dating App. From the gift section, user can buy and send small gifts to their special ones without knowing their address or exact location. Let's understand this thing with an example -Suppose user wants to send some small gifts like chocolate, flower or bouquet to another user on their special day (birthday) but they don't have access to their location, so if an e-commerce app is linked to dating app then user can easily buy, make payment and send it to another user address (secretly).
And by this, a dating app is converted to a Unique Dating App. User find this thing attractive and different from other dating apps. This thing attracts more users to your app.
Owners of the app maximize their profit by providing such services, as they can collaborate with an e-commerce store and charge commission per order. And if you are the owner of the E-commerce store then you can think of developing a dating app and maximize your productivity by merging both the apps.
If you wanted to maximize your profit by launching this kind of apps then we are happy to help you. Feel free to contact us.
Would you like to create an app solution by combining Dating app with E-commerce app?