Document saver apps or Digilocker like apps are very important or essential apps in this present time. Nowadays 70-75% of people are using smartphones and accessing various app services with their benefits.
Why is a Document Saver app or Digi locker app required in this present time?
As we know, we people are highly inclined towards Online platforms like mobile apps or websites for accessing various Services easily and conveniently. Mobile apps make the accessing of all kinds of services easy and time-saving.
But in some cases, we still need to figure out whether the app is safe or secure? Can we save or upload our confidential data or documents on our phones because our phone can be accessible by some close ones or family. In some cases, we want to carry some confidential documents, So why not launch the best app solution to save our documents in our smartphones with more security.
As a solution, an app like Digi locker is launched in the market. Digilocker helps you to save your confidential data in an app with full security or protection. There are many apps in the play store or app store which are probably used for creating and saving documents in your device but security is not the primary thing for this kind of mobile app.
For security issues, the Government has provided a solution with Digilocker apps through which users can save all their confidential data in their smartphones and access whenever they require. They do not need to carry the bundle of the documents, the app is enough. Digilocker provides full security to the documents and no one can access those documents without the password.
Would you like to launch a Document Saver App (Digi locker) in the market?
Here in this article, we are going to discuss to learn about Document saver app (Digi locker), How to launch a document saver app (Digi locker), the features of a Document Saver app (Digi locker) and the cost of developing a Document Saver app (Digi locker app).
How to launch a Document Saver App (Digi locker) in the market?
As per the advancement of technology, people started expecting more changes and up gradation in the app. Document Saver app allows you to upload all the confidential data into your smartphones and save it into your device with a high level of security and protection.
Document saver app or Digi locker app is also beneficial and profitable in case if you lost your device then also no one can access your data, as well as no one without your permission, can access your documents.
If you are thinking of initiating any Online platform or Mobile app ideas then you can think of launching a Document saver app (Digi locker) in the market. By providing an app with more security helps users to save or carry their confidential data within their device.
This Document saver app can also be monetised and used for generating revenue easily:
Integrate ads services to the third platform. Third-party can utilize this platform for marketing their service and pay for it.

By providing a premium or subscription model of the app.

By offering membership offers to the users in which they can access some benefits of the app.

Charge your User for utilizing more security for documents.
What is the features list of a Document Saver App (Digi locker)?
We have already seen the advantages or benefits of having a Document Saver (Digi Locker App). Here we are going to learn more about the features list of the Document saver app in details:
User Panel
User Sign in the module.

Users can create and manage their account.

Upload their documents.

Access search bar for finding the document.

Edit documents.

Make files.

Add some basic details like phone number or Email.

Add some security elements like fingerprint or password.

Purchase premium app.

Users can notify an admin if they find any difficulty.

Users guideline modules

Provide feedback and ratings to the app.
Admin Panel
Admin sign in the module.

Users profile management.

Premium features management.

Membership profile management.

Revenue management.

Guide users if they find any problem.

Utilize marketing tools.

Manage feedback and ratings.

Track app performance by generating reports.
How much does it cost to develop a Document Saver App (Digi locker)?
The cost of developing a Document Saver App (Digi locker) highly depends on some of the factors. Let's discuss on which factors the cost of Document saver app is dependent:
Mobile app designing and development, the basic features of the app, the advanced functionality which you want to integrate into this app, the complexity of designing or developing the mobile app, the technology platform of the app and the Mobile Developers experience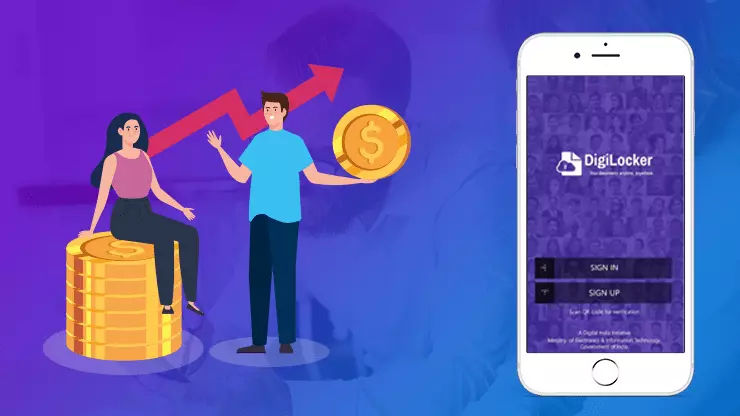 Here I am going to list down the approximate cost of developing a Document saver app:
Timeline:
App Design:- 9 Working Days

Android App Development:- 25 Working Days

iOS App Development:- 25 Working Days

Web Backend & Apis:- 30 Working Days

Testing, Bug fixing, and Deployment:- 7 Working Days
Costing:
The approximate cost of developing a Document saver app is 5000-8000 USD.
The App Ideas is one of the best software development Industries. We provide a great portfolio of various website and mobile app development. We have a team of highly skilled developers who can definitely provide you with uniqueness as well as the best solution for a document saver app at best rates.