Do you want to execute an eCommerce Website Cost?
Are you thinking of converting your store to an eCommerce Website Cost?
So here we are going to do the detailing discussion of How Much Does an Ecommerce Website Cost?. In this present time, online store websites or apps are very popular and are one of the most demanding platforms. As in today's world, people are liking to access online services by using online platforms.
What is an eCommerce and eCommerce App cost and why it is in High Demand?
E-commerce is also known as e-business or Electronic business, a business in which the owner can sell its product and people can purchase the product via the medium of the Internet. E-commerce also involves the transferring of data and funds between more than two parties, which is generally known as online shopping.
In earlier times when online support or smartphones are not introduced than people have to visit the store to buy things either they have to purchase a needle or to buy a huge thing. People face a problem as they need to visit the store to buy products or item and if it is not available at one store then people have to visit various stores which are a waste of time.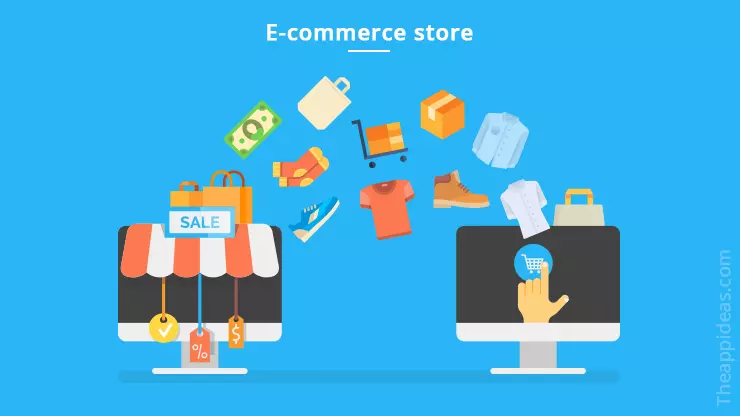 As we know offline store are not available for 24/7 and it is really time wasting as well as money-wasting for purchasing a product from the offline store. As a solution E-commerce online store are introduced for providing the facility of online shopping as it is easy and convenient to use the online shopping store.
E-commerce store or E-commerce website is the online platforms which help on online transaction of the goods through a medium of Internet which transfer the information. In earlier time e-commerce is done via email or phone calls but now everything is possible by a website. By an E-commerce website, user can buy the product and also do the online payment.
Purchasing a product from the online store is very simple as the basic requirement is an internet connection. People can easily check various latest trending products in the e-commerce platform from their own place and if they want they can easily purchase the product and do the online payment. In some time period, their product is delivered to their own place safely.
An E-commerce store is categorized into various forms. The E-commerce store can be of trending clothes, of the grocery store, of jewellery, of household things or many more forms. The things which we can sell online can be known as an E-commerce store or an E-commerce website of that particular thing.
Amazon is one of the most popular E-commerce stores marketplace which provides all the categories, which means the user can buy anything online through this E-commerce store.
What are the different models of an E-commerce store?
An E-commerce website consists of 6 different-different models:
1. Business-to-Business
2. Business-to-Customer
3. Consumer-to-Business
4. Consumer-to-Consumer
5. Business-to-Administration
6. Consumer-to- Administration
How this platform helps you in generating more sales?
If you are running a store or providing the offline service then you must have to move your business to the online platform by introducing an E-commerce store. E-commerce store helps you in boosting sales as people are referring the online services and through the website, you can reach as many customers as you want.
Here I am listing some of the advantages of launching an E-commerce store:
E-commerce offers low financial cost compared to traditional stores.
E-commerce provides 24/7 service and support.
Gain new customers by an online platform
E-commerce store overcome the geographical limitation as it is not necessary to own a shop for doing the business.
Eliminate the travel time of customers
Create a market for a niche business.
Do business internationally
Can easily access the customer data
If you are thinking of initiating an online business then you can easily start the E-commerce store by launching an E-commerce website. As an E-commerce store or the online platform makes marketing easy and simpler.
What are the Basic Features of an E-commerce store?
Generally, a Simple E-commerce store consists of two different panels:
1. User (Customer) Panel.
2. Admin Panel.
Features for a User(Customer) Panel:
Customer Login /sign-in/sign up module
Can see the list of products
User can easily search the product by applying the filters
Can choose and add the product to the cart.
Can purchase the order or order online
Make the payment by using either the online payment gateway or selection (Cash on delivery)COD option.
Can cancel order
Can give feedback or reviews
Features for an Owner/Admin of the E-commerce Panel:
Admin can Simply log in to the website
Can able to do the listing of products with prices
Has access to add, update or delete the product and its details
Can check the ordered product.
Can check the customer's details who have purchased the product.
Can do the payment management
Can generate a report and check the sales by analyzing the report.
How delivery services are provided by the E-commerce store owner?
There is different-different way of delivering the product to the specific customers. Let's discuss them in detail.
1. By offering the inquiry services from the customer.If they require the product they can directly send the inquiry to the admin.
2. By providing the self-delivery services: In this E-commerce store owner can deliver the product on their own.
3. Another way is to collaborate with any Courier service which deliver the courier to the customer on time.
What are the factors on which the cost of an E-commerce store mostly depends?
The Cost of an E-commerce store depends on some of the factors like:
The design of the E-commerce store
You want a custom design or theme for your E-commerce store
The number of products
The number of categories you want in your E-commerce Store
The payment gateway you want to integrate in your E-commerce Store.
Do you want to integrate the shipping module?
Do you need a separate pricing system for wholesale product?
Do you want to integrate multi-vendor module?
Number of languages
Number of currency integration
Do we need to integrate any data migration for a product or for the user?
Which technology is used for developing an E-commerce store?
Number of filters we include in the module
The product attribute set up is needed or not?
How much Does it cost to develop an Ecommerce Website Cost?
As the factors which affect the costing of an E-commerce store is already discussed, so it is really difficult to provide the exact costing of developing an E-commerce store.
The App Ideas is the most popular IT service provider firm, which provides the best solution for websites, web app and mobile app development. We offer you to hire the best website developers at affordable prices.
We have worked on various projects related to the E-commerce store.
Here we provide the approximate timeline and cost of developing an E-commerce store:
Timeline:
Website developing, designing, testing and Bugs fixing takes approximately 15-20 working days
Costing:
The Approximate cost of developing an E-commerce store is 500-700 USD.