The Car Wash Apps Market has been growing at a rapid clip with impressive rates of expansion over the past few years, and its size is expected to expand dramatically over the estimated period of 2022–2030.
The app industry for cleaning automobiles has been growing rapidly recently. This is attributable to a number of causes, such as the growing demand for on-demand services and the resulting proliferation of on-demand services-based business models, the availability of services at affordable prices, and an educated and informed customer base. The study on the international car wash app market provides a thorough examination of the industry. The study examines the market's most important subsets in detail, as well as its major trends, drivers, limitations, competitive landscape, and influential factors.
The Global App Market for Car Cleaning Services
The convenience offered to customers is the single most important reason in the international growth of the auto-washing industry. Many things contributed to its eventual success. Customers see this service as their only option because of the amount of time it saves them in today's hectic world. To save money and keep clients out of the way of moving traffic, hiring a car cleaning service is a typical practise.
With the growing commercialization of the vehicle-washing industry, personal interactions and overall job quality are taking on greater importance. Rapid global expansion of support for sustainable development ideas. Since environmental issues have entered the realm of industry, there has been a surge in demand for Eco-friendly automotive components. Vehicle washing applications have the greatest potential for reducing wait times at car washes by moving the service to the customer's location. Start-ups are now working on both a mobile car-washing network and a subscription-based auto-cleaning service.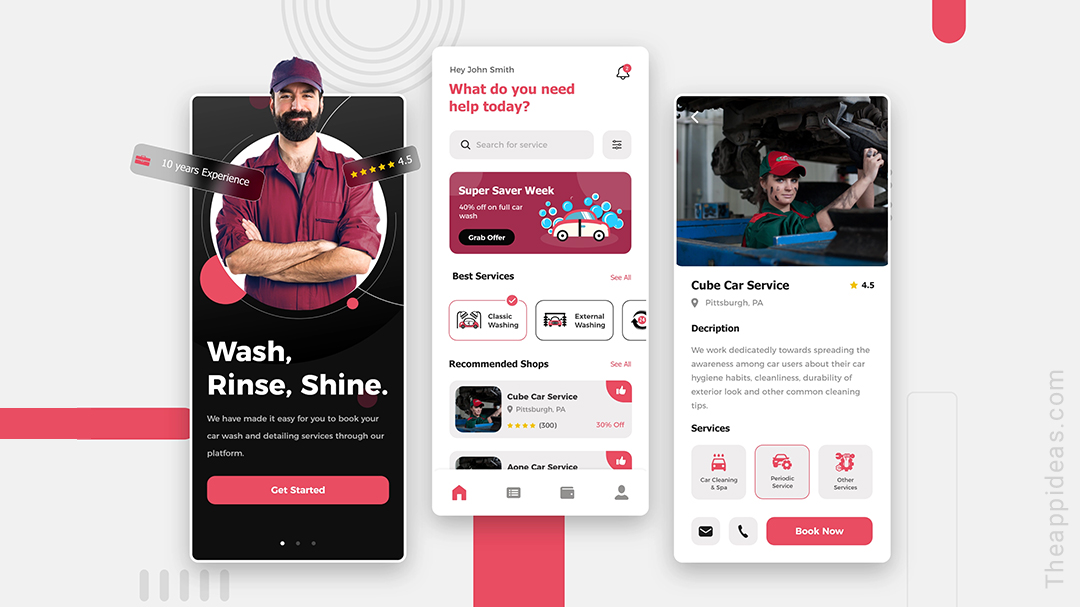 What kind of problems users were facing?
Modern automobiles include washing machines that utilize cutting-edge technology to improve efficiency and effectiveness, hence preserving the business's bottom line. The car washing procedure has been simplified and made more enjoyable for customers because to advancements in lighting, equipment, and chemicals.
It's common knowledge among business owners and managers that even little problems can have major effects on daily operations. In other cases, like bad weather, a car wash may not be able to do anything to help. Many problems, however, can be avoided totally or remedied quickly and easily if the operator is well-prepared. Tech-reliant car washes face their own unique set of difficulties that can all have an impact on their bottom line.
Disabling of the controller
John Pinson, the chief of operations at the Palms Car Wash, says that losing a tunnel controller is the worst possible thing that could happen in a tunnel car wash. According to Pinson, backing up the controller data is an essential part of undertaking preventative maintenance. Using newly formatted memory sticks by the operators could be the answer.
Waiting in Lines
According to Pinson, a slow flow results in a queue of cars that stretches out into the street, which is another issue car washes must contend with. In Pinson's opinion, the solution to this problem lies in stricter traffic control measures. It's important to foster an environment where people are taught to hustle. According to Pinson, training is crucial. You should always be practising, and if you keep your mind on the task at hand and lead by example, your teammates will soon follow suit.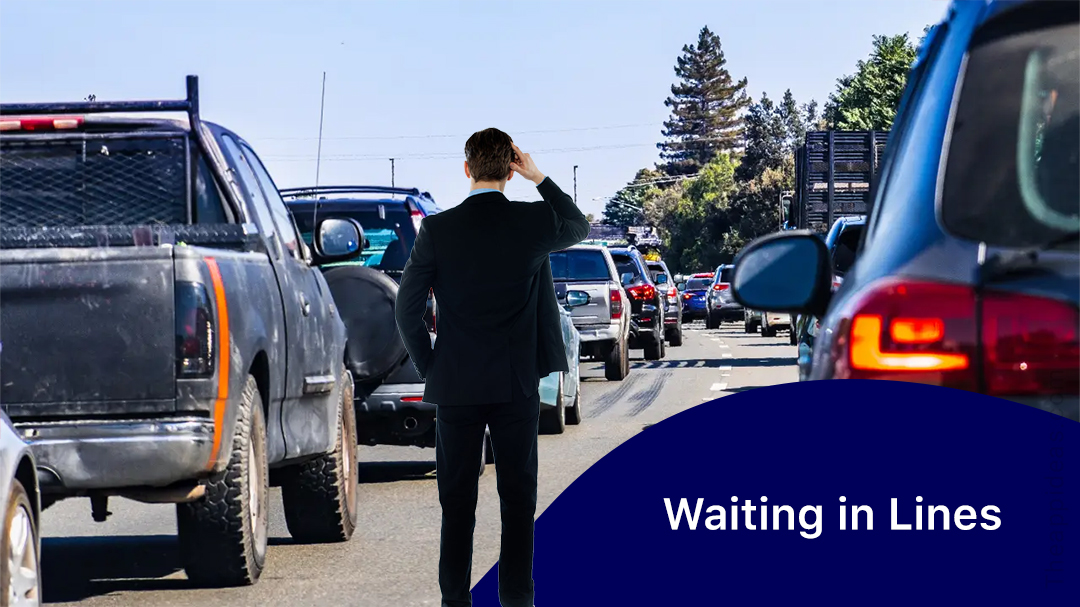 Solution for this problem
We examine the top 5 challenges facing the car wash industry, such as the high degree of market rivalry and the limited time that owners have to devote to marketing, and we offer advice on how to overcome them.
Consider for a second what it would be like to run a car wash business. Every night you lay your head down knowing that you work in one of the world's most fragmented industries. Less than 20% of the market is controlled by the fifty largest corporations in the industry, and competition for each consumer is strong. The weather forecasters at your organisation have shown a "wet bias," and now they are making important decisions that could affect your business. It seems as though, even on sunny days, your business's physical location is the only thing that may bring in customers.
The most rewarding part of working with a customer is seeing them again after you've convinced them to bring their car in for a wash. Because to the ease with which they might take their business elsewhere, customers have come to expect consistently excellent standards of service.
But if you look closely enough, you can probably eliminate several of them:
Upsell. Many upsells, such as a wheel detail or a vacuum service, offer real value to customers and are likely to be purchased often. Customers will want to keep coming back for more of these offerings. Have you ever considered giving away freebies with the purchase of a particular item?
Market your goods and services in a way that speaks to each of your target demographics. The question is, what are you doing now to find fleet customers, who, if serviced well, can be tremendous profit centres? It goes without saying that if one of your customers pays to have 500 cars washed in a single month, they will expect a higher degree of personalised attention. It benefits both sides to go for what I call "big fish" customers, and to make them feel like they're important to the business.
Create a system of rewards that is effective and lasts for a long time. Every single cent spent on advertising must be justified by some sort of ROI calculation (ROI). If you're going to put money into a marketing machine of any kind, you should see results. Choose a loyalty programme that brings in money and helps you connect with and learn more about your consumers so you can boost your bottom line.
The key to maintaining happy customers is to keep them happy. Easy, simply find out what makes them happy. Even easier, just ask them whether or not they were satisfied with the outcome and, if not, what you could have done differently. Thanx streamlines the process of collecting this information, which in turn creates a feedback loop with your customers and opens the door to genuine two-way communication.
Many car wash owners struggle to keep up with rising operational costs while keeping their employees and customers satisfied. Thankfully, a tried-and-true solution exists for this age-old problem, and it involves closed feedback loops.
Running a car wash is a business with limited room for extra activities like marketing or becoming an expert in the sector.
Car wash managers can work in retail because they interact directly with customers; the service industry because they oversee a team of people who rely heavily on each other; or the manufacturing industry because they oversee the use of large, complex machines.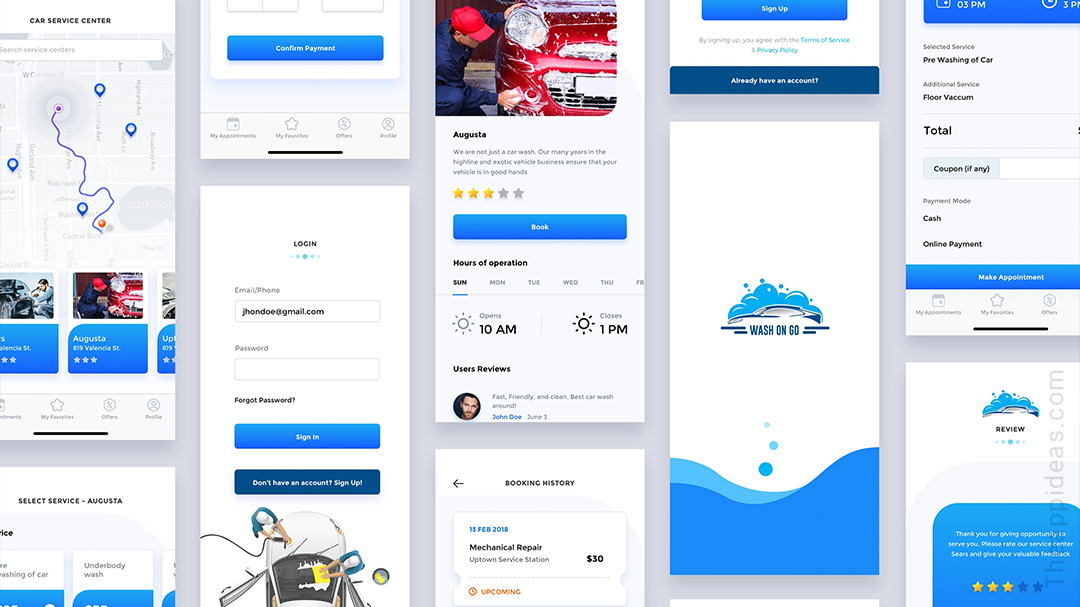 Top 5 organized players in the world
Auto Detailing in the Clouds
One of the most downloaded and used car wash apps in the US right now is Sky Car Wash. By entering their location and vehicle details, app users may arrange for a mobile car wash to be brought to their homes. Customers can book an appointment for quick assistance or choose a future time that works better for them.
In the United States, you can use the WASHOS app to get your car washed whenever you want.
The company behind the Washos app is a mobile vehicle wash service that calls the United States home. It's available from the App Store and it's rated four stars. The app's users can arrange to have either a thorough auto cleaning service or a standard car wash brought to their homes or places of business.
It's common knowledge that the Wash Doctors Wash app is among the top choices for mobile vehicle washes in London. The business travels to customers' homes or places of business in cities around the United Kingdom to clean and wash their vehicles. These cities include London, Manchester, Liverpool, Bristol, Glasgow, and others.
Can Someone in London Wash My Car?
The purpose of Wash my car is implicit in its title. The most downloaded auto cleaning app in London is called London. It is common knowledge that the software provides the most environmentally friendly car wash options out there.
Dropless                   
Dropless is another well-liked app for car washing in the UK. The Dropless app offers eco-friendly alternatives to using water when washing your hands and dishes. With the app, clients can schedule washes, pay for them, and even leave feedback on the service they received.
Features list of this app
Made-to-Order Costs
The application should offer a variety of services to choose from, and allow users to select and pay for only the ones they need.
Monthly Recurring Payments
It is important for a mobile app to present its regular users with a distinct and distinguishable set of packages. A consumer may not want to pay a fee every time he schedules a service call. Hence, car wash businesses should offer flexible monthly, annual, and semiannual programmes to their clientele.
These packages can be purchased in advance and used for the included services at any time throughout their validity term.
Registrations and Login Information
Each app will need to save some information about the user in order to keep track of their actions. Customers must therefore join the app as paying members in order to use it. As a result, the process of logging in each time is simplified. Another time-saving feature that the Flutter Application Development Company should implement is the option for customers to sign up for the service using an existing social media profile, like as Gmail or Facebook.
Locate a Local Detailer.
The list of nearby vehicle washes will be shown to the consumer, and they can pick whichever one they prefer.
Controlling the Current Moment
A customer's continued confidence in the detailer depends in large part on this. Using the app's tracking feature, customers can follow a path to the car wash area that has been predetermined by the detailers.
Conversations and Telephonic Exchanges
It is important for users to have a way to interact with detailers and engage with them within the app itself. Even if a customer schedules an appointment and brings his car to the business, he might not be able to complete the car washing service. He must, therefore, be able to get in touch with the vehicle washers and get a speedy reply to his request.
Online video meetings
One more feature that should be included in an app for washing vehicles and should be designed by iOS Application Development Services is the ability to make built-in video calls. In a conversation with a detailer, a user can describe their vehicle in detail and discuss the services they require.
Projection of Expenses
Many buyers try to save costs wherever they can, and car wash services are no exception. As this is the case, it is imperative that they have access to a cost calculator that can help them compare services side-by-side. Hence, consumers are given the option of including only the services they truly need.
Numerous different ways to pay
To ensure that its users can make purchases without any hassle, the app should allow many payment methods. In addition to supporting debit and credit card transactions, an app should check to see that it is compatible with as many digital wallets as is feasible. This is especially important since that users are increasingly signing up for several digital wallets.
Choose an Online Resource.
A car wash detailer should have a menu of services from which a customer may select the ones he wants, at the price point and in the amount of time he is willing to spend washing his car.
Make a Demand
The app's user may see all it offers, and compare it to similar car wash apps. With the appropriate app selected, the consumer can then place an order and complete the transaction.
Thoughts and Arguments
An integral part of any on-demand car washing app, this helps users feel good about using the service. Before investing money in a service, consumers often read testimonials from others who have already used it.
Timeline and cost:
The average cost to create an on-demand car wash app is around $40,000, however this can vary widely depending on the complexity of the service. Things like the app's design, the coding process, the location of the car wash app development firm, and so on all play a role in the final cost of building the app.
How much does it cost to make a vehicle washing app? The cost is split down by these categories.
The construction of a well-defined car wash app requires both a dedicated business plan and the professional competence provided by a top-tier on-demand application development services company. This is essential for developing a comprehensive vehicle wash app. Each additional function and piece of technology added to the app will increase or decrease its total development cost.
A rough budget for creating a vehicle wash app would look like this:
One to two thousand dollars is the typical cost of technical writing.
One thousand dollars and three thousand dollars is the price range for user interface and user experience design.
The total price tag for front- and back-end development might be ranging from $5,000 to $12,000.
Price estimates for testing and quality assurance place the total somewhere between $2,000 and $3,000.
As a result, once we factor in all of the expenses, the cost to create an app for a car wash will run anywhere from $10,000 to $20,000 for a single platform (either iOS or Android).
With further features, the price might go as high as $25,000.
A Few Parting Thoughts:
You may expand your customer base and grow your user base by adding in-demand features like social registration, user reviews, customer assistance, monthly subscriptions, and more.
How The App Ideas is the best service provider for On-Demand Car Wash App Development?
Because of the tremendous growth of the on-demand economy, the need for on-demand app markets has also increased dramatically. You may increase your business's success by creating a well-designed app for your car wash service. Customers appreciate the on-demand service provided by the car wash mobile app, and the time-saving convenience it provides thanks to online booking. If growing your brand and your business are priorities for you, then an app solution is the way to go. Feel free to voice any concerns you may have about the vehicle wash app's creation. Our company is always happy to lend a hand to our customers and users who are eager to take their applications and businesses to the next level and into the future.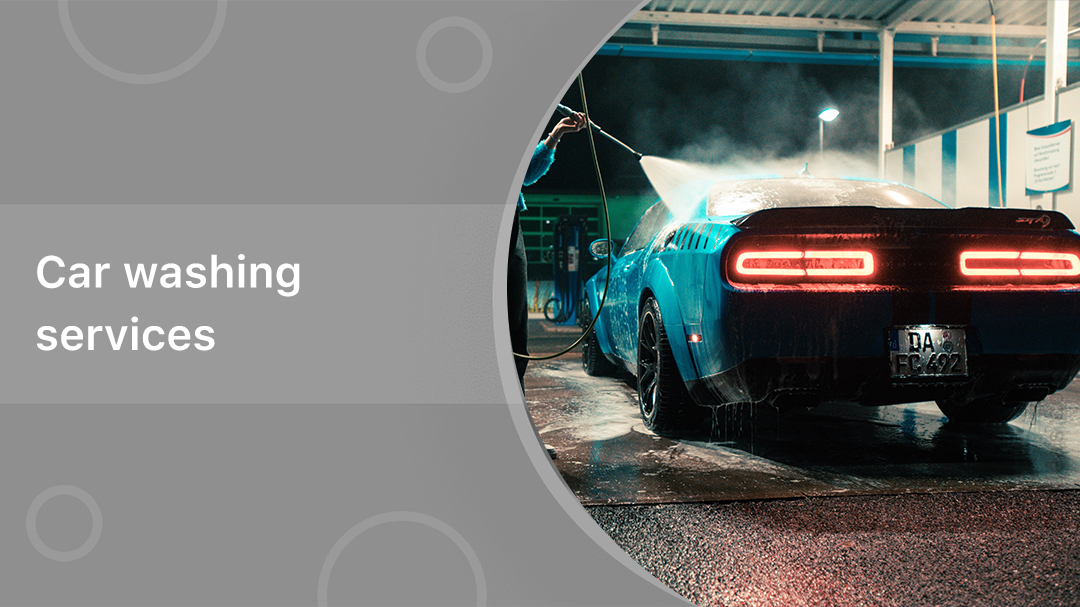 Laying the groundwork for innovation in mobile car washing services
If you're a small business or a startup, the idea and motivation of creating a smartphone app for a car wash is a great move. Several commercial opportunities arise, and motorists' needs are met. The development of a car-washing app is helpful since it allows customers to save time and access the service at their convenience.
Offering a mobile app car wash service has the potential to greatly increase a car wash business' efficiency and productivity. Bringing services right to people's doorsteps or cubicles is the single most effective way to promote mobile app usage and hence boost business. It's possible that if you start your vehicle wash app with
Planning and strategy sessions based on the current state of the art – You can move on with developing the app once you have a solid plan in place.
Consider the companies and groups you'll be collaborating with and cite them in your analysis of app development. It would be wise to look at and make use of the previous efforts of similar groups at the same time.
Before starting to construct an app, it is important to do some cost estimation. To help ease your financial burden, we can create apps that we know you'll love.
A clear strategy for kicking off the app design and development process is generated through discussion with the team. Having a conversation with a technological expert is a great way to pick up new perspectives.
To get off to a great start, you should provide a fun and easy interface.
Users are more likely to engage with and buy from the app because of its user-friendly interface.
Keep up with routine bug testing to keep your app running smoothly.
When development is finished and going well, you can move forward with the release.
You have just released your car wash app to the public.
Boost the company by doing in-depth industry research and crafting strategic marketing campaigns.
You have a clear idea of what needs to be done to design a car wash app; the next step is to identify a company that specialises in software development.