One idea can change your life, have you heard this sentence so many times in your life? What about, if you have 50+ app ideas, Are you feeling excited? If yes, then let's get started with one basic question.
Do you imagine your day without mobile and internet?
I strongly believe your answer will be Big NO…!!!
So we can add one more thing to our basic need which is Internet so the new slogan will be:-
Food, Water, Shelter + INTERNET.
And when the internet comes in a picture. How can you forget mobile? 80% of urban people accessing the internet through their mobile devices and you also knew that they were not using browsers to access the internet, they are spending time on mobile apps. People are more likely to depend on mobile apps for their day to day routine work. Everything can be easily managed through an app, which means you can use any service by just tapping on a mobile screen.
Indirectly, We can't think our day without Mobile Apps, Mobile Apps is a part of our life.
As per facts and figure the total use of the mobile app in 2017 are more than 178 Billion. It is increased by 194 billion in 2018. And do you know? At the first quarter of App Ideas 2019, app users choose to download between 2.6 million Android app and 2.2 million IOS apps.
And this figure is going to increase in future Because people find it more reliable, convenient and easy to use as they can manage all the things through an app of size in MBs. And the basic need to use an app is smartphone and internet, and in this modern era, everyone has own smartphone with the good internet package.
And today, we were discussing on the same topic, "Mobile Apps"…!!!
Various apps are available in the market according to the people's needs. You have used many apps like for food ordering – Zomato and Swiggy, for accessing cab services you can go for the most popular app option – Uber or hola, Most popular social networking sites are Facebook, Instagram, WhatsApp etc, these are the most popular apps for connecting with people socially.
Are you believing that a Mobile App Ideas is costly? 
No, it is not true, nowadays to launch or develop a mobile app is cheaper, the cost mostly depends on the layout, functionality and the features you want in your app. So for developing a mobile app, the range starts from 500-10,000 USD.
So here I am going to list down Top 52 App ideas for you.

App Idea 1: Dating App
As we have discussed, people are most likely to use the dating app rather than go for an option like websites or face to face meetup. What is the convivence way for people to find  life partner? It is difficult and time-wasting for search people offline.
So the solution for this is Online dating app, through which you can meet new people, get to know each other and decide whether you both want to move further or end up. Dating app can be categories as per the people needs like some people use dating app for flirting, some for hookups or some people are searching for serious relationships. So this online dating app provides you with the platform to search for someone of your choice.
And You know what? Youngsters are mostly using online dating app for finding their future mates, and it is quite easy and time-saving as you just want to add some information about yourself and your choices. And here you go, searching for a compatible partner.
For developing a unique dating app ideas, you can check (Dating App).
App Idea 2: Spending tracker app
However it is quite difficult to keep track of the monthly income or How much we are spending on expenses? Some people use pen and paper to keep track of their Spending and for that, they have to manually calculate all the things and retrieve the result and work accordingly.
Do you know, Why apps are required? Because manually calculation is not perfect always it may contain errors which can affect your planned budget or might be you face trouble in the future because your spending on expenses and monthly budget is depended on the calculation which you have done manually. And it is also time-wasting as you have to remember all the small things and calculate accordingly.
The solution to this is Spending tracker app, by using this app you are able to keep track of all the rental spending, billings, Rental or monthly income and everything. You just have to create an account and enter all the details and your monthly milestone like if you want to buy a new car at the end of this month, then how much money you want to save? this app can automatically calculate as per the information you have provided to it and push notification on overspending and limit spending.
This spending tracking app idea is also good and this kind of services you can provide to your customer by launching this kind of app.
App Idea 3: Live Football Score App
What if you are a lover of football matches but today you want to attend a family function? and it is mandatory to attend you can't miss the occasion but on the other side, you also don't want to miss the football match. What do you do? Either you have to choose a family function or football match at your home.
But we have the Solution, what if you have an app through which you can get the live score? By using an app like live football Score app by which you can get the live score from anywhere, only the basic requirement is a smartphone and an app installed on your phone.
App Idea 4: Social Networking App
Most trending and most demanding app, Social networking app which is used by people to connect virtually with the world. Most of the people are using 60% of the time on social media for chatting or connecting new people.
Facebook is the most popular and we can say, the first social networking site/app introduces through which you can connect to anyone from the world. You can connect, chat and after some update, Facebook also provides the video call service.
As time passes, various social networking apps are introduced in the market like WhatsApp, Telegram, Hike, Snap chat and many more.
This social networking site provides features like chat, voice call, video call, security, privacy, map integration and you can also share photos, videos and documents.
So the app ideas of introducing a social networking site is also a superior idea for a startup.
App Idea 5: Quiz App
If you are preparing for any exams or any entrance exam you have the notes and books relevant for the preparation but if you want to check your knowledge through a small quiz test? Or you want to test yourself from other people and compare your preparation through a test, what is the way or solution for this?
Quiz app is the solution to this problem, as we have seen many and specific quiz app like for kids, school or college student and for many entrance exams. People also use Quizzes app to check their General knowledge and this makes the online test fun-loving for the user. Quizzes can also be used for taking the exam and also in an interview.
So launching an app like quiz app is also a relevant idea.
App Idea 6: Property listing app
At the present time, it is difficult to find the properties buyer or the property owner who wants to sell their properties. There are ways like advertisement through a third website or newspaper ad but what if the buyers are not taking seriously the ad or they don't watch ads?
The proper solution to this problem is to develop or launch an app for owners and buyers of property, where the owner who wants to sell their property can add all the information of property and contact details. Property information contains the size, type, location and the price of the property.
On the other hand, the buyer has to enter the contact details and define the kind of property he/she is searching for or the price range. this app provides the platform to both the parties and makes their work easy.
App Idea 7: Food Delivery App
Food delivery app, by just listening to the name, we get the idea about the details of this app. Food is the only industry which can increase in the future because this is the basic requirement of humans.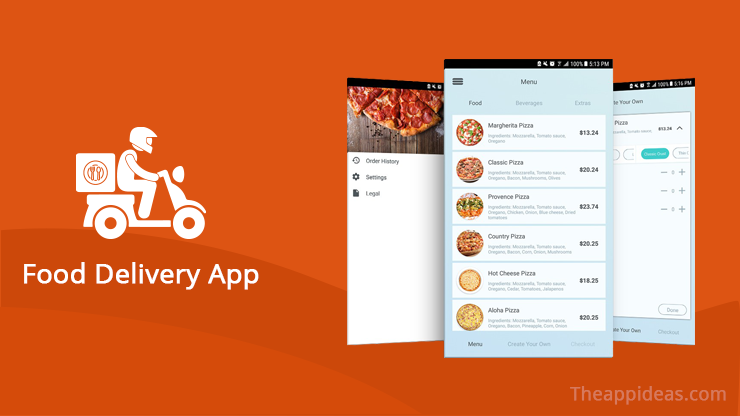 What if you are tired of your daily routine and you have invited your friends for dinner at your house? But you have a hectic day or you too tired  to cook delicious food or you are not in the mood of cooking then what is the other way?
Another way is the food delivery App through which you can order the food of your choice from your favorite option, the quantity can be customized. After choosing the food option, you can pay online. At the time limit of 30-40 min, the ordered food is delivered to your doorstep.
So if you want to start a business, then you can also go for an app like food delivery app.
App Idea 8: Driver Tracking App
If you are running delivery services like food delivery, goods delivery, courier or parcel service, then many people hire a third party for this delivery service. A group of people working under you, but as you are a business owner you need to check or keep track of all the services through a mobile app to offer best user experience.
Are you thinking of launching a Mobile application? yes, that's the driver tracking app through which you can track the driver and keep a watch on the driver's action as they are delivering the service on time or not?
And If a driver faces any problem in between the service then the owner can help and inform their customers about the delay and its reason. This driver tracking app is also helpful to the customers as they can keep track of their goods and get the approximate time of delivery time.
App Idea 9: Rental Booking App
Nowadays people are more likely to migrate from one place to another due to many reasons like a job transfer, better environment requirements or want a long vacation from daily routine. Rather stay on hotels, Some people refer the rental property and for that they search for the monthly rent property.
But finding a rental property without any reference is quite difficult for people and the same on the other hand after spending lots of money on the advertisement, the owner can't get the proper customers for their rental property.
How this problem can be solved?
This problem can be solved by introducing a specific app for rental booking. By this kind of app, people who want their property to rent someone can easily list out all the information online of their property like location and pictures on the platforms. On the other hand, customers can create their account in this app and search as per the requirements.
App Idea 10: Job Recruitment App
In this present time, tremendous jobs are available in every field and there are many people who are jobless. Do you know the reason behind this? The reason is  there is no proper bridge through which the company directly connect to the people who are worth for the jobs. There is not a proper app through which people can easily get their dream job and companies get better employees for their industry or job.
To eliminate this gap, a job recruitment app can be introduced in which a job seeker upload all the things including CV experience and on the other side companies can post the required vacancy and the explanation in detail about the job role. By some algorithm, they get the suggestion of similar jobs or of similar employees.

App Idea 11: Ecommerce App
E-commerce means shopping goods like cosmetics, items of clothing, jewellery and many more things.
As many offline stores and malls are available  but what if you want to sit on your couch and check all the options from your house, is it possible? Like You don't want to visit any store or want to waste your time in traffic.
As a result, the solution is, an E-commerce app can be introduced or launch, by which people just have to install the app and check the various options by just clicking . Well-Defined categories, search and filter option which helps the user to directly search for the thing they are looking for without wasting time. By using this kind of app, people get various payment methods like online payment or COD(cash on delivery).
If you are the owner of any e-commerce store, or you are thinking to start a startup based on e-commerce then this really the best idea for earning.
App Idea 12: Lottery App
In Present times people are fond of the lottery similarly like the past days. Everyone likes to earn something without spending much.
How offline lottery work? 
To win a lottery in preceding time, it's really difficult because  for that people have to stand in queue for the lottery tickets and announcing of lottery tickets is also offline so after some specific days, you need to present at the announced location. Isn't you find this time-wasting? So what's the solution?
Convert this offline lottery to online lottery. The question might strike in your mind that how to convert this?
A lottery app is introduced, in which a user can buy tickets online by choosing an online payment option. Scan the QR code through which user get the number and after 24 hours a notification popup of the result, if a user is the lucky one then further details can be collected else better luck next time.
App Idea 13: Betting App
Betting on Sports like cricket matches, football matches or many more things are considered as a game. Betting is a very common word used by people, and through this, they can earn or lose money, which they have announced on the base of the prediction they have made.
To make it easier a betting app can be introduced in which two-person or more can participate, enter their prediction and amount. Whoever wins get 90% of the total money and 10% goes to the app owner.
So this also an app idea through which you can make money.
App Idea 14: News App
News, this word is very popular from ancient times. As in past days, people like to listen to news through radios, then Television is introduced and with that newspaper are introduced in many languages for all the religious people.
But don't you think, that we can't carry this thing all the time with us? So what's another way?
The other way is a news app, a news app can be carried anywhere and it notifies about the latest news. You can select the language and the categories according to your choice.
So introducing a news app is also one of the amazing app ideas.
App Idea 15: Event Management App
Managing an event is not an easy task because if you are organizing an event then everything should be preplanned, and not a single thing can be missed. You need to remember all the things in sequence and want to hire many departments for managing and making the events successful.
But what if you get the app, through which you can arrange the whole event? About everything, you get the reminder on time and you get the things at the proper time before the event deadline.
This is possible by introducing a proper event management app through which any events like professionals event, meetup event, birthday parties and many more types of events can be managed easily.
App Idea 16: Travel App
Travelling, nowadays from this hectic schedule people wants a mini-vacation to chill out and to refresh from the routine. So it's not easy to search perfect travelling destination because it is the most tedious task to search for a place to chill out and where you get the nearby Hotels to stay.
To make the work easy of travellers, a travel app can be launched through which people can select the place, book the tickets of train or flight, Book the nearby hotels.
This kind of application can get popular and successful as they are helping the travellers by providing all the service on their smartphone screen.
App Idea 17: Travel Buddy App
If you want to visit someplace and you are the only traveller, isn't it boring to travel somewhere alone without any company?
The question arises in your mind that how to get to know the other traveller during the trip?
For this a new app can be launched which can be called a travel buddy app.By this app, traveller gets to know the other traveller who had the same destination, so if they want they can contact each other and become the travel buddy of each other.
If you are thinking to launch something new or thinking of a startup then you can launch such an app and provide a platform to the user to find their travel buddy by this app.
App Idea 18: fitness tracker app
In this modern era, everyone is busy in their routine, some people don't have much time to go gym daily and take care of their fitness. You have also met some people who want to lose weight or gain weight but they don't have time to join a gym. Some of the people take out time and started a gym but after some months they left because they find it time-wasting.
What if an app is a launch in which everything is included like diet chart for people who want to lose weight or also for people who want to gain weight, Separately, exercise for both the kind of people like for gaining weight as well as for losing weight.
So a Fitness tracker app can be launched, in which people have to enter the information like weight and their height and their preference(lose or gain) weight. According to the entered data exercise and diet chart is a plan for the user. And monthly they have to enter their weight and their App can schedule there chart and exercise accordingly.
App Idea 19: Cooking recipe app
Cooking can be a pleasure and a task which can be repeated daily. As no one likes to cook the same food every day or it's boring to eat daily the same kind of food. And it's really tough for people to get new recipes daily, which can easily be cooked in less time and delicious in taste.
To help such people a cooking recipe app can be launched in which step by step instruction is given to the user which make their work easy. In the Cooking app, instruction can be in the form of instruction or audio or it can also in form of videos where the chef is instructing practically about the various dishes.
App Idea 20: Photo editing app
In this present time, Many photo editing apps are introduced, through which people can edit their picture by applying filter or stickers. By using a photo editing app people can change the background and also change the background location. Photo editing app is also helpful  in adding  accessories.
This is also one of the good mobile app ideas which you can launch.

App Idea 21: Home Automation App
Don't you feel tired when you want to switch on the lights, fan or AC? You need to move from your bed to the switch board and want to turn off the switches, isn't it monotonous? Sometimes you forget to Turn off the devices, and as a result, you want to spend more money on bills without using the energy and it is also a waste of energy.
But there is one way through which you can save energy, by developing a home automation App through which you can access the devices through a phone screen.
How does it work? By this kind of app, you can remotely access all the devices from your home or away from the home through a smart devices. There are many apps introduced for individual devices like for AC or television. What about an idea if we launch an app through which people can access all the home devices remotely and adjust it from anywhere?
This is also one of the best app ideas which can be introduced in the market.
App Idea 22: Courier Delivery App
Courier services, let me ask you one question, How you use courier services or how it works ? Your answer will be, you need to pack your parcel which you want to courier, go to the office or centre where you can submit the parcel with the destination address, and you need to wait for 2-3 days to deliver your parcel safely at the destination address.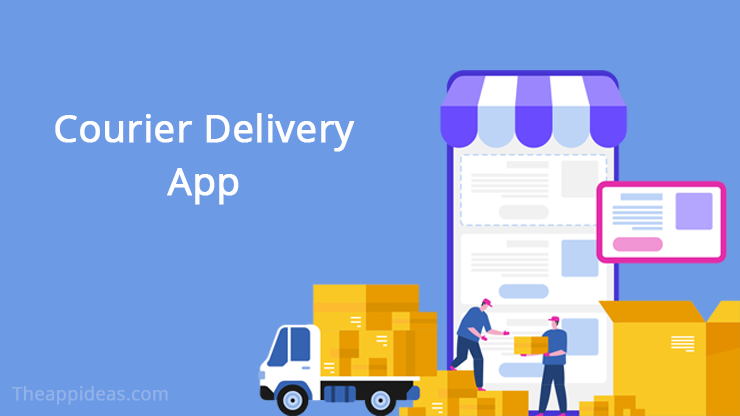 Isn't it time-wasting? you need to take out some time to visit the Centre and wait for parcel delivery. What if an app can be developed through which we can hire the person who can collect the parcel from your house and in some limit of time, it delivered it to the destination.
If you are thinking of a business, you can go for this one by launching a courier service app and hire staff or third party for delivery services.
App Idea 23: Wedding planner app
Wedding is an occasion which carries lots of fun with lots of work. When you plan a wedding or destination wedding then you need to remember all the small things and manage accordingly in advance, one mistake can ruin all the preparation of wedding.
When you are planning a wedding then you need to care about the decoration, about the pre-wedding functions, Bachelors party, the designer outfit, hall booking, Menu list for the wedding day and many more things. And for this, you need to start your preparation before 1-2 months .why? Because for every occasion, you need to search for the best staff and hire them. And this is not easy to find the best people for each and everything. And sometimes you forget some important things to plan.
What if an app is launched through which we can easily manage and plan the wedding. As this app also shows the expertise people for DJ party, for decoration and you can hire them and make advanced payment online through this app and when you forget anything you will be notified on time. This app makes the task easy for all people.
So if you want an idea for a startup you can bring out such an app and provide a platform through which a wedding can be planned easily.
App Idea 24: Todo list app
Do You know what is the main problem of today's world, everyone is busy in their daily routine and by this busy schedule they forget many things that are necessary like an appointment with a doctor at 7 in the evening but as they a busy schedule, so at last they forget about the appointment. And so many problems are faced by people because they fail to recall the plans which they have pre-planned.
But to remove or avoid this kind of problem, if an app is introduced in which they can set the reminder to recall the work. Yes, this app can really make it easier for mankind, because they get pre-notification about the task with the work notification at their screen. This app makes life simpler.
One example of such app I want to discuss with you, a to-do list app in which you can create your account and set the remainder according to the senses like if you have added a movie to your to-do list then when you tap the eyes you get all the list including movie reminder related to your eyes.
App Idea 25: E-book Reader App
This is a digital era, everyone owned a smartphone or iPad. The concept of E-book is introduced earlier. You visit the website, search for the book which you want and download it. There is the option of free as well as for paid download because it is really difficult to carry a book of pages 1000 or more than 10,000 everywhere with you.
But people are not much liking this process because to download a book you need to, visit the website every time, download it and search it again and again to my files to read and as we all know, people feel more comfortable to use the app rather go for the website. So if an E-book reader app can be launched through which people can read as well as download the book of their choice, whenever they need to read the book offline they just need to visit their downloads in that app only.
You can bring out an E-book Reader app for some specific field or you can make it general as every age people can use it.
App Idea 26: Online Music streaming App
Do you find it difficult to Download new songs when a new song is launched? But you need to do this because we people get bored and want to change their playlist because listening daily one song is quite boring.
In Downloading a song, people face some problems, the first one to find and download new songs free and the second one is they are downloading many songs it occupies space over the hard disk or memory.
But if Best Music Streaming App introduced in the market through which users can listen to music online without downloading it to your device and it is easy to create or edit the playlist from time to time in such kinds of app. So such an app can be also launched which is beneficial for the user or for the lover of music.
App Idea 27: Video App
When you are travelling on a bus or a train and you are feeling bored, How you kill boredom? either you go for music or movies. But according to me, most people prefer to watch video to pass there travelling time easily. And watching videos or movies you have options like either you go for YouTube or for online videos website.
But what if they have a video streaming app with them, they can easily access the videos without surfing everywhere. A video app can be launched through which people can watch online videos as well as access videos offline.
App Idea 28: car parking app
As in this present time everyone owns a personal vehicle, and it is really difficult when we talk about the parking system. As the number of vehicle user's are increasing day by day. And the parking issue can be counted as a major issue. Due to miss management of parking other people surfers a lot.
What is the solution to this problem?  what if an app is launched for car parking? Through which, you can pre-book your parking slot from your house like that place is initially reserve to you, which means no other person is allowed to park their car at your reserves Slot.
This app can really help many people who face the parking problem in their daily routine. So this also a fresh idea for you if you are thinking of launching an app.
App Idea 29: Book my show relevant app
In this era, everyone has used the app "Book my show" for booking Movie tickets, event or concert tickets booking through the book my show app, you can also book the tickets of sports like cricket match or for football matches. It is easy as we can book online and make online payments.
You can introduce an app relevant to the Book my show app in which you can add features like movie booking, sports and concerts tickets booking .One more features can be added like tickets code sharing to friends, a module for chatting can be added as in case of any problem or doubt people directly connect to the help centre.
App Idea 30: Split bill app
It is really difficult to split the bills after doing partying with friends or it is tough task to split the bill when you are living in a rental property, sharing with someone your room or rental house because you need to split the bills for rent as well as for the utilities.
There is no need of app if the bill splitting is between 2 or 3 people but what if you are living with 7-8? people then a proper system is required through which bill can be easily and equally split between all the people.
A Split Bill app can be introduced through which when a user enters the amount it can automatically divide and notify the other user about the amount they want to pay and this makes work easy for the user as well as for the owner whom they are paying.

App Idea 31: Debit / Credit app
Nowadays people are also doing business-like lease money to many people and after some period they need to collect it with some interest. But have you ever thought it is difficult to maintain the details of people or the amount they have taken for lease or for how much period of time? As it can be written in a diary but what if the diary is lost or person forget to check diary daily?
And it's really difficult to remember all these things and manage it properly. But a solution to such a serious problem can be introduced as an app, a debit/credit app.
The person who is granting lease need to enter the details of the person to whom he/she has lease money, the amount he/she has taken and date of collecting the money back, that's it. After that person get notification about each and everything and it helps him/her to recall at the time .
App Idea 32: Food Wastage App
As we organized many parties per month like the celebration of a festival, Anniversary party, Birthday party or success party. And at parties, delicious food plays a most important role, as, without food, a party is always incomplete.
But sometimes when the parties are over, you found a lot of food is an untouched or huge amount of food is not used. What people do they throw the food in the dustbin, in other words, it can be called as wastage of food. How to stop or reduce this issue?
An app can be introduced, Food wastage app through which if huge amount of food is remain untouched in any party then they can inform the orphanage house or the organization and by this they can send the person or any delivery boy who  collect the food and deliver to the people who are not getting food due to their financial condition and the food is also not wasted.
App Idea 33: Tenant / Landlord app
Renting houses are now trending as the population is increasing and some people can not afford to buy a house as per their requirement. What they do then? The people who own property can rent their property to such people on a yearly basis, and in return, they charge money.
But they find this difficult as sometimes landlord forget to take the rent and there are some days when tenant forgets to pay the rent on time. And after that misunderstanding take place between both of them.
The solution to this problem is a tenant/Landlord app, through this app tenant rent directly transfer to landlord account automatically on the selected date. This app can also be used by the landlords who have given their property like there shop, land area on rent to another party.
App Idea 34: Mortgage/Loan Emi Calculator App
To keep a record of loan details or EMI is really difficult because you need to calculate everything according to it like monthly saving and monthly spending including daily expenses. And manually calculation contains errors and it's not perfect. And you need to take care of things where you have done all the calculations.
What if one app is launched which make the calculation much easier and through which you can save and calculate your monthly EMI based on the amount of loan amount tenure, and interest rate and also you can download the report of your monthly principal amount and interest rate.
App Idea 35: Document Saver App (Digi locker)
In this digital world, every work is done through an online platform and people are also inclined more towards an online system like for paying bills, for filling the form, for ordering food to booking movie tickets. And nowadays online transaction can also be done through online way because the user feels safe to use and share their personal details online.
But sometimes you need to keep some important and secure data or document files on your mobile device. What is the way for that? you need a locker as we have in our offline system, a locker where we keep our all the document safe.
This can also be applied on mobile phones, How? By launching a Document saver app where user can save their file in encrypted form and whenever required decrypt it and use it.

App Idea 36: Bus Booking app
On vacation day if you are planning for a trip of 2-3 days with a group of 20-30 people through a bus. But not only you are planning, but there are also many people planning for a mini-vacation because it's holiday time and you reach at last moment for tickets and you find the bus is full, there is not a single seat is empty. And this can definitely ruin the whole mood of you and your group.
What if an app like Bus booking app is launched through which you can pre-book your seats? definitely a good solution by which you can book your seat before a week.so you can't face the last moment problem.
App Idea 37: Hotel booking app
Festival time, vacation time or weekends, most of the people plan for a mini trip because they want some time to spend with their family and for changes, they want to visit a far place and stay in resorts or hotels.
But you are not the only person who is planning this, various people are planning for such a trip, and at last, due to rush, you can't find a better place.
What if a hotel booking app is introduced through which you can pre-book your room on the resort and the weekend rush can't bother you? An excellent and effective idea for people and through an app you can make an advance payment also.
App Idea 38: Price comparison app
Various online website or app is available for e-commerce, hotel booking, food ordering and various options which provide online services. But you know what people are searching for? They search for the Quality at a cheaper rate, and for that, they keep comparing the websites or apps.
And it is time-wasting because to open all the apps or websites and search the product and start comparing in 10 -11 sites are really time-consuming and at the end, the user gets bored and close all the apps and websites.
We can make their work easy by bringing out a price comparison app, Have you heard the name trivago? A relevant app of Trivago as Trivago only compare the hotel prices we can apply this on an E-commerce site, food online services and many more industries which are providing online services.
App Idea 39: Grocery Delivery App
Cooking food is a daily task, which can be performed daily because without food there is no life. And daily ordering food is also not good for health. To cook food the basic requirement is vegetables and for health, fruits. And nowadays as we know this is a digital era, people find it uninteresting to visit the market to buy groceries.
Some people don't have time to visit, How to make their work?
If we develop an app like grocery ordering and delivery app through which people can select, order and through payment method pay online or choose COD (cash on delivery), and after 30-40 minutes their grocery can be delivered to their house. This is also one of the finest app ideas.
App Idea 40: Business card app
A business card, in earlier days which is known as visiting card which is used by the business owner for a social purpose. But as time passes, people are more likely to switch from paper card to digital card.
Which means they are switching from visiting card to the business card. A business card is used to convey the spirit of companies cultural. It can be a small part of marketing.
So if a business card app is launched then it is easy for a professional company or business to create their business card easily. They just need to enter the data which they want in the business card and easily they create their business card and when required edit easily in-app.
App Idea 41: Deal Coupon app
Everyone is now spending more time on the app, the more likely to use the online service rather go for offline as offline services are time-consuming and on online services, we get many special offers on buying the product online or booking online.
Through coupon code, we take the advantages of various offers which is given to us. So if one app is developed in which every online service provider can provide the details of deal coupons, and through such an app user can easily get the coupon code and take advantage of it.
The developer of such an app can earn money by taking a commission from the online service provider whom they are providing a platform for marketing their services.
App Idea 42: hide my details App
As this is the digital era, but what is the most important thing through which we can gain the trust of the people. By privacy and security, because people have some personal and private data which they don't want to share with other people.
For example -as people have a habit of saving some important images in their phone gallery or they have a document or some password details on their notes. But their phone devices are not protected by any password.
How do they secure their data without applying a password to their smartphones?
The solution of this trouble is bringing out a hide my detail app. By using this app user can hide the photos, document, another app from their phone and protect it by a password. And you know what the advantages of such kind of app, no one knows about the hidden application, only you can unlock it when required and access your data safely.
App Idea 43: Attendance app
For a business owner, it's quite difficult to keep track of employees presence Because to manage the attendance of 100 or 500 people is not a cup of tea. Many Industries are using punching system to keep a record of employees working hours, but do you know the problem they are facing by this system?
At the end of the month, they retrieve the data through Pendrive from punching system and after that calculate the hours and pay employees accordingly. Sometimes the punching system stop working, and due to this some employees punching time fail to record. And these things trouble both the person, the owner as well as the employee because the employee has completed his/her timing but due to the punching system issue, the time is not recorded and at the end misunderstanding takes place.
What if the issue can be solved by using the technologies and solve things by introducing a solution as an app idea?.
The idea is introducing an app for android as well as for IOS user. The employee just needs to scan the QR Code when he/she enters the office and there time start which is also recorded and notify the admin panel. When an employee wants to take the lunch break, again they scan the code and this system only need to scan code from time to time, nothing else.
And weekly or monthly report will be generated through which employee can predict his/her timing and if they're working hour is less then they can cover it easily.
App Idea 44: Salesman tracking app
Many businesses highly depends on the sales activity like for increasing their profit, they need to reach as many as many people for achieving their month target.
For this kind of businesses, the key role is played by the sales staff of the company, do company can track the salesperson? Do they have any app through which they can track the salesperson and get to know where they are visiting? How many places they have visited?
The answer is No, they just need to trust their sales staff whether they are meeting people for sales purpose or chilling outside with their friends. And this is highly affecting the business because such business highly depends on sales and marketing.
What if their problem can be solved through a new app idea? A salesman tracking app can be introduced through which the salesperson needs to on his/her GPS and owner can get the location where they are visiting. In-app the module is included in which salesperson need to add the location details and when they reach to the particular location they can tap the check-in button and after the meeting, take the picture of owner or clients or if they are not comfortable with pictures, the salesperson can ask them for their signature for proof. After leaving check out can be done in-app. By doing check-in and checkout, the time of the meeting can be tracked easily.
Through this app, the admin panel or the owner can track their salesperson.
App Idea 45: My dream list app
Everyone has a dream list, But every time you are not enough to fulfil your dream alone, like if you are dreaming for a world tour then definitely you want a person for the company because alone travelling is tedious. For that, You have also experienced this while travelling solo for 2-3 hours it's too difficult to pass the travelling time.
But if an app is introduced through which you find similar people who want to do a world tour then you can directly connect with them as you both can fulfil this dream together.
This app not only helps travellers, but there is also a list of dreams where people find it difficult to fulfil alone so through this app you find companionship for completing your dream.
App Idea 46: Criminality index
What if you want to shift to some areas for your business? or you want to go for a long vacation trip on someplace? Or you are thinking of doing investment on the property or want to expand your business more?
But after doing investment or after shifting you find that place has the highest criminality rate, which means you stuck over a place where no one can replace you or no one want to join you. This problem occurs because you don't have the prior knowledge of the location or that particular area.
Here we can provide an app solution for such people, an app idea of launching Criminality index app in which before shifting or investing they can check earlier the criminality index of that particular area and if they find that area is not safe or unsafe then they can change their plan.
App Idea 47: Where to travel in this season
Major people are facing a problem, might be you are also one of them. When you want to visit a place for refreshment or let me explain this with an example-you are thinking of celebrating your birthday in some other place. You have done the preplanning, booked the tickets and prepared everything.
But wait, have you searched which place is best in this season? Do you have any prior knowledge of that place? if your answer is No and what if after reaching the place, you find that place is worst for travelling in this season.
And unknowingly you have wasted your time and of course, your money is also wasted, for the place which is not worth. What if you get a way of knowing that earlier, which place is best to travel in this season? And after knowing you can definitely plan a successful trip.
For this, an app can be launched, in which you can check the list of place best according to the current season and it can be keep updating as per the season. Now before making plan you can check things easily by an app.
App Idea 48: Let's donate
Donation can be done by many people in various ways, like donating food, clothes, money or anything which is not in use for you. The way of donating is either you go directly to any organization or NGO and donate things directly to the needy people or you donate things through online or through phone calls.
But after donating things through an indirect way, have you ever know that your things are going to the right person to whom you are donating? No, because you don't have any source of tracking and in such a case, some fake/fraud people take advantage of these things take the things from you and start a business of those things.
How to donate to needy people without visiting? For which I have an app idea which I am going to share, an app can be launched in which you can enter the details of things you want to donate with photos and people who are running an NGO or organization with verified account can directly contact you for the required thing and you can donate the things at the right place to the right people.
App Idea 49: Packers & movers
If you are spending your half of life in travelling and shifting then I am sure you get rid of packing and unpacking of house stuff. And it's really difficult to pack all the things and move it to the other place because you need to take care of all the things, pack all the important items perfectly, without doing any damage. After packing you have to book a vehicle for transferring, load and unload all the stuff by yourself is really very tedious work.
What if an app is launched through which you can book service or hire people for packing and moving your stuff from one place to another, you just have to pay for it. In-app one list is prepared for your house item which you can refer after unpacking and check that all the things are shifted or not?
The business owner has all the data of people who are going for shifting from there staff and the data of people who requested for this service. In the case of misplacing of any item, people can directly contact the owner and owner can take action, As all the history data is also saved in-app.
So this app makes work easy for people because they can trust other people and business owner can earn by providing such kinds of the app to the people.
App Idea 50: Customized gifting App
One thing which has not changed from the ancient period of time is exchanging a gift or to make someone feel special by giving them a gift. On this present time on any occasion like birthdays, wedding, successful party, valentine day or any of festival days, we still prefer gifts to give someone to make them feel special.
But there is a huge Trouble faced by people, What to give on gifts? You are also suffering for this thing, that what to gift someone as per gender or age? Which thing you can buy or from where? You can ask for suggestions from people but in the end, you are still confused about the things.
Here is one app idea for people who want to launch an app for a business motive. A Customized gift app can be launched in which you can select the person for whom you want a gift suggestion like mother, father, sister/brother, male/female bestie, girlfriend/boyfriend and many more options. After selecting the person you need to enter the occasion of giving a gift and at last, you need to select the age of gift receiver.
After entering all the data you will get the suggestion of gifts with the contact details of the shop owner or if you want to give a handmade gift then you can also check the material required for the preparation of the gifts. You can directly buy and order the gifts at your place.
App Idea 51: Digital mall navigation app
When you are visiting a mall for the very first time, the most irritating thing is to search for the specific section for which you came for shopping. Like you went mall for shopping of shoes and vegetables but after entering the mall, you find various paths for the different section but how to know exactly the location of the specific section for which you are looking for?
The app idea for solving such a problem is bringing out a Digital mall navigation app which contains a map of the mall with images of each section like we use google map by entering the destination and this app helps people to directly get the path of the section for which they are looking for. This app saves visitors time.
This kind of app is mostly beneficial for mall owner because by providing such service to the customer they attract more customers and maximize their business. So if you are thinking of introducing an app for your mall then you are giving unique service to your customers.
App Idea 52: Fraud detection app
The ratio of fraud is increasing day by day and people are losing their trust in technologies because Some messages or call user get on a daily basis and if they pick up the call or reply to any text then there all the personal data is accessed and can be misused. In the name of loan and bank account, many frauds cases are registered.
As a solution to this serious problem is bringing out a fraud detection app. This app can notify or alert you when you get any call from a fraud agency or fraud company, so you can't take such calls or not reply to any message from such a fraud agency. So it's become easy for the user to detect the fraudulent activity in real-time.
Have you checked all the App Ideas? How many app ideas excites you most? Which App Idea would you like to execute in 2022?
We are at, The App Ideas offer a great consultation and perfect deal for Mobile Apps. Feel free to reach us.