On-Demand Pizza Delivery App Development, which is used to deliver the most popular and delicious food "Pizza" and make the customer happy. In this era, people are more attracted to digital service because it is time-saving and easy to use. If you are the owner of a pizza store and you want to start a delivery service, Then trust me you are going to multiply your profit.
People are becoming mobile-friendly. And in this digital time ,On-demand Pizza Delivery App Development gave convenience service and makes people comfortable because it hardly takes 20-30 minutes to deliver pizza. Pizza stores owner gain more customer by providing delivery service because customers are not ready to compromise their valuable time rather they pay more for the doorstep service.
The delivery service is mainly depends on the restaurant owner either they deliver the pizza or hire a third party for delivery service.
Restaurant business like Pizza delivery app services  is growing day by day. Through pizza delivery app, customer can check out various pizza from their favorite restaurant.
If service like pizza constructor is providing to the customer then they can customize the pizza by, add the toppings, ingredient, species according to their taste and place the order. Customer can also pay for it online or they go for COD service.

let's discuss how this pizza delivery app works?
Initially, customer create an account in the app, using searching, sorting and filtering methods find out the different variety of pizza and its cost.
If service like pizza constructor is available then customer customize the pizza according to the requirement.
Place the order and as there is various payment method, pay according to their convenience. Either go for online payment or COD.
The order notification is sent to the owner or if there is the third party for delivery service, so they also notify about the confirmation of the order.
Start preparing for the pizza which customer wants or according to the customer like.
Then the delivery service is ready to execute, delivery boy collects the pizza and deliver it to the customers in the time limit and make the customer happy.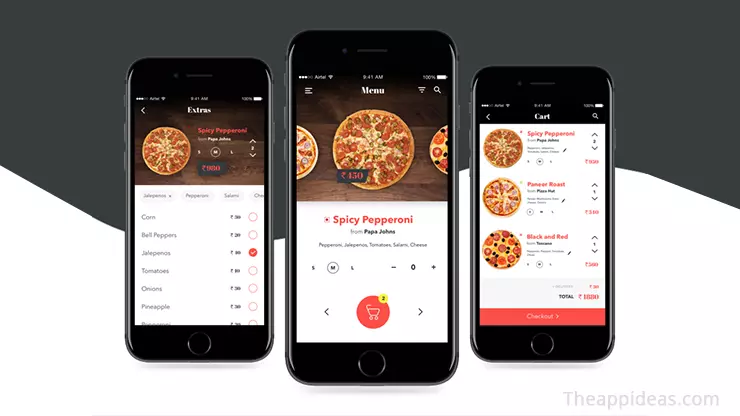 Why it is beneficial to launch a Pizza Delivery App Development?
If you are running a Pizza Delivery business or a Pizza store or Pizza restaurant then it is very beneficial for you to have a Pizza Delivery App Development. As we are clearly observing, Nowadays people are more inclined towards the mobile app services because it is very easy as well as a time-saving method for accessing the services.
Similarly, if you launch a Pizza Delivery App Development for your customer then it is very easy for your customer to access your services by just sitting at their couch and order their favorite Pizza from your restaurant .
Having a Pizza delivery app also helps you to attract more customers which helps you in generating more profits as well as it helps you to reach as many people as you can through marketing tools. As it is very easy to do marketing for online services.
What are key features required in Pizza Delivery App Development?
Here is a list of some feature which is required to make a perfect pizza delivery service.
User Module:-
login/user registration.
User profile setting
Orders or history of orders.
Visibility of discount code or offer
Search pizza by name or categories.
Pizza constructor
Place an order module
Checkout
Payment way integration
Schedule delivery
Pizza tracker
Give review and rating
Chatbot
Wallet
Help and support
Admin /delivery service:-
Login /sign in module
Edit profile
Add or manage menu or pizza
Manage the customer orders
Update the status of food(preparing/delivering/delivered)
Wallet
Voice call/chatbot
Accept or decline service
Check daily earning
Driver tracking facility
Manage ratings
History of orders
Map integration
In-app chat facility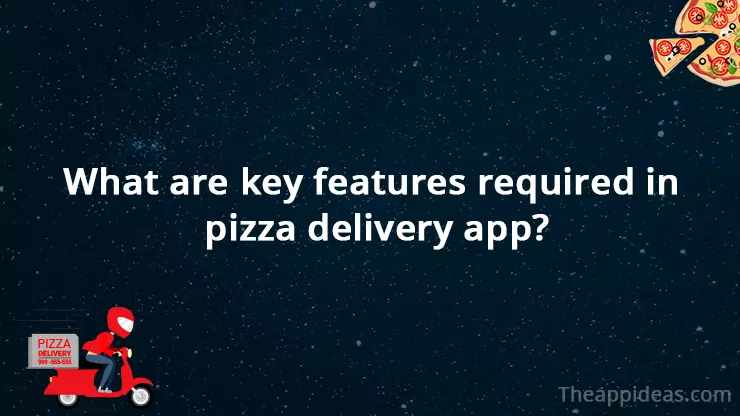 Our company, The App ideas, worked on much on-demand food delivery app and satisfied our customer with our work. Our company also work on food ordering app. The cost of on-demand pizza delivery app mainly depends on the features, layout, the technology of the app and the number of modules you want in your pizza delivery app. The approximate cost of pizza delivery app is in the range 5000 USD to 8000 USD. The approximate working hour takes to design or developing a pizza delivery app is 600-800 working hours.
Would you like to create a Pizza Ordering & Pizza Delivery app for your restaurant? Feel free to reach us and get a free quote from us.