Here In this article, we are going to discuss about the On-demand Security  Hiring App. In this present time, with the increase in population ratio, security has become the major concern. The On-Demand Security Guard Hiring App for security is increased with increasing criminality ratios in various countries. People are looking for security guards to protect their establishment and residential from potential threats.
As we all know, Technology is helping society by providing various services in every domain. Nowadays, we all are getting habitual to access online services because according to users, accessing online services are easy, convenient and comfortable as they can access online services from any place at any time.
So here we are doing to discuss the On-demand Security Guard Hiring App. This on-demand platform allows users to hire security guards whenever they have any requirement related to security services for their properties, peoples, assets or residential area.
What is the use of an On-Demand Security Guard Hiring app?
In this generation, the demand for security guards has increased because of the increasing number of the threat. So people are looking for the security guards, who can protect their property and assets from any potential threats.
It is very difficult for people to find a security guard who is loyal to the hired person. Sometimes people might doubt whether they would find an unsafe behavior of the security guards which leads to thefts or damage of property from the security guard itself.
So to solve this kind of problem, an on-demand Security guard app can be launched where people can easily qualify and professionals security guards who are trustworthy, responsible and efficient to discover the illegal or inappropriate actions. This kind of security guard app helps the people to simply hire the security guard.
On-demand Security Hiring App is an online platforms where the people who are looking for security guards can   easily create their profile and start looking for the trustworthy security guard for protecting their building , property or  assets.
Through On-Demand Security Hiring app , People can easily find out the Security guard based on their requirements. User can easily find and hire the  Security guard for customizable time like for a single day as well as also for years based on their needs. The convenient time and  easy accessibility of the services makes this type of platforms highly popular and demanding in the market.
Is it advantageous to launch an On-Demand Security Guard Hiring app?
If you have ever though of launching any online startup then On-demand Security Hiring app is consider as one of the best ideas to launch in the market.
Yes, it is advantageous to introduce an On-demand security guard app in the market. As by introducing an on-demand security platform, you can provide a platform to the user from where they can directly hire the loyal and responsible security guard.
On the other hand, On-demand security guards app platforms provide employment to various security guards who are looking for full time and half time security jobs. As an admin, you have to verify the security guards before registering them in your platform.
This kind of On-demand Security guard hiring app provides the security guards that are verified by admin and get filtered on the basis of trustworthiness, alertness, responsibility, attentiveness, faithfulness, mental ability as well as physical abilities.
You can also generate revenue from an on-demand security guard hiring app. How?
You can offer a little space from your platform to a third party, where they can display ads and promote their service.
Provide or introduce a premium or subscription model of your app.
By charging the security guard for listing their profile in the featured listing.
What are the key features of On-Demand Security guard hiring app?
An On-demand Security guard hiring app generally consists of three main panels: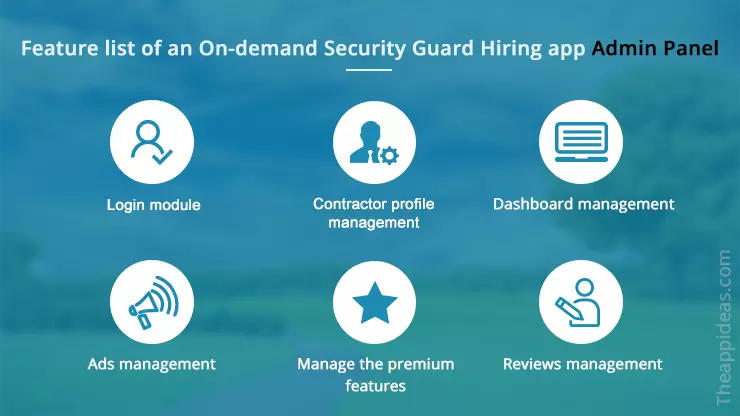 1. User Panel
Users can create their profile and manage their account easily.
Users can easily post their requirements in brief for a security guards job.
User can easily search for the security guard agency by using various filter
Chat module integration.
Users can easily hire the security guard of a specific time period.
A Users can make payments by using the various online payment gateway.
Users can easily track the timing of the security guard and their services.
A Users can easily give feedback and reviews to the hired security guard.
2. Contractor (Security guard) Panel
The contractor can easily create or login to their account.
contractor can easily manage their account.
The contractor can add their work experience.
Chat module integration.
The contractor can easily check the job offers and can accept/reject the job offers.
Contractor gets paid by online payment methods.
The contractor can manage their feedback and reviews.
User and contractors communities in which they can ask questions and give answers and become engaged with each other.
3. Admin Panel
Admin login module
User profile management
Contractor profile management
Verify the contractor before registration.
Dashboard management
Ads management
Revenue management.
Check the work and the status of the contractor.
Manage the premium and subscription features.
Feature listing management
Reviews and feedback management
How much does it cost to develop an On-Demand Security guard hiring app?
The cost of an on-demand security guard hiring app depends on some of the elements like the features and functionality, app designing and development, the technology (Android, IOS or both) which you are going to choose for the development of an On-demand security guard hiring app and the experience of the developer.
We have already developed a solution for an on-demand security guard hiring platform.so let us provide you with the approximate timeline cost of developing an on-demand security guard hiring app.
Timeline:
App Design:- 7 Working Days
Android App Development:- 25 Working Days
iOS App Development:- 25 Working Days
Web Backend & Apis:- 30 Working Days
Testing, Bug fixing, and Deployment:- 5 Working Days
Costing:
The approximate cost of developing an On-Demand Security Guard hiring app is  4000-7000 USD.
The App Ideas is one of the best Software development Company. We provide the best UI/UX design for any type of mobile app development. We have an experienced team of people who worked on both the technologies for mobile app development, Android as well as IOS. The App Ideas have a team of highly skilled developer who will provide the best On-demand Security hiring app at best rates.