If you are going to have your own online store, choosing the right ecommerce platform is of seminal importance. While there are several credible choices to work as the foundation for your ecommerce business, a few of them joys more popularity than others because of customer centric features, ease of use, flexibility, scalability, security features and visually appealing interface.
Both Shopify and Magento are two of the most popular CMS platforms for ecommerce businesses. But even they have some crucial differences. This is high time to know the key differences of these two ecommerce platforms.
Basic differences
Both the Shopify and Magento are quite different even in basic characteristics. Let us start with these basic differences between these two platforms.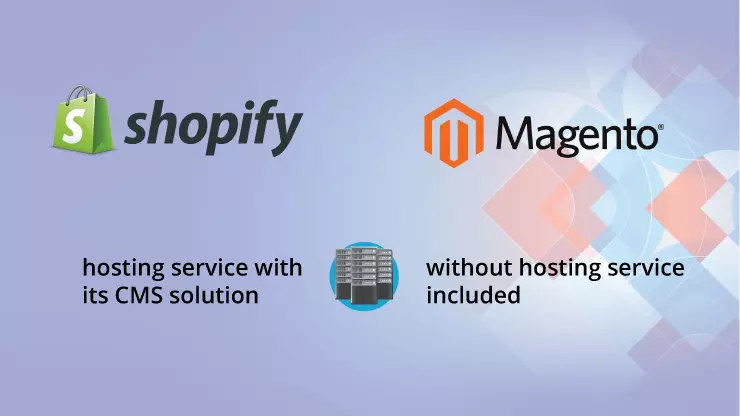 Magento offers both free and open source community edition and premium version with some extra value additions. On the contrary, Shopify is a completely commercial CMS platform.
While Shopify offers hosting service with its CMS solution package Magento comes without hosting service included and you need to have your own hosting in place.
While Shopify offers you pretty complete solution without any need to worry about installing and configuring everything for building your online store Magento needs you to install and build the store and so Magento development requires at least a medium grade of web development skill and knowledge.
From the above mentioned aspects it is quite obvious that companies having no developers and technical staff may find Shopify a better platform to start with an online store quickly. On the other hand, having skilled developers on board, one can always find Magento better as it comes free of cost.
Differences in feature set
As far as basic and fundamental store features and functionalities are considered, both Shopify and Magento offers seems quite complete with all that an online store needs. The only major takeaway is that Shopify is a bit easier to set up as it comes with help for installing and configuration while Magento requires professional hand for setting up the store. Here are the key differences in respect of features for each platform.
Inventory management: The starter plan of Shopify which comes st $14/mo allows you to showcase a maximum of 25 store items. In contrast, Magento Community edition allows you to showcase and market unlimited number of items. Though, by laying higher for other plans you can also opt for unlimited items through Shopify as well.
Shipping charges calculation: Both Shopify and Magento offer powerful features for easily calculating shipping charges. In this respect, both platforms are equally robust.
Features for promotion: Offering coupons, discount codes and other promotional features is a crucial requirement for any online store and in this respect Shopify comes a little behind the Magento. While Shopify skips this feature in their starter plan Magento offers robust promotional features with any ecommerce store.
Payment gateway: Number of payment gateway options is a crucial consideration for ecommerce platforms. In this respect, Shopify leads the scene with as much as 70 different payment gateway options. Magento Community edition on the other hand offers far lesser number of options. Though you can always add more options to Magento with third party addons.
Themes and Templates: Both Shopify and Magento offers a wide variety of themes and templates to allow you maximum scope of customising the look and feel of your ecommerce store. As far as number of themes is considered,
Shopify offers a less number of options Han the Magento community edition. Both the platform offers premium themes as well. But while a premium theme of Shopify starts with a price tag of around $80, Magento paid themes just starts from as low as $1!
Apps and Add-ons: When it comes to number of apps and addons, again Magento seems to enjoy a clear edge with more than 5000 different apps and add-ons available for the users compared to only more than a 100 of such apps and addons available for Shopify users. In both paid and free app categories, Magento offers bigger range of choices than Shopify.
Multi-lingual capacity: When it comes to multilingual capacity of communicating users, Magento has a clear advantage. While Shopify does not come with multi-lingual capabilities without any addons, Magento offers full inbuilt upport for a wide range of international languages.
SEO: Both Shopify and Magento comes equipped with extensive SEO features to help you target search engine ranks and drive organic traffic. In this respect, both platforms comes close and do not offer any significant difference except for the fact that Magento offers more numbers of addons to boost your SEO effort than the Shopify.
Scope of customisation: Both Shopify and Magento comes with an array of customization capabilities to help an online store boast of a unique look and feel and embrace features that suits it.
Difference in ease of use
While both Shopify and Magento Community edition are equally powerful platforms for ecommerce stores, both cannot be handled easily by novice users and untrained hands equally. Shopify offers a wizard mode allowing even novice users to set up the store while Magento community edition does not have a feature like this. Besides this, Shopify offers hosting and comes with inbuilt configuration help while with for Magento you need to opt for third party hosting service and professional help for building the website. But once you build your ecommerce website, both these platforms offer equal ease of use and flexibility.
Difference in cost
Shopify comes with four different monthly plans with cost ranging from $9 to $299 per month. Here are the 4 different plans offered by Shopify.
Lite Plan : $ 9
Basic Shopify Plan : $ 29
Shopify Plan : $79
Advanced Shopify Plan : $299
Shopify comes packed with hosting service while building ecommerce store with Magento requires opting for hosting plan from other service providers. For both the platforms the transaction fees depend upon the charge applicable for the respective payment gateway used by the store.
Conclusion
The major difference between the two platform is that the Shopify is fully hosted ecommerce platform while Magento is more powerful and customizable platform that comes without hosting and configuration help. It entirely depends upon your developers on board and whether you want to build a e-commerce store of your own or just want to depend on a packaged product like Shopify.
The App Ideas has established itself as one of the most sought after ecommerce development companies with proven expertise with both Magento and Shopify. Do you want to know more about how we can create a great Shopify or Magento store for you? Just give us a Call OR Message us on Skype and we are going to engage with you in minutes.