Unity Game Ideas are the things which are always in demand because to play games there is no age limit,  every age people can play and enjoy it fully. As in the market, various types of games are launched with varieties of new ideas and with more flexibility like one or multiplayer.
So today we are going to talk about the Unity Game Ideas which we can introduce in the Unity platform. Unity is a cross-platform game engine. It is developed by Unity technologies in 2005 at Apple worldwide developers conference as a Mac OS X-exclusive game engine.
In 2018, unity engine has been extended to support 25 + platforms like Mac OS, Windows, Linux, albeit, IOS, Android, Tizen, Universal Windows Platform, WebGL, Playstation 4, PlayStation Vita, Xbox One, 3DS,Oculus Rift,  Google Cardboard, Steam VR, PlayStation VR, Gear VR, Windows Mixed Reality, Daydream, Android TV, Samsung Smart TV, tvOS, Nintendo Switch, Fire OS, Facebook Gameroom, Apple's ARKit, Google's ARCore, Vuforia, Magic Leap and many more.
The unity engine is used to create games in 2-Dimension, 3-Dimensions, Virtual reality, augmented reality as well as simulations and many more.
If you are thinking of launching a game in this unity platform then it is really good because this is one of the most popular game engines as it provides various functions and it is flexible also.

People are also making money through launching online games, so here I am going to list down 15 most popular unity games ideas which will help you if you are thinking of launching a game app in the market:
15 Unity Game Ideas:
1. Angry Bird Series: The most popular games of 2017-2018, Angry birds. In this game user launch birds at the nearby structure and Birds choice is to depend on the user which provide more freedom to the user by allowing them to use their own strategies.
This game is totally developed in unity platform, so you can launch a game similar to angry birds.
2. Legend of Dungeon: Legend of Dungeon is an action role-playing video game. In this game, the player has to fight through 26 monsters, grab the treasures and make it back through all 26 levels without dying.
3. The Room: The Room is a puzzle video game The room is a 3D video game and in this game, initially, 4 puzzle boxes are presented to the players. In the first box,  you will find a tutorial about how to move around the box and how to interact with the features of the box.
4. Blackguards: Blackguards is a tactical role-playing game. In this game, the player has to solve the mystery of princess murder with the help of various character player meet during his long journey. Blackguard is a fictional place of Empire of Horasia.
5. SpongeBob HeroPants: SpongeBob Heropants is an action-adventure video game based on the animated games. In this game, SpongeBob's dreams are coming to life, so the player has to repair the SpongeBobs mind by solving the puzzle.
6. Flip Wars: Flip Wars is an action tile-matching party video games. This is a multiplayer game(up to 4 players). The object of the game is to flip panels on a hip Drop and player who dominates before timing will be the winner.
7. Just Shapes & Beats: Just Shapes & Beats is an action rhythm video game. In this game, each player has to control one small shapes and surviving attacks by dodging against a variety of attacks.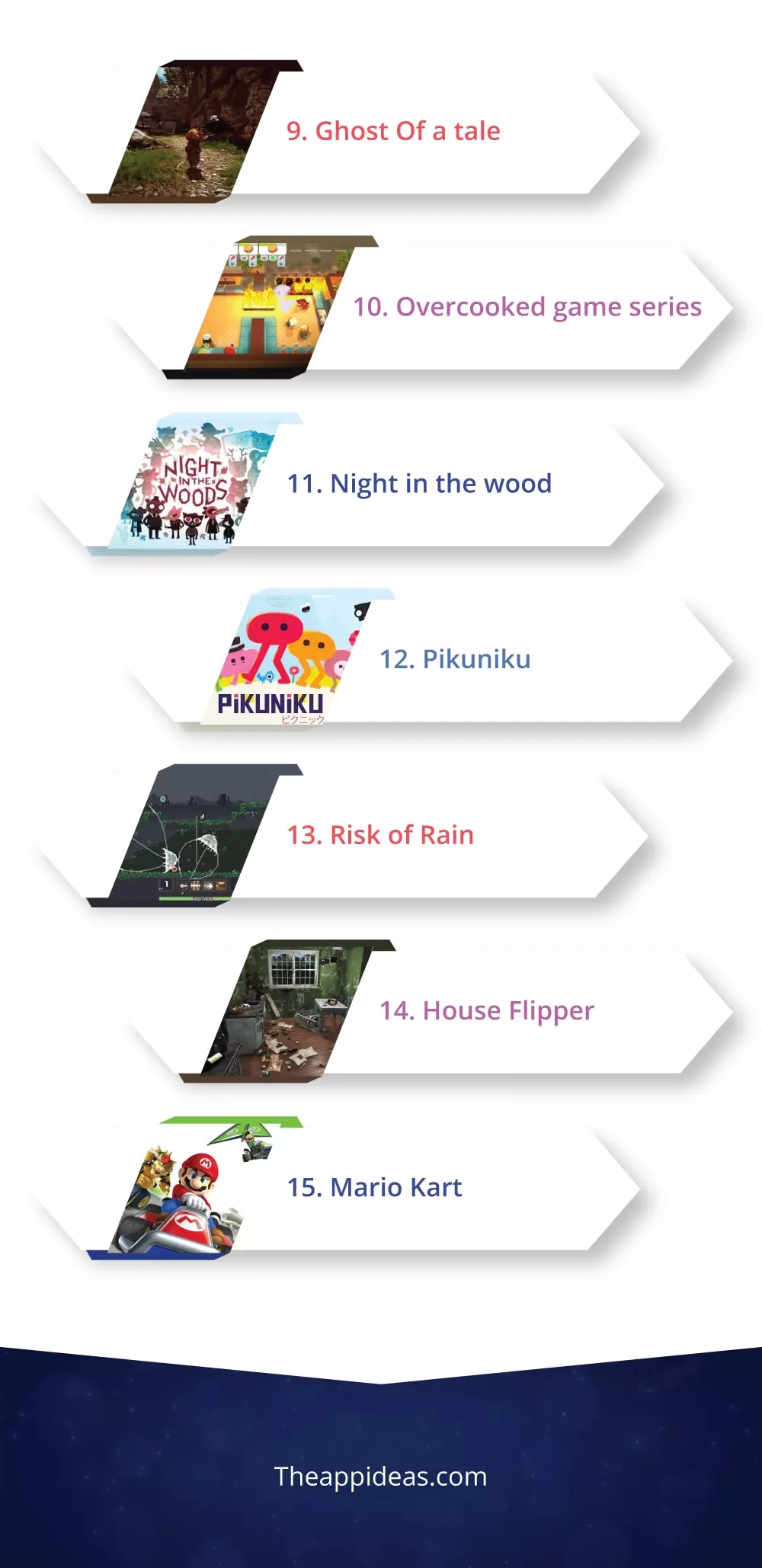 8. Outer Wilds: Outer Wilds is an Open World exploration action-adventure video game. In this game, the player has to find their own characters on the planet in only 22 minutes before the sun turns to supernova and kill the player character.
9. Ghost Of a tale: Ghost of a tale is an independent action role-playing video game. In this game, the player has to control Tilo, a small mouse, who must make his way through small underground prison and lands full of danger while uncovering mysteries of the past
10. Overcooked game series: Overcooked is a cooperative cooking simulation video game. In this game player has to chop and cook ingredients, combine them on the plates and serve dishes via conveyer belt. There are very interactive levels in this game.
11. Night in the wood: Night in the woods (NITW) is a single-player adventure game. This game is a story focused exploration game. In this game, the player has to control the young woman (Her name is Mae), who has recently dropped out of college and returned to her hometown.
12. Pikuniku: Pikunki is a puzzle adventure video game. In this game, the player has to control the Piku, through levels and solving puzzles for progress. Most of the puzzle involves kicking and pushing objects to open doors and accessible rooms.
13. Risk of Rain: Risk of rain is a video game and this is a multiplayer game. In this game, the player has to progress several different levels by killing enemies. Objective of each level is to locate a teleporter, randomly located on the level, search them and kill before they get activated.
14. House Flipper: House flipper is a simulation game and it is a single-player game. In this game, the player has to fix up properties in order to create a profit. Task performed by the player includes painting, laying down tile, cleaning, installations and demolition. Player can easily fix, buy and sell their houses.
15. Mario Kart: Tour-Mario kart is a racing mobile game. This game is similar to the Mario Kart series where the player has to reach the finish point in first. This is a type of car racing game in which player has to face different-different difficulties to reach the finish point.
Above mentioned game is the most popular and most favourable games which are built-in the Unity platform. From this type of games, you get the idea about unity games. By adding one or more features you can launch your own unity game.
We are from The App Ideas, a leading IT service provider. Along with web and mobile app development, we also work on game development. We have an expert team of people who work on a unity platform and we have experienced as we have worked on various unity game projects.