E-commerce is an Electronic online store which is used to sell or buy products online. Due to digitalization, online shopping is trending as people find it easy to shop things online. E-commerce website makes the process easier as a store owner can easily upload the product with a little brief with price details and on the other hand user can easily order or buy the product.
E-commerce websites are online portals that provide the online transaction of goods services and its information over the internet. An E-commerce platform is also known as E-business or Electronic business.
In the market, E-commerce websites are categorized in the different-different field but the most common use of E-commerce website is for retail business.
Some popular E-commerce platforms are:-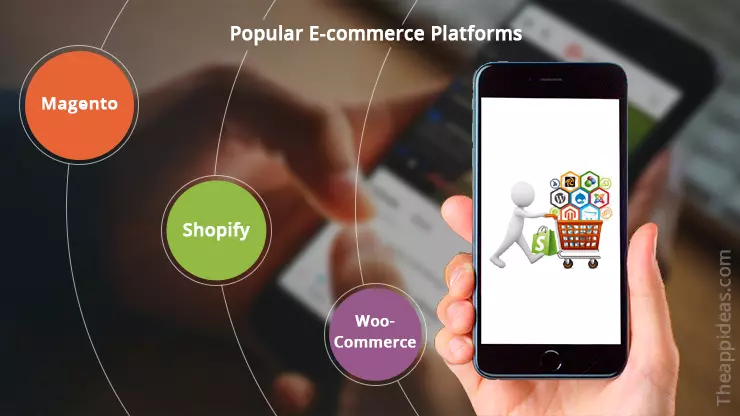 Magento
Shopify
WooCommerce(WordPress Plugin)
So here we are going to discuss the two most popular E-commerce websites platforms which are:-
1. Shopify
2. WooCommerce
What is Shopify?
Shopify an e-commerce platform which offers you to create a website and use their functionality which allows the developer to use the cart solution to sell products, Shipping functionality and product management, online store, payment gateways all for the single platform without worrying about the technical aspects.
Shopify is hosted, this platform handles web hosting and security. You can get your domain name and easily start the designing.
What is WooCommerce?
WooCommerce is an e-commerce plugin of WordPress framework which allows you to use the most powerful Content management system(CMS). WooCommerce is a free and open-source WordPress plugin which offers the customize features to your store.
WooCommerce is run on WordPress and WordPress is self-hosted.
Why Shopify is better than WooCommerce?
If you thinking of moving your offline commerce store into an online store by launching an E-commerce website or want to initiate a retail startup then you must know which platform is better for developing an E-commerce website.
So here I am Comparing Shopify and WooCommerce which prove that Shopify is better than WooCommerce:
1. Technical Support:-
WooCommerce:- For the development of E-commerce website using WooCommerce platform you need to require technical skill because WooCommerce allows you the customizability.
Shopify:- For creating the website using the Shopify website, you do not need to have technical skills as it is easy to manage the online store and managing product without having the technical knowledge.
2. Abandoned Cart Recovery:-
Abandoned Cart Recovery is a feature which allows the customer to complete their abandoned order without filling the details again.
WooCommerce:- WooCommerce does not offer in-built features like abandoned cart recovery. If you want, you can code it by yourself.
Shopify:- Shopify has the inbuilt Abandoned Cart Recovery feature.
3. Features:-
WooCommerce:- WooCommerce platform provides various features but you need to customize the features for the betterment.
Shopify:- Shopify offers various in-built features which you can directly use and integrate to your E-commerce websites.
4. Which platform offers quick development?
WooCommerce:- As WooCommerce allows the customizable functionality it takes time for the development of websites.
Shopify:- Shopify provides the readymade solution for e-commerce website development which make the development more quicker and faster.
5. Good SEO support:-
WooCommerce:- WooCommerce is SEO friendly as it is the plugin of WordPress which is good for SEO. But for more improvement, you need to use or buy more plugins and technique.
Shopify:- Shopify is also an SEO friendly and faster website do good on the search engine(Google) as we have discussed Shopify is faster than WooCommerce so Shopify is more SEO friendly then WooCommerce.
6. Security:-
WooCommerce:- WooCommerce is work on WordPress so it is self-hosted.This plugging doesn't offer in-built security, so for security purpose, you need to handle it by yourself.
Shopify:- Shopify should take care of the Security and make sure that your E-commerce website is safe from hackers. Shopify comes with in-built SSL (Secure Sockets Layer) certificate.SSL is responsible for protecting your website data from any cybercriminals.
7. Support:-
WooCommerce:- WooCommerce takes a much more hands-off approach to support or we can say that it is really difficult to get support. As if you are already aware of technical aspects of E-commerce website then WooCommerce is the best choice.
Shopify:- Shopify provides 24/7 support via phone, e-mail or live chat. Shopify provides excellent support. If you get stuck anywhere then you always have a helping hand.
8. Pricing :-
WooCommerce:- Minimum Cost of developing a WooCommerce store is $23.94 for the first month.
Shopify:- Minimum Cost of developing a WooCommerce store is $42 for the first month.
Conclusion:
From the above discussion you can easily conclude that in some ways, Shopify is better than WooCommerce.
The App Ideas is the best software development Company. Along with mobile app development, we have also worked on various project related  E-commerce website. We have an experienced team of developers.