Here in this article, we are going to discuss the cost of developing an Educational App Solution for Kids. Digital platforms are now in increasing demand in the market. Every service including the educational industries is also now moving towards digitalization to provide online services to the clients.
Nowadays, it is very easy to observe that people are more inclined towards online platforms. Customers or users are loving the online platforms because it provides the convenience of using the services as well as sometimes it is cost as well as time-effective respectively to the users.
Similarly, as per the increasing demand for online platforms, every business owner or industry owner and Entrepreneur is now making a high investment in the digital solution because it's quite easy to manage all the things digitally and also generate additional revenue in various ways.
It is already observed that service providers who are following the trend can be successful. Many of the industries have invested in digital solutions and are doing pretty well in the market. Still, people are making an investment in digital solutions like Educational apps for the kids like targeting the school-going kids and providing them with the best online content for learning.
Why is it profitable to launch an Educational App for kids?
In this present era, all parents want their kids to get the best online resources to study. These kinds of Educational applications are getting more profits and also offer quality content so it needs to be a perfect app.
Nowadays, all the mobile app development services like Cross platforms development, Android app development, and IOS app development have brought various advantages like highly responsive, provide the best quality, transparency, and business values.
This technology innovation has recreated everything that will be very beneficial and helpful for all age groups including the kids. This has designed a new level of providing education details to future generations. It provides a combination of learning with fun and reduces dependency on books.
Educational Apps are gaining popularity day by day. So it is very beneficial to launch an Educational app for kids in today's market. So before moving to know the cost estimation there are various factors that you need to know before planning to launch an Educational App for kids.
Online learning is constantly making its best ways towards the kids. This demand gets increased with the growing mobility trends. Developing an app requires seamless creative input to connect directly with the audience effectively. It is very important to offer impressive content to your clients to keep them attracted to your services.
What are the key benefits of developing an Educational Application for targeted users or kids?
It is very important to list out the benefits of developing an Educational Application to the developers, so they can provide you or integrate related features and functionality to the app solution.
And as an Educational Application app owner, you need to know the benefits of launching this kind of app solution can be very useful as well as beneficial for you. Let me list out some of the main benefits of launching an educational app for the kid's development:-
By having an Educational App for the Kids, they get access to the resources at any time as per their convenience. This point is considered one of the best reasons for the popularity of online platforms.
Educational App for the kids is a digital platform that offers lots of reference for a study material through which students can easily study.
In some cases, mobile applications can be more efficient than one -one personal session.
By having an Educational app idea for kids, it can be best for saving money. Personal tuition takes a lot of fees but an app solution can be of very less costing and affordable.
Educational apps for kids can offer personalization services according to the students.
Education apps for kids can offer various modules like study materials, assignments, tests. This makes it result-oriented options.
The service is available 24/7.
Education apps for kids are very interactive and easy to use in nature.
Users can easily utilize this app solution in their free time.
Users can share knowledge through various networking platforms.
Education apps for kids make learning more enjoyable for users.
It makes it very easy for users to stay connected with the instructors or teachers to clear doubts.
What are the features listed for an Educational App for the kids?
If you have already planned for developing an educational app for the kids then it is very important to know the basic features, so that you can plan and launch a successful education app for kids.
Let me list out, some of the most features you can add up in an Educational App for kids ideas:-
Sign up and sign-in options.
Profile creation for students as well as Professors.
Dashboard management.
Search and filter options.
Courses listing.
Popular courses listing with offers.
Saving and downloading study material.
Push notifications.
Schedule the study.
Social Networks integration
Access various study materials, give tests, and track performance.
Various payment options.
Feedback and review management.
Interactive UX/UI and navigation options.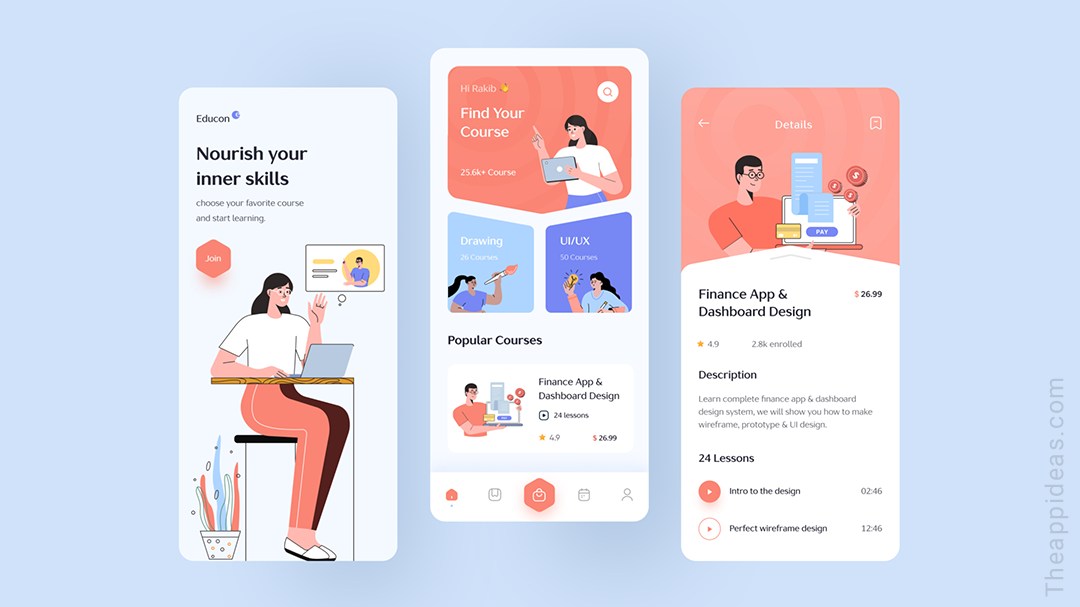 How much does it cost to develop an Educational App for the kids?
As we have already discussed the main points like features, the benefits of developing this app solution, now it's time to discuss the cost of developing an Educational app for the kids.
The cost of developing an Educational App for kids mainly depends on various basic factors like the designing of the platforms, The technology platforms were chosen for the development, the advanced features, and functionality, the complexity of the platforms, and more.
So here I am providing the approximate cost of developing an educational app for kids which ranges from 1500USD to 8000 USD based on your requirements.
The App Ideas is a leading web and mobile app development company. We are highly expert in providing the best software solution like websites, web apps, mobile apps, and more. We have a team of highly skilled developers who provide the best solution for an Educational App for kids because we have already worked on similar kinds of projects at the best rates.
Would you like to develop an Educational App for kids?
If yes, then feel free to reach us.