In this era, Education App Ideas is the most important thing for everyone because Education helps in self development and help them in growth. Education System is changing day by day and it is becoming more difficult for students to cover it in school or college.
And as school or college time is not sufficient for covering the whole syllabus, so generally students try or take the help of other sources for learning and gaining knowledge for completion of the whole syllabus. In this present time, the education system is really difficult and students face really tough competition in each and every field.
Nowadays, in spite of joining any tuition institute, students are highly depending on digital assets for education purpose also. As they can access anything or learn anything through an app or through online sources. There is no limit of time period whenever they require they can learn things by using Digital assets like Laptop, Tabs or Mobile App.
So if you are an educational entrepreneur or thinking of a startup by launching an education app, so here I am representing some education app ideas for students and teachers which is really helpful for them and provide them additional facilities:
1. Language Learning app:- As the name suggests, this app is used for learning different-different languages. This kind of app is helpful for students as well as for the teacher also. How?
As we know many students are moving to another country for higher studies or for better education so for that, they need to learn some basic terms of foreign languages. This kind of apps help them to learn new languages through the way of quizzes and tutorials.
Sometimes language learning app useful for teacher also, as they can learn and teach directly to the students for making extra income.
2. Dictionary App:- Dictionary App is helpful for all the age group people, it is helpful for students as well as for teachers and this kind of apps is also used by some professional people.
In the past people used to carry the pocket dictionary or a dictionary of page 2000-3000 with them. It's really time-consuming to search for a single word meaning from a Dictionary book.
Nowadays everyone is having their personal mobile phones,  people are more inclined towards the app, so its better to launch a dictionary app for making work easy and app use less time to search words and its meaning.
3. Quiz app:- Quiz apps are always in high demand, as students find it easy for testing self-preparation or for self-assessment. As we all know, the Education system is now introducing many quiz tests in each and every field.
Every competitive exam consists of only quizzes and some schools are also taking interviews through a quiz test. So this kind of app is really helpful for the education system for more betterment.
4. Question and Answer app:- Finding and preparing Question and Answer of each and every chapter is really difficult for the students. So by taking the referencing of their textbook, Question and Answer app is designed through which student can easily find and prepare the answers.
One more module may be added to this app which contains some extra questions with answers for better preparation. In the end, a test series designed for the students by which they can easily do their self-assessment.
5. Personal Tutor App:- As we have also discussed earlier, students are more inclined towards the digital services for their educational requirements.
Personal tutor app helps the student to interact with an expert through the online platform and Student will clear their doubts easily by asking an experienced and expert. If required, the student can also ask and take the notes from interacted expert through this app.
6. Student community app:- Student community app is only for the students. In this app, students from different -different university or school can connect with each other and ask for a specific requirement.
Some students feel comfortable to interact with the same age group people, this platform is for such students where they can easily connect and chat with other students and ask them anything related to their studies.
7. AR-based learning app:- Integrating AR- Based learning app in the education system make the education system more easy for the student.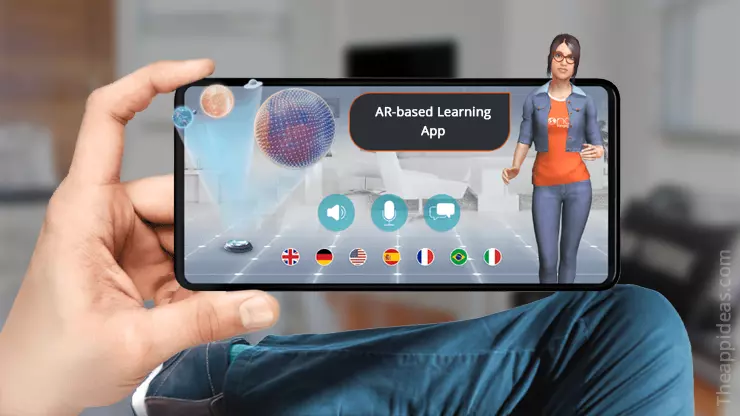 AR- Based learning app can be used by schools for a better experience as it makes really easy to show the experiment and real-life objects or model. Students find such kind of app really interactive and this helps easy and quick to learn and grasp new things for the students.
8. E-Book Reading app:- An E-book reading app is an app through which user or student can easily read various books through an online platform. If needed an extra module for download is also added to this app.
This kind of app is really helpful to the student as they don't need to buy or carry books with them, whenever they require they can easily access all the books at any time from everywhere through an app. User can also highlight and prepare notes within an app.
9. Audio Book summary App:- In this Audio Book summary app, users don't need to download or read the books. Like listening to songs, the user can start the Audiobook of any book through an app.
Sometimes like while driving or travelling its really difficult to read the books manually or through an app so to utilize this time user can use the Audio Book summary app were He/She can listen to the whole book easily.
10. Student Performance Tracking app:- This kind of app is helpful to the teacher or the parents. Through using Student performance tracking app, the teacher can keep track of all students.
This kind of app helps teachers to keep track of all the students by which he/She can know the overall performance of each and every student and can easily analyze the students. This helps the teacher to figure out the students to whom they need to take care of the most.
11. School Bus App:- As the name suggests, this app is for management of School Buses. As some schools are giving the facilities of the bus to the students but its really difficult to manage the bus details manually.
To make their work easy, School bus app can be launched in which all the bus details can be mentioned and live bus tracking system can also be added.
12. Student to-do list:- This app, Student to-do list app can be used by the student only. This app is a personal app for the only student in which they can make or create the to-do list related to their educational routine.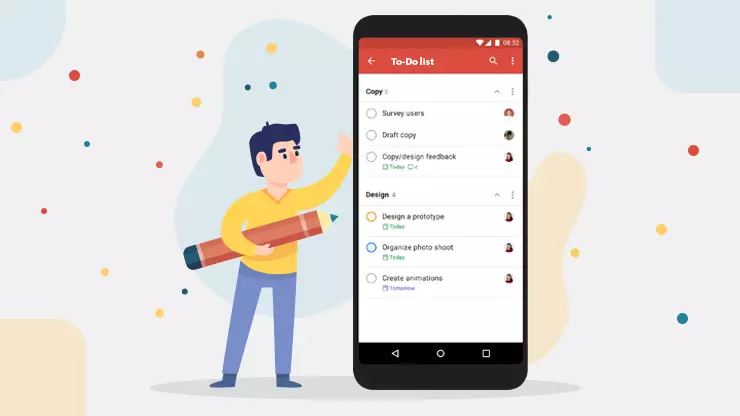 This app helps the students to create and manage their time for preparation of exam or for daily preparation. Reminder of the work module can also be added in this app.
13. On-demand tutors hiring app:- In this present time, This kind of apps are in high demand because finding the best tutor is really difficult. Parents find this really difficult to find the best tutor for their child.
On-demand hiring app is a platform where a tutor can create their profile by adding all the expertise subjects and some basic information about themselves and whenever required parents can easily find the best tutors for their child using this platform.
14. Attendance app:- Attendance app is an app which is mainly helpful for school or college staff. This kind of app is mainly designed for the teacher because it is really difficult to manage the attendance manually on a register book.
Its better to launched an Attendance app where the teacher can take the attendance of the students and at the end of the month they get the monthly evaluation of each and every student's attendance.
15. Study time app:- For students, its really difficult to divide and manage the time for study because with daily revision they need to complete the Homework of school and work of tuition.
To make their work easier a Study time app can be launched in which student can add their daily time table for studying and on time by time this app reminds them about their work. This app really helps the student to easily manage their time for study.
16. Find grammar mistakes:- As students, as well as many people, are inclined towards apps services. When we talk about grammar, each and every field is included as grammar is not only used by school student but by everyone.
So if an app is launched which is used for checking the grammar mistakes from any text document so its really make the work easier for everyone.
17. Preschool app:- As the name suggests, Preschool app is for the kids who are about to join the school or who have just started their school. Nowadays kids are also using mobile devices.
For a kid of age between 2-5 years, a preschool app can be launched by which they can learn the alphabet, numbers, colors, animals, flowers, fruits and about many things which help them to clear the entrance interview of any school easily.
18. Competitive Examination Apps:- Preparing for any competitive exam without any coaching is really difficult because initially from many online sources students have to find the perfect syllabus, then reference book and after preparing the test series for self-assessment.
If a competitive examination app is launched then this makes the work easy for the students as within an app they get the whole syllabus, E-book or reference book name and at the end of Student want they can also test themselves by attending test series.
19. Poem/Rhymes learning app:- This kind of apps are for the kids of age 3-8 years, as at the initial stage school teaches them poem and rhymes but it is not sufficient for children to learn it from the school.
Poem/Rhymes learning app helps the teachers, as well as parents for preparing their child through the animated poem videos with perfect audio and music. Children find this app interactive for learning poems and rhymes easily.
20. Storytelling app:- As the name suggests, this app is also for the kids as they like to listen to stories from their parents before going to bed. Some Schools also arrange some Session for the students where they conduct stories with their morals.
To make it more attractive and interactive, a storytelling app is launched, which contain various stories with animated videos and at the end, the moral of the story is also included.
21. Math Problem-Solving app:- Almost 70-75% of students are suffering from the fear of maths because they find it difficult to solve the math problem.
So for such students, a math problem-Solving app is introduced by which they can learn and solve maths problems easily and if they require they can update the question and get the full solution from the app.
22. Homework Reminder app:- Its really difficult for students to remember their daily homework because someday they get various subject work and someday they don't get any work from school. Some of the students also have to do tuition work.
To make work easy for the students a Homework reminder app can be designed which help or remind the students about their homework on time.
23. Self note app:- This app is for students as well as for the teachers. We all know our studies are incomplete without any notes and teachers are also making notes for the student which is very helpful for exams.
In spite of using notebooks, it's easy to use an app, a self note app where students can easily write and prepare their personal notes. Teachers also use this app because this makes their work easy as they can easily share their notes with the students.
24. Calculator app:- Sometimes its really difficult to calculate some problems in the simple calculator as some smartphones don't provide the scientific calculator services.
To make things easier, a Calculator app can be introduced which is helpful for each and every student like for commerce students as well as for science students also. This app includes all the functions which are used for each and every type of calculation.
25. Puzzle app:- This kind of app is mostly used by the people who want to increase their thinking ability or like to do the brainstorming by solving difficult puzzles.
Puzzle app includes various level puzzles and also includes the aptitude section which helps the students to learn aptitude questions by playing quiz games. This kind of app helps students to increase their brain abilities.
Above I have mentioned 25 education app ideas which you can use for the digitalization of your education firm or for starting any educational startup.
The App Ideas is one of the leading web and Mobile App Development Company. We provide the best solution for all kinds of IT services including website development, Mobile app development, Game development and IoT app development.