Nowadays as we can clearly observe, Wedding websites are in high demand. In this present time, we can clearly see that people are highly depending on the online services for many services like online shopping, online movie tickets booking, online cab booking, online food ordering, online learning and many more. 
Likewise, a Wedding website is also highly trending in this digital era. People are likely to have their wedding website where they can list down all the details of their wedding as well as send an invitation to various people by sharing just one URL link.
"Would you like to develop a wedding website?"
If yes then, here in this article we are going to discuss all the important aspects which are required for building a Customize wedding website, the importance of having a wedding website, features which you can include in your wedding website and how much it costs to develop a wedding website.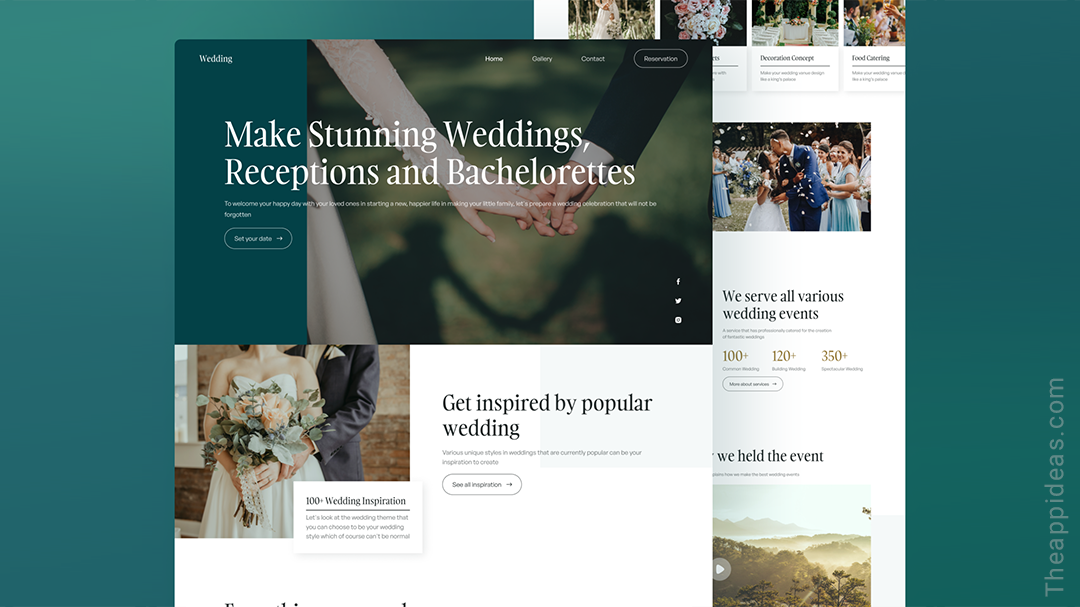 Why is the Wedding Website famous In this present time?
In this present time, wedding websites are in high demand. Nowadays, many couples are developing and launching their wedding website. We can easily assume that wedding websites are one of the best ways for couples to show their happiness by sharing information about their big days with their family, relatives, friends or Colleague.
Having a wedding website is very beneficial for couples as they can easily share their valuable moments with everyone by sharing their wedding website to everyone.
By having a wedding website, a couple can easily make communication with guests, Sharing wedding videos and photos to this wedding platform for those who were unable to attend wedding functions, hotel and destination information as well as map integration, details about bridal or groom parties and many more.
Many countries like the United States are now accepting these wedding websites trends because these bring a unique way to showcase happiness to everyone by utilizing technology or online platforms. Some couples host their wedding website for six months, 1 Year or forever.
One more reason behind the wedding website's popularity is Wedding website is a more dynamic way than sending printed invitation cards or less time consuming than calling 100 of guests individually for inviting them for the wedding.
What kind of features can we include in a wedding website?
The most important thing is including the best features which make your wedding website different from all the other wedding websites. Here I am listing some of the best features which we can provide to your wedding website.
Key features of a wedding website:
A home page, which consists of a couple's name with their best picture with little bit description.

One details page, which includes the details of all the pre-wedding parties, wedding functions and after -wedding gatherings.

Wedding location details along with Map integration. This also includes travel and accommodation information.

Dress code details which couple will decide for all the wedding functions.

Display the timeline of all the parties and function with the brief.

A Gift registry Module:- Which contains a gift ordering platform link by which guests can easily tap the link and make an order of the gifts.

In your wedding website, you can also include the hashtags which your guests can use in your wedding.

You can also add your love story section and let you people know your love story.

Gallery section:- In this section, you can add or post all the videos and images of your wedding bells.

Contact details:- The best way to keep connected directly with your guests.

Add FAQ Section for the guests.

Integrate a contact form which helps guests to reach out with any query or question.

In a wedding website, Countdown timer can also be added, which can add a bit of excitement as well as fun to your wedding website.
How much does it cost to develop a Wedding website?
The Cost of a wedding website highly depends on some of the factors like :
Website designing.

UI/UX experience.

Basic features.

Advanced functionality.

Frontend and Backend development.

Developers experience
The App Ideas is a leading web and app developing company. Along with providing the best solution for mobile apps, we offer the best solution for a Wedding website with the best prices. We are highly experienced in designing and developing customize the website as well as we also work on Templates.
Here I am providing the approximate timeline and cost of developing a wedding website:
Timeline & Costing:-
Frontend design and development:-100-200 Hours

Backend Design & Development:- 100-140 Hours

Testing, Bug fixing, Project Management & Deployment:- 30-50 Hours
Total Hours:- 590-830 Hours
Estimated cost: – 5900-8300 USD