"Zomato" most popular on-demand food delivery app, and it is recognized as a global restaurant search and discovery services company. Zomato is founded in 2008, that time Zomato is operating 23 countries, including India, Australia, and the United states. Zomato allows people to easily search for restaurants around them, provide service of food ordering and delivery. Currently, it has added one more functionality now you can also reserve a table by using App like Zomato.
Currently, Zomato covers over a million restaurants across 10,000+ cities. As an emerging startup, Zomato has raised funds from many global companies. Today Zomato is an inspiration for many young people, Now people want to start a startup like Zomato.
An app like Zomato are on-demand platforms, everyone is comfortable in online food ordering or food delivery. People refer on-demand food ordering app rather go out for dinner or lunch. As digital technology is reshaping the market, customer finds it more convenient and transparent method for shopping online and also pay for it through an online payment method.
The things you need to keep in mind before starting any food delivery app like Zomato.
1) Choosing the location or area where you can grow your business.
2) Partnering with grocery store and restaurant. Building relationships with the restaurant owner.
3) Deciding whether to have drivers on your payroll or contract with drivers the way Zomato does.
4) List out all the feature to make an amazing app.
Let's discuss, How Zomato works?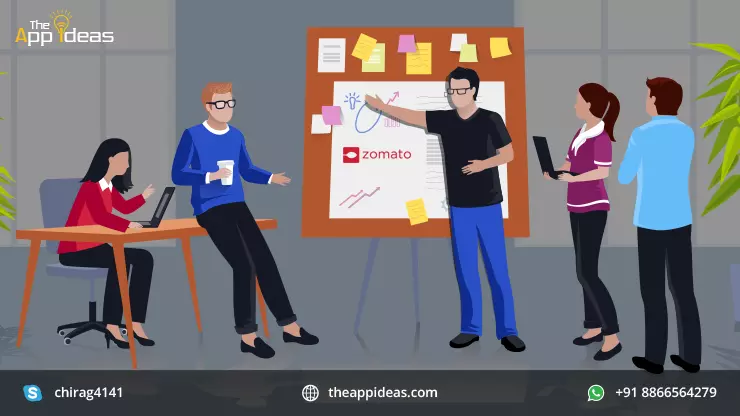 1) It provides a list of all the nearby restaurant to the customer and provides many options to select.
2) Zomato is an amazing platform for restaurants to improve their market presence and reach many people through this app.
3) Customers can easily see the discount and offer.
4) Once the order is placed, Zomato gives them the leverage to pay through various payment methods.
5) The food order request is directly going to the Zomato delivery guys and then it notifies the restaurant.
6) The restaurant then confirms the order and pack the meal according to the requirement of customers.
7) Then Zomato delivers the meal and finishes the last step.
8) Zomato also provides an opportunity to show and promote their cuisines to a huge user base. The restaurant also pays to Zomato for featured listings.
9) Zomato is a reliable partner for restaurant, helping the small scale food industry to grow their business by expanding their reach and users via online branding.
10) Zomato partnered with almost every restaurant in the urban area and offering its customer a wide variety of food items.
11) Zomato has built up a rating framework which puts restaurant order based on their reviews and ratings.
12) Zomato technology enhances the user experience by providing the information like distance of the restaurant, food price, delivery charges and estimated wait time of delivery service.
How Zomato make money?
1) Food Delivery:- Zomato charges 10-15% on food ordering and also charge for delivery of food.
2) Advertising:- Zomato earn by advertising, they provide the banner advertisement. Charge restaurant for event promotion. Restaurants which appear on the landing page, they have to pay for that to Zomato.
What kind of features you require, to build an app like Zomato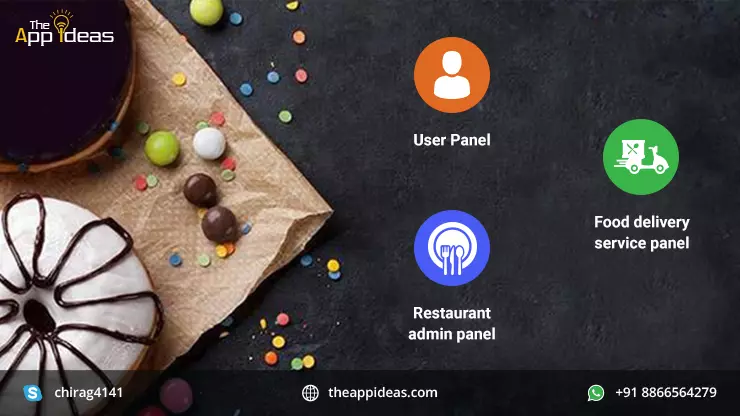 User panel


Login module
Allow location access
Menu list with pictures
Reservation module
Sorting and filtering
Cart
Various payment method
Details of driver or restaurant.
Restaurant  admin panel

Admin signup
Menu management.
Manage offer or coupon
item tracker.
manage orders.
Manage to bill
manage report.
Manage ratings
Food delivery service panel

Manage user
Manage order.
Details about customer location and google map.
Manage delivery partners
Manage menu and dishes added by the restaurant
 review and ratings
Management of payment.
multiple requests.
How much does it cost to make an app like Zomato?
The cost of food ordering app depends on the features you want, the layout of an app, the number of module you want, the technology you want to develop your app in and the additional features y. Zomato is a database app, so an app like Zomato is quite expensive. The range of developing an app like Zomato is 5000 USD – 8000 USD and it takes 600-800 hours to build an app like Zomato.
For more details contact us…….  The App Ideas