Ecommerce Marketplace Platform is one of the most successful businesses to begin in this present time. Due to Digitalization, people are now more inclined towards digital services because it is very easy for people to use E-commerce platforms for buying things through the store without visiting any E-commerce place or store.
In earlier days, people used to go to markets, malls or stores for buying various things like food items or packets, household things, fruits, grocery and many more things. Due to the busy and hectic schedule, it is very difficult for people to take time and visit stores to buy things.
As a solution, an E-commerce store is introduced in the market through which people can check various items online and buy it whenever required. The purchased item is delivered to the buyer's house in a certain period of time. This E-commerce platform solution makes the work easier for everyone as now they do not need to visit the store for buying anything, they can easily check all the things by just sitting at their own place.
The Demand of E-commerce stores is increasing day by day because as per the observation around 70-75% users are using E-commerce stores for buying various items from an online store.
Let's know some facts and figure of E-commerce Store:
In 2019, the E-commerce store market has generated $3.5 trillion in sales.

Small retailers observe up to more than 30% of mobile conversion rates.

As per research, it is expected that In 2023 the E-commerce retail purchases are expected to rise from 14% to 22%.

The E-commerce platform is going to be one of the most demanding and successful marketplaces in future time.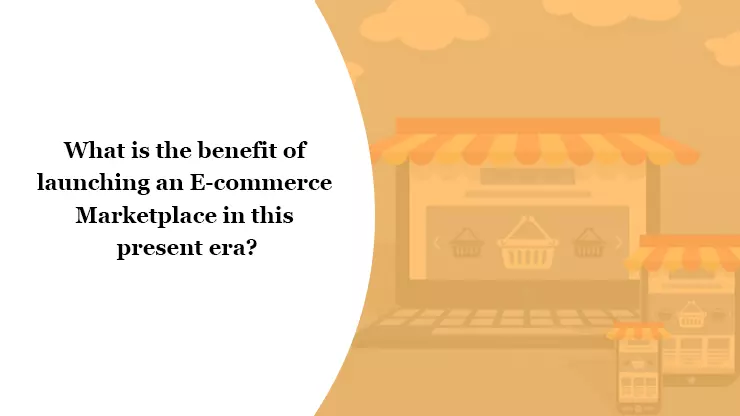 What is the benefit of launching an Ecommerce Marketplace Platform in this present era?
If you are thinking of initiating any startup or online business then Ecommerce marketplace platform is one of the best Solution. Due to digitalization, people are now more inclined towards online services or use mobile services for fulfilling their basic needs or requirements.
By launching or providing the best solution for E-commerce Online Marketplace Platform, by which people can use your platform for buying various items by utilizing your app services and on the other hand the store owner who is not capable to move their business online, you will provide them with this E-commerce platform by which it is easy for them to list down their products and generate more sales through this online E-commerce platform.
Launching an E-commerce platform is also beneficial for the owner, as he/she can generate a large amount of revenue by launching this kind of E-commerce marketplace platform. Let's know some of the best ways of generating revenue from an E-commerce platform:
By integrating or providing your platform to third services for displaying their ad services in your platform.

By charging a little amount of commission from the store owners.

By providing the subscriptions or premium model of the app.

By providing the features listing services to store owners in which they have to pay a little amount of money to keep themselves at the top suggestion.
What are the key features of an E-commerce marketplace?
Before knowing the cost of developing an E-commerce platform, you need to know as well as understand the basic or key features of E-commerce marketplace. E-commerce platforms are, mainly consist of 3 main panels, let's discuss the features of the panel in more detail:
User Sign in and login module.

Search and filter bars.

Top suggestion stores and things.

Access categories as well as subcategories of items.

Menu section.

View the product and its details description.

Add to cart.

Check the total payment.

Buy the product.

Access favorite listing

Make an online payment by using various online payments.

Use discount as well as coupon code.

Social media logins.

Ratings and reviews.
Sales or store owner panel.
Store owner login module.

Create and set up their profile easily.

List down the products.

Able to make updates and changes to their product details.

Order management

Payment management

Discount code management

Reviews and rating management.

Store owners can easily track their performance.
Admin login panel.

Admin Dashboard.

User profile management.

Store owner profile management

Categories management

Subcategories management

Product management

Featured listing management

Ads and premium feature management.

Payment management.

Discount code management

Review and rating management

Report generation to track weekly or monthly performance.
What is the cost of developing an Ecommerce Marketplace platform?
The cost of an Ecommerce marketplace platform majorly depends on some of the factors. Let's discuss the factors which affect the cost of E-commerce marketplace platform:
Advanced features.

Functionality.

App designing.

UI/UX designing.

The type of payment module you want to integrate into your app.

Technology platform(Android, IOS or both)

The maximum number of the product you allow to add in your platform.

Developers Experience.
Here I am going to list down the approximate cost of developing an E-commerce marketplace platform is:
Timeline:
App Design:- 9 Working Days

Android App Development:- 25 Working Days

iOS App Development:- 25 Working Days

Web Backend & Apis:- 30 Working Days

Testing, Bug fixing, and Deployment:- 7 Working Days
Costing:
The approximate cost of developing an E-commerce marketplace platform is 5000-8000 USD.
The App Ideas is a leading web and app development. We provide the best solution for website, mobile app, game app, IOT app development and E-commerce platform development. We have an experienced and skillful team of developers, who provide the best solution for all kinds of E-commerce platform development at best rates.
We have a team of developers who are expertise in Android as well as IOS app development. We provide the unique designing for E-commerce which helps you to generate more profits.