What is News?
The news means newly received or noteworthy information, especially about the recent events however it does not restrict over there only.
Any piece of information is also news.
If you are posting any new information for Technology OR Food OR Medicine OR anything that's also news.
In short, News is a very broad term and if the term is broad then it includes lots of niche opportunities insides it.
In this blog, we will talk about two things, News Website and News App.
Why we are talking about this? Let's see some statistics.
If someone asks you, how's your morning get started? Thenmore than 70% will respond with almost the same answer, Tea or Coffee and News Paper.
Several things have been changed gradually but one thing which has not been changed yet is the newspaper reading habit.
Due to technology advancement, people have changed the equipment and reading style but not the habit, previously they are using the News Papers and now they are using Mobile apps to read the news, and good thing is that Now people not only read the news but also they can listen and watch the news, Thanks to technology.
As per the stats, There are 4.39 billion internet users in 2019 and if you just consider 10% out of them are reading news via an app then also it's 43,900,00.
The Times of India app is India's premier news app and is used by over 27 million users in India & abroad
If we just consider one state of India, then also over 10 Million people were reading the news on a daily basis.
After reading stats, many of us are interested in developing a News Website Or News App, however, there will be a confusion what to build.
News App or News Website [What to build?]
Hey,
As per the recent stats, Mobile apps users were more vs desktop users, people are spending more time on the apps rather than the website.
Here are 12 points which prove that news apps were better than a news website.
1) It offers personalization:-
In the application, you just need to sign up and sign in once and the user can set preferences as per their needs, user can choose the content category, topic in which they were interested in and also choose the languages in which they want to see the news.
In a way, the user gets what they want.
2) Push Notifications:-
People are interested in hearing the latest news and thanks to pushing notifications, we can able to send the push notifications to all the users whenever any new news has been published. You can also send trending news, images, videos of the day, week.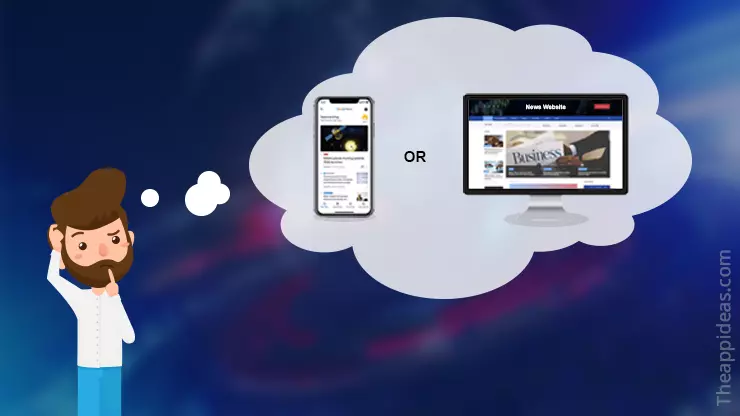 There are some third-party website which provides push notifications for the web app as well however there will be always a limitation because some browsers won't support that.
3) Utilize native features of mobile apps:-
Mobile apps have come up with a camera, GPS, push notifications, calendar, reminder, we code scanner, and several other native features. You can utilize in a proper manner and make the best use in the market.
Nowadays, you can show an advertisement in AR and VR form as well.
we can use features like GPS to shows the direction. For example, a property ad has been published in the news app which contains address so just tip of the button click you can access the map and Google Maps shows the exact location, how far it is, direction and various other information.
4) Information sharing (quick share):-
Everything depends on how many users you have and how many people read your news on every day and if you want to increase your customers/subscribers, news readers, views then it's must necessary to keep the sharing option.
Nowadays, Android and IOS both the operating system giving a very easy option to share the information.
Whenever you will click on share it will open all the apps which you have installed on your phone and you can share information in any apps.
You can share it on what's app or post in FB, or tweet it on Twitter or use as an email.
Good thing is that News app will come with the rich content and various section and categories so it will give an opportunity to the user to share information easily.
5) Offline Features:-
You can offer a feature to the user where they can download certain part offline and then they can access it at any time they want.
6) Guest content:-
There are several people want to publish their audio, video, images, and content. News app gives them an opportunity to work from anywhere and publish their content and admin will approve it so it's get published.
7) News ad publication:-
Several companies like to promote their products and services in the newspaper and via mobile app, you can easily give them access to create their own ads, check the price (we can also offer an ad price calculator), pay online and publish the ads by themselves. It gives huge boost in your sales and profit margins.
8) Design the way you want:-
There will some fixed kind of style in the web browser, you can't pinch in or pinch out, or swipe right or left, you can can't change the browser back button, address bar, refresh mechanisms.
In mobile apps, you can design it as per your need /want. You can give features like double-tap for like, swipe left, swipe right, infinite scrolls, drag, pinch in, pinch out, hold, and many others.
9) Spends more time:-
People are spending more time on mobile apps in comparison to desktop.
10) Apps work faster than the website:-
A well-design and developed apps works lots faster than the websites. In the website all the data were stored in web servers and browser wherein apps all the data were stored in the mobile device.
11) Interact with the users:-
User can set the preference and app has the GPS, and push notifications features so it's the time to use these features and interact with the users.
Forex. Users have interested in sports, and user lives in India at that time if any cricket match is going on we can send live score updates to that users, we can also create a poll and attract users to participate in it.
12) Increase in profit:-
Membership:- It's quite easy to convert your app users into your customers by providing them valuable information as per their choice.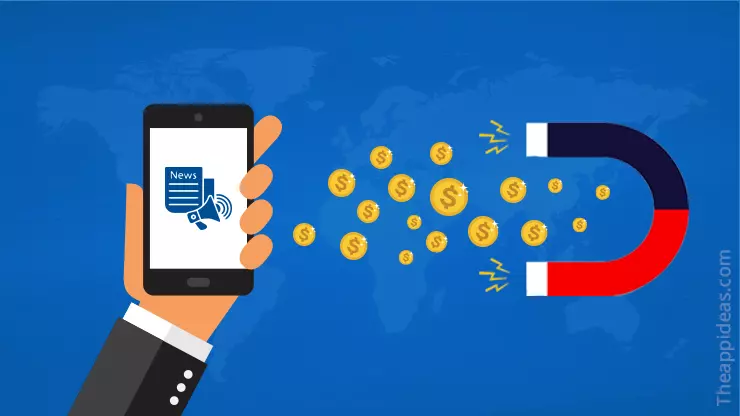 Ads:- You can monitor easily via an app, on which page they are spending more time, on which ads they have clicked in the past, or what they are searching recently based on that we can show targeted ads.
Forex user is spending more time on your job advertising page it's quite easy to guess either he is trying to look for a job change Or he is an employee, and at that time if we show an ad for job portals then ad click ratio was quite higher.
Bonus:- Reading mode and Dark Mode
Nowadays, Mobile apps come up with these two awesome features. Reading mode is specially designed for reading purpose and news app has huge content and it's the time to use it. And Dark mode gives a new user experience to all of your users.
How can I monetize from free news app?
Over Here, I'm showing top 8 ways to monetize from your news app.
Selling Ads:- Mostly all free news apps which we were using, they are not completely free (They are not charging money from you but they are showing ads to you that generate money for them).In short, you are a money-making machine for them and they are showing targeted ads so they knew that on which ads you will click (Almost certain based on your few days activities and statistics). You might be filling that, you are making purchasing decision but indirectly you are getting sold by marketers.
Paid Article Posting:- Also, they are charging money from companies like us to show their article in their newspaper and their marketing pitch starts with "They are having X Number of visitors so you will be get noticed by Min. X number of people".
Subscription Model: – Once they will become famous (having a huge number of readers) then they will start selling a subscription, and they are publishing a specific content for the specific number of users.
Advertising Model: – This is the most traditional way to generate income, you may see lots of ads for selling real estate, renting properties, job ads, and others.
Ads costing depends on which page, would you like to show the ads, in which category, size, color, highlighted/not highlighted and many others.
Accepting Donations:- Yes, you heard right, people are willing to pay donation if you are covering some social, emotional touching news story or running campaign for a social cause.
Selling your own services/ products: – Once you have the numbers in your hand, at that time, it's quite easy for you to sell anything on your platform and if you are selling the product in the related section then chances will be even brighter (like you are posting travel articles on a weekly basis and then you have started your own travel company then it's quite easy for you to get number of bookings).
Offer consulting Services: – For this purpose, you need 2 persons, (Experts in a specific field and customers) and you have both, so you can start this easily.
Affiliate Marketing: – You may introduce the suggested product or services section in your article, where you post other companies product or services link and getting paid by them.
Feel free to reach me if you are interested in Making a News App or Website.
I hope that, after reading monetization methods, you would be convince to make a news app but the main question comes in mind is that, How much does it cost to make a news app?
Costing depends on the 2 major factors.
Tools & Technology used to make an app
Features list
Tools & Technology:- 
We can create an app using any hybrid technology like ionic, phone gap, xamarin and others, however it does not give us a suitable performance, so it's better to create an app using native technologies like Swift 5 for iOS and Java/kotlin for Android and we can create a Web Backend &Apis using PHP+MVC framework like Codeigniter, Cakephp, laravel or YII.
Features list:- 
As we all knew that, costing always depends on features we want, and features can be unlimited, so we need to carefully decide what to keep in an initial stage and what the features which we can neglect are.
Over here, I'm listing some generic features list which is must require in any news app.
User App:-
Sign up & Login
Forgot and change password
Create profile
Choose language, and type of news they like
News feed on home screen
Push notification
Subscription feature
Invoice history (if paid feature is available in the app)
Advertisement feature where user can put the advertising
Admin Panel:-
User management
Category management using this admin can create, edit or delete categories and also create sub categories under it and publish the content under that sub category.
Content management system feature is must needed feature through which admin create, manage, publish and promote contents,
Advertisement management through which admin can allow/reject an ads and also featured ads as per the budget.
Payment management
Subscription management using that admin can create various subscription packages.
Dispute management in terms of content or payment
Feedback management
Over here, I'm providing approx. timeline and cost for an app by considering that, we were using native technology to build an app and PHP to create backend system and apis.
App Designing :- 40-60 Hours
Android App Development :- 125-150 hours
iOS App Development :- 125-150 Hours
Backend &Apis Development :- 150-200 Hours
Testing, Bug fixing and Deployment :- 30-50 Hours
Approx. 470-610 hours needed to build an app and it will cost around 4700 to 6100 USD.
Apart from this, you required a Domain, Hosting, Marketplace accounts to do an initial launch.
Apple Developer account:- 99 USD/ year
Google Play Developer account:- 25 USD/ Life time
Domain:- 20-100 USD/ year
Hosting:- 150-300 USD/ year