In this present time, we can easily see the popularity of dating apps among youngsters or teenagers. People are choosing the technology for finding people for casual dates, for meeting new people, people for Hookups, or for meeting their future soulmates.
This Era is also known as the digital era, as people are highly depending on digital services for the fulfilment of their basic needs. Likewise, people have chosen the online path or dating apps for finding a partner or people for casual dates from the nearby area.
Some people are fond of online dating but some people find it time-wasting. For Some people dating apps act like a bloom as using this dating app platform, they can easily connect with people of their choice, get to know each other by going on dates and finally end up by marrying.
But in some cases, People find it time wasting and useless as they are not satisfied by the dating app services. And they end up deleting their dating app account.
Let's have a look at some facts and figure of dating app users:
The dating app is highly used by 18-34 age grouppeople.
Tinder is one of the first dating websites which is primarily based on GPS.
Online dating begins in the 1960s by the Harvard undergraduates-Jeff Tarr and Vaughn Morrill. They developed an operation match in the 1966's.
As per the figure, around 7,500 dating sites exist worldwide.
Around more than 50 million people are using online dating apps or websites.
One-fifth of committed relationships begin through online dating.
16-17% of people met on the dating app platform and get married.
The online dating Gender ratio is  52.4% male vs. 47.6% Female.
As per some facts, the annual revenue generated by the online dating industry is more than $1.8 billion.
On average, online dating users spend $245 a year.
Only 10% of online daters delete their online dating account after three months.
What are some of the popular and utilized dating apps?
Nowadays people are using various dating apps as per their preference and satisfaction. Dating apps are not only used for dating people but for exploring more people or for making new friends.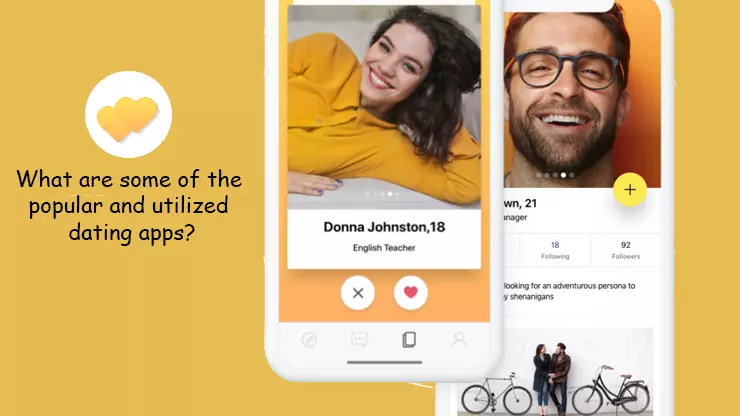 People are now very comfortable in using dating apps because, in today's market, there are a number of dating apps available as per the specific features and services. Let me list some of the popular dating apps with their speciality or unique features services:
Tinder
Tinder is the first and most popular dating app based on GPS. It shows the nearby suggestion to the user.
Bumble
Bumble is used for finding dates and finding new friends. In Bumble, women have to make the first move.
OkCupid
OkCupid is a dating website which uses a quiz algorithm for finding a better person.
Happn
Happn is a dating app which shows the suggestion or link to the people who have crossed your path.
Tastebuds
Tastebuds helps you to find or meet someone who has a similar taste of tune or music.
And many more Niche Dating apps are available in google and the App store.
This kind of niche apps helps people to find the people of their interest easily. Many dating apps are also developed for people who are attracted to the same sex.
Dating apps like Her, plenty of fish and OkCupid are also for
bisexual peoples.
What innovations of Dating apps makes us think about its future?
As we have already seen the facts and figures of dating app users and from that, we can definitely conclude that the Dating app demand, as well as Dating app business, is going to increase in future days.
In Future, the dating app users will look for more innovation and functionality which provides them with easy accessibility of features which help them to find their future mates through these online dating platforms.
Here are some of the good factors of dating app: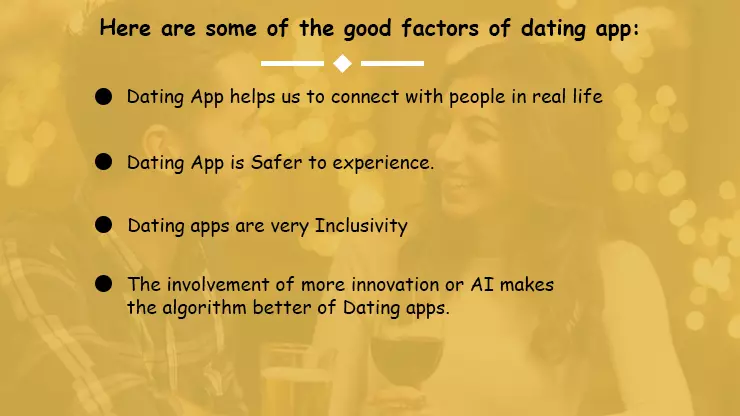 Dating App helps us to connect with people in real life
Some people are afraid of meeting new people or a stranger in real life. It's really
hard for an introvert to meet or explore new people.
Dating app provides the platform in which the user can easily connect or explore new
people and meet new people without any hesitance or difficulty.
Dating App is Safer to experience.
Along with the passing time, the dating apps are providing the most advanced features for the security of dating app users. Many people create a fake account on the dating app and misuse the personal data of the dating app users.
Initially, in a dating app, the user has to be careful there is no need to disclose personal details without knowing much about the other person.
With some new innovation like reporting and blocking fake profiles in the dating app, now it is safer for a user to experience online dating.
Dating apps are very Inclusivity
Generally, people on social media like or dislike other people's profile in a second without knowing much about them and this has brought many consequences. Basically, people show more interest to the people based on a number of followers or likes.
In future, a mechanism can be added where people can choose people with a more matured way.
The involvement of more innovation or AI makes the algorithm better of Dating apps.
Involvement of more innovation helps in the betterment of the matchmaking algorithm and to increase the user experience as well as user engagement.
In future, AI and Virtual reality are going
The dating app is highly used by 18-34 age group people.
to play a major role in the popularity of dating app development.
Conclusion
From the above discussion, we can easily conclude that In future the dating app is going to be more demanding. More innovations and functionality are going to be introduced in this dating app business.