Today we are going to discuss the Top 22 App Ideas for Restaurant. If you are the owner of a restaurant and thinking of digitalizing restaurant by launching a food ordering app for your restaurant, as it also helps in maximizes your profit, So you are at the right place because this article is all about the idea for food ordering app.
Why it is beneficial to launch a Food ordering app ideas for your Restaurant?
Currently, People are crazy about using the apps for every service including food-related services. Using apps is very easy and time-saving. On the other hand, restaurant owners are providing the app services to the customer for increasing the sales.
As per the facts and figures, launching an app idea for restaurant is very profitable to the Business. How?
According to the survey, overall more than 2.72 billion people are using smartphones.

Digital ordering has grown 300 per cent faster than restaurant visitors.

74% restaurant agrees that technologies have improved their guest appearance.

95% of the restaurant agree that technology has improved their business efficiency.
After knowing the facts and figure you can easily conclude the importance of launching app ideas for your Restaurant which helps you in increasing referrals customer and generating more profit.
As this article is beneficial for you to get variety of app ideas about the food ordering apps, which you can use in your restaurant and provide better services to your customers and make them happy, as people are more comfortable to use app rather than waiting for waiters or order, as they get more options in-app and it is time-saving, for both the restaurant owner and the customer.
---
---
Let's discuss the top App Ideas for Food Ordering Apps which you can implement in your restaurant to maximize your profit:-
1) Customized food ordering App Idea
This kind of App Ideas food ordering app is only used for food ordering purposes. This kind of application is only used by your waiter to take orders from the customers and keep a record of there order for billing.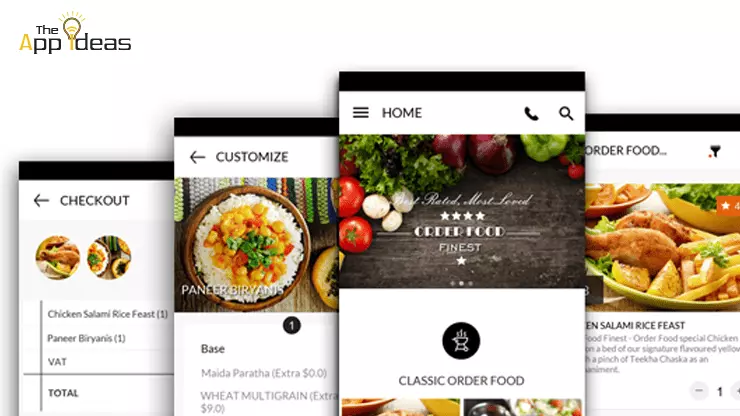 How does this app work? What is the benefits of it?
This app is used by the restaurant waiter to take an order, which means less paper work. And it is Beneficial because paper can be misplaced but if you are keeping the order record on a smartphone then there are fewer chances to lose the details. And this app can easily reduce the human error.
2) Pizza delivery App Idea
We all know, Pizza is the most favorable and mouth-watering food. This kind of application is used by a Pizza restaurant. Which means without visiting the restaurant, Customers can choose their favorite pizza, order it or pay for the service through different payment methods.
Providing this kind of ordering app to your customer, restaurant owners can attract more customers. Why? Because customers feel comfortable, as they get their favorite pizza at their doorstep and it is reliable to use an app for pizza ordering.
If you have an app for food ordering (Pizza ordering app), for delivery service you have two options either you can provide this service to the customer by your own or another option is to collaborate to the third party for delivering the services to the customer.
3) Table booking App Idea
Do you know, Table Booking app is beneficial for your Restaurant. How?
This app gives comfort and saves valuable time of the users, the restaurant owner will be happy to manage their orders with more accuracy, improves the user experience, restaurants workers will get a proper time to cook the food, and owner can run his business in a smaller place as well.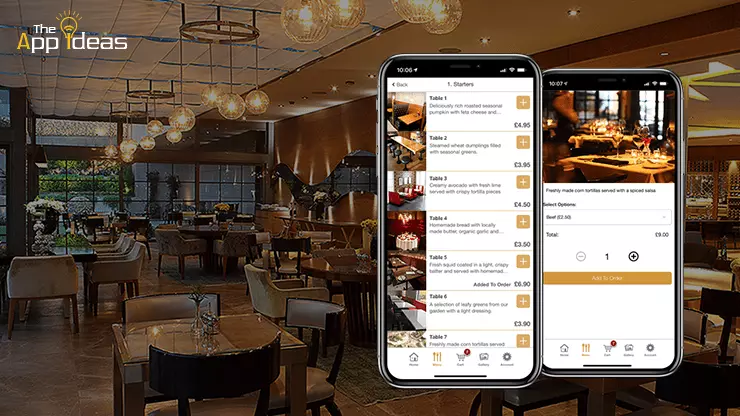 For an example: You and your family had planned a dinner to the favourite restaurants, but as there are people like us who also want to visit for a dinner and at the end the number of people is more than the capacity of the restaurant and for this you have to wait for your turn and we people hate waiting. People also have another option to book the table through call and on the other side, the Restaurants staff writes your details on paper, But if the paper misplaced? there is no proof of your reservation. And Booking by call is also a waste of time of a restaurant as they have to attend the call at working time.
So what is the solution to this problem?
The solution is Table Booking Apps which is convenient for both the owner and customers. For customers, it is easy to book a table and get to know it is available or not at your time. And for Restaurant owners or Staff, they don't have to waste their time attending calls and save all the detail digitally which is easy to use. You can provide Pre-ordering of food which we discuss later in this article.
4) Call a waiter App Idea
Do you know, This type of App is used for calling a waiter for food order without waiting. How?
The basic need for using this kind of system, is a customer only needs a QR Code Scanner   and for notification, the waiter can have a smartwatch or smartphone connected to the scanner.
Customers visit your restaurant, check out the menu and now to order food, they need to scan QR code by which the waiter get notify about the service and the table number from where he/she needs to take the order. This app is convenient to use, for both the party (customer and restaurant owners). As it is an easy way to order food.
6) Food Ordering Market Place App Idea
As you all have heard this most popular names "Zomato"," Swiggy" and "Uber Eats". If you haven't heard, let me tell you about what they are? Why do we use them? and why they are so popular?
First of all, they all are food delivery application, as a restaurant owner, if they don't want to make an investment in their own  food app development, but they want to make their online presence  then this Food Ordering marketplace app is a prefect solution. Food Ordering marketplace app offers online platform to the restaurant owners to display Restaurant menu in front of  hungry customer. When customer can order the food from specific restaurant, the selected restaurants get notification about the order, And provide the delivery service to the customers.
Online food ordering app and delivery businesses have earned an eminent position in the e-commerce market. Which proves that if this business works with the latest trends, it can earn huge profits.
As Zomato raised funding total of $255 million and Swiggy raised $100 million.
Let discuss how  their market place work
As it's marketplace is quite simple, Following is a step-by-step guide:
1. Customers explore the list of restaurants and their menus as per of their location. Also, check the review of each and every restaurant easily.
2. They place the order and choose the desired payment method because it provides many options for payment (Online payment or COD).
3. Restaurant and marketplace owners get a notification about it.
4. Customers get a confirmation of their order.
5. The restaurant will start order processing and food preparation.
6. The order is delivered to the customer by the restaurant or third-party delivery service.
7. Marketplace owner cuts pre-decided commission from the total amount of the bill and releases the rest to the restaurant owner.
Major Advantage of this kind of application is that it increases the convenience level of customers by delivering food on their doorsteps.
7) Snacks Delivery App Idea
This kind of app is used by small scale restaurant owner who only provides the snacks service to the customers.  This kind of application used by the customer for the ordering of snacks from any place or from anywhere.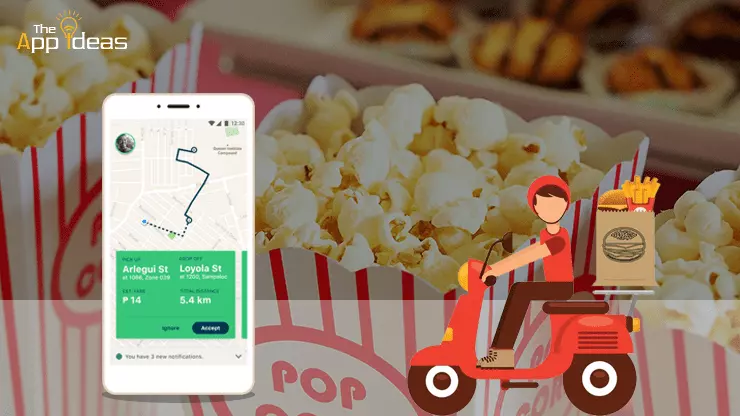 Sometimes this service is available 24/7, Are you running  a snacks store? If yes, then this kind of app is for you and by doing this, you can maximize your profit.
This kind of app really helps you to get more customers to find this service convenient as it is easy for them to order snacks online at any time from any place. And by the app, you can reach more customers digitally.
8) Baby Food Suggestions App Idea
This kind of application is basically used for babies, age-group from 5-4 month to 1-2 years. This kind of app idea can be introduced by a restaurant to gain more visitors to their restaurant website or mobile app.
As this app contains the total meal plan of baby, which help new parents and guide them about the proper meal of babies according to their age birth period. This app also contains some remedies with its proper cure for babies.
If you are the owner of a baby food store then this app really helps you to maximize your profit by reaching more customers through an app.
9) Food Recipe App Idea
To gets more visitors to your website or app, with a food ordering app you can also provide one more app that is Food Recipe app. Link your app with another app which is food recipe. What does this app include?
You can include videos of cooking various dishes like, How do we make Italian food? What do we use? And many more things which you want to reveal to your customers.
This app contains the video part as well as the next part, where restaurant can describe the ingredients and the process.
10) Homemade cook App Idea
A Homemade cook app, where your restaurant can't be a part of this app. If you are new in the market, then you need to gain more customers attention  to your restaurant or gain more visitors to your app. Then you can provide a homemade cooking app to your customers, through which your chef can directly connect to them and the customer can easily learn cooking from there own place.
11) Ratings and reviews App Idea
A food ordering app always contains this kind of app as it helps your customer to choose high rated food and help owner to figure on which services section they need improvement.
Marketplace food ordering and delivery service, use this kind of feature to get the customer feedback for the service and quality of food provided by a specific restaurant.
It is beneficial for the owner to maintain the reputation of their restaurant and it can be good if you ask  customers to give feedback and ratings to their services.
12) Food & Nutrition app for Gym Lover App Idea
Food and gym lover food app which contains the details about dieting, meal chart for losing weight and also for gaining weight.
If you running a food court for gym lover then this app definitely helps you to grow your business and increasing the sales through approaching people via the online app or food ordering app. Customer finds convenience to use this kind of application as with diet plan, they also get the food according to your diet.
This kind of application has a different section as per the requirement of the customers like for protein food, crabs food etc. The restaurant also provides such an app for gaining visitors.
13) Deal and Coupon app for restaurants App Idea
As a restaurant owner,  it is very important for you need to retain your old customer and maintain a better relationship with them, but how?
For that, as an owner, you can provide an app for a coupon or for free discount to your customer. By using the code from this app they get some discount or some offers on their order. As customers are more attracted towards the deal or coupon to gain an advantage of it.
14) Food Ordering App Idea
In current digital marketing trends, People mostly prefer online ordering facilities. Nowadays, everyone has a smartphone so if whenever you feel hungry you can order your food from the Food ordering app. This App provides the flexibility to customers as the whole menu is on their screen with a cost. They are just a click away from ordering their favorite food.
For the owner of a restaurant, it is important to accept the current trend and move with it and provide the online food ordering services to the customers.  This kind of apps are easy to use because the only thing that is required is a smartphone and a good internet connection.
This kind of application is only used for ordering food and after order, customer can pick their food or it can also be delivered by the restaurant.
15) Food Delivery App Idea
This type of application is used for the delivery of food. For customers, it is the only way by which they get their delicious food at there doorstep ,by just allowing their location in the application
But wait what for owners? there are two types of restaurants for using this type of application.
a)Let discuss the First type -the restaurant owns both the app, which means you can order food and they also provide a delivery service to there customer as they have different staff for handling these services.
b)The second type of restaurant only owns the food ordering app, they don't have the delivery service because they don't have extra staff for delivery service. What do they do?  How they manage this service?
Let me explain, As they hire the third party for the delivery services which can deliver the order to the customers on time. Whenever this type of restaurant gets order they notify their third party which provide the delivery service to their customers.
16) Driver tracking App Idea
This Driver Tracking App is used by a restaurant owner as well as the customers. Let me tell you Why do we need this kind of app?
First of all the main task of the  Driver Tracking App is to receive and manage bookings from your dispatching restaurant. It is fast, reliable and simple to use. Get our latest Driver Tracking App which allows you to track the drivers using GPS on their smartphones and assign the job in a more efficient way.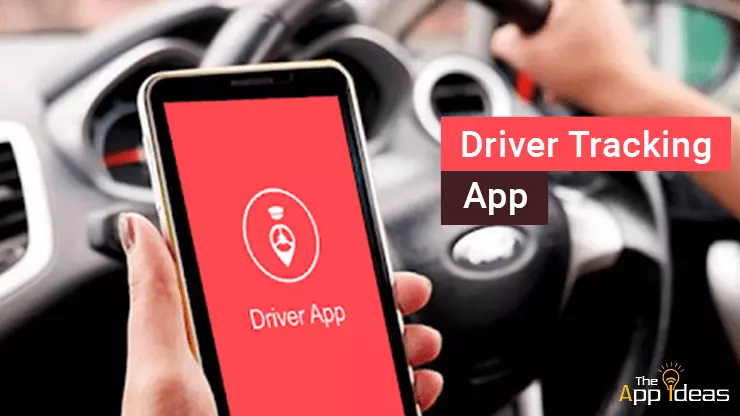 This can get the location of food items by using GPS service. By this driver tracking app, restaurant owner as well as the customers can track the food item. This Apps also helps the Restaurant owner to know if some problems arise in between the delivery time so they can take action immediately.
17) Order food from the way App Idea
This kind of app can be owned by the restaurant owner who has their food industry on large scale or have many franchises of that particular restaurant.
This kind of application is mostly used by the customers who are travelers. For example, a food ordering app used on the train by people so they can easily make food order from their favorite restaurant and it is delivered to them at their station.
It is also used by travelers as in an unknown place this kind of app really help them out. So it becomes easy to order food from any place. Dominos Provide this kind of services to their customers.
18) App for ordering food in the advance
Similarly like reserving a table in advance, this kind of application used for ordering food in advance along with the reservation of the table.
The restaurant can also provide a service like if customers are reserving a table for dinner then they can also choose and order food at the same time of reserving a table.
So this kind of food ordering app helps restaurant owner to pre-prepared about the requirement as they know the future orders and customers are also satisfied as again they don't have to waste time in a selection of food ordering.
19) Food Constructor App Idea
This is a  kind of food ordering app which gives more functionality to customers.
As in this kind of app, customers can construct their food according to their taste. They can choose the ingredients, spices, quantity of species and order it accordingly.
Which means the customer can customize or rebuild the food item from top to bottom as per their requirement.
20) Coffee and Snacks Ordering (for cafe restaurant)
This is a kind of food app idea is for the cafe owners.
In the cafe, customers have to visit the store and go to the counter for order and after order, they need to wait for their turn which is totally wastage of time.
So for time-saving, the owner can provide an app to customers by which they can order their food. After ordering, an order code number is allocated to them. When their order is ready they get a notification by which they can easily collect the order from the counter. This kind of food ordering app makes the work easier.
21) Kitchen Management App Idea
This type of food ordering app is directly connected to the kitchen of a restaurant, which means when a customer is ordering food from their workplace or from their table, kitchen department gets notify about the food item which is ordered by the customer. After get notified, the kitchen department can start working on preparing the ordered food.
As everything is handled by smartphone, which makes the thing easy and simple for both included person (customer and the restaurant owner).
22) Burger and Pizza Constructor App Idea
This type of app idea is beneficial for Burger/Pizza Fastorant owners. By this app customer can order the Burger or Pizza of their own taste. By providing this kind of apps to your customers, helps you in generating more leads.
How does this type of food ordering App Ideas work?
This App Ideas allows your customer to construct the pizza or burger by using this Burger and Pizza Constructor app. Customer can easily make the choice of the ingredient and easily construct the food item from bottom to top according to their taste.
And after construction, Customer can easily order their customize food item by using the app.